Last week I shared a list of the best war games for Android but this time, we'll be checking some great tower defense games that also test your strategic skills. If you're not familiar, tower defense games involve building, upgrading, different kinds of towers along a path. Your goal is to stop the advancing armies or waves of enemies and it will all depend on how well you can utilize available towers, their locations, etc. Different games try to spice it up by adding different kinds of towers, animations, or even army camps. Sometimes, you're not even using towers even though the game mechanics are pretty much the same. If that sounds like something fun, here are the 5 best tower defense games on Android.
1. Plants vs. Zombies™ 2 Free
[googleplay url="https://play.google.com/store/apps/details?id=com.ea.game.pvz2_row"]
Let's start it off with the most popular tower defense game that doesn't even feature towers. This is the even more popular sequel to the already popular Plants vs Zombies. In this game, you defend various lawns against hordes of funny zombies. Believe it or not, the game has a plot, even if it's silly enough. The entire game is themed around your neighbor losing his taco, and the only way to get it back is to travel through time. The story rarely matters much in a tower defense game. Fortunately, the game is fun enough in itself that you'll probably end up just clicking through the story and dialogues without even reading them as many do.
It is a game by Electronic Arts, better known as EA, so you can be sure the game can't really be free. The company has tried to milk all it can from the game. As a result, there are numerous in-app purchases that it will try to sell you. There are plenty of other Plants vs Zombies titles out there as well.
2. Kingdom Rush Vengeance
[googleplay url="https://play.google.com/store/apps/details?id=com.ironhidegames.android.kingdomrush4″]
Kingdom Rush is a tower defense game series. Kingdom Rush Vengeance is the 4th and latest installment in the series. In terms of gameplay and game design, this one improves quite a lot of things over the previous titles. The game brings with it 7 new towers, 19 stages, 10 heroes, 40 enemies, 30 separate upgrades, and 50 achievements.
Not to mention, there are plenty of boss fights and tons of new powers. In other words, there's a lot of content to keep you engaged for a while. Unfortunately, there are also plenty of in-app purchases despite the game having an up-front cost as well. That said, if you are really into Tower defense games, this is one of the best on Android.
Don't Miss: 5 Best Local Multiplayer Games for Android
3. Fieldrunners 2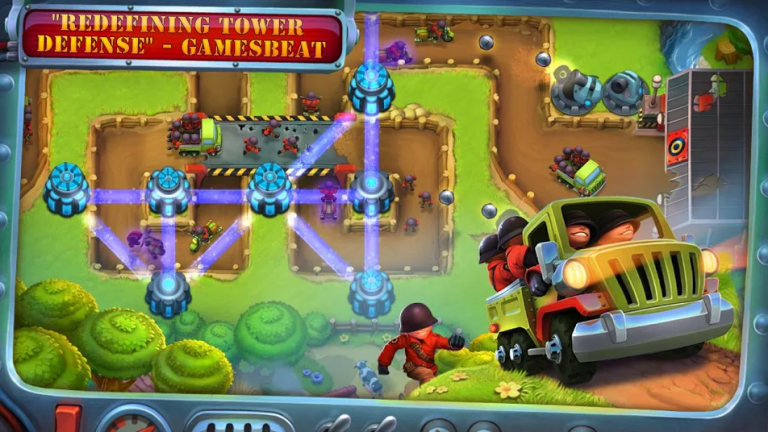 [googleplay url="https://play.google.com/store/apps/details?id=com.subatomicstudios.fieldrunners2&hl=en"]
Fieldrunners 2 puts you in charge of the world's defense and your job is to, well, defend. The game features a 20+ hour campaign where you'll be defending the world against invaders. At your disposal is a bleeding-edge arsenal of devastating weapons. Graphically, it is a hand-painted 2D game and it looks gorgeous, to the right eye. You can build mazes out of the powerful weapons you get in the game to do maximum damage.
This is an older release from 2013 but it was updated in 2018. Since then, the game has had a bug that does not allow you to buy anything using the in-game currency which can really keep you from playing it. It has been over a year and the developers haven't updated the game yet to fix the issue. So while it is essentially broken at the moment, it is one of the best tower defense games on Android when it does work.
4. Over The Top TD
[googleplay url="https://play.google.com/store/apps/details?id=com.smgstudio.otttd"]
Over The Top TD (Tower Defense) stays true to its name. The Android game combines the classic elements of a tower defense game with that of an action-RPG. The result is a hectic game of destruction and total chaos. Like any tower defense game, you build, manage, and upgrade towers to defend against incoming waves. In addition, you also command a squad of heroes which provides an extra strategic layer of defense. There are also some boss fights that keep the unique gameplay from getting boring.
Like Kingdom Rush, it's one of the very best tower defense games on Android. Unfortunately, like Kingdom Rush, it is a paid game that also contains in-app purchases.  The upfront cost of the game is even higher here are $7.99.
5. Defense Zone 3 HD
[googleplay url="https://play.google.com/store/apps/details?id=net.defensezone3″]
Unlike the other games on this list, Defense Zone 3 HD goes for a more realistic graphics design. For the most part, it manages to achieve this too. The game's settings and weapons also lean towards the realistic side of things. It's a pragmatic tower defense game with four different difficulty levels. This means you can still play the game, and learn the basics of tower defense games even if you have never played one before. It's also great for the experienced tower defense players.
There are eight different kinds of turrets that allow for different tactical strategies when playing. So if you're tired of the linearly designed tower defense Android games, give this a try. The game is even free but there are ads of course as well as in-app purchases.
So there you have it. Those are the best tower defense games on Android that you should give a try. If there are any other games you think should be on this list, sound off in the comments below.
Read Next: 10 Best Call Of Duty Mobile Alternatives