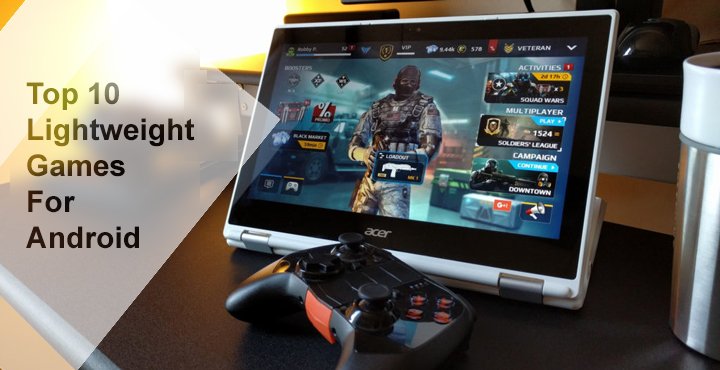 Android's unrivaled growth in recent years is nothing less than astonishing. The most popular OS on planet Earth is, thus, also a popular gaming platform. That's also thanks to the tremendous growth in mobile technologies that have made today's mobile devices capable of running graphics intensive programs. Popular titles from large game companies such as FIFA, Assassin's Creed, etc. now also get an Android counterpart, optimized for touch. You can even play everybody's favorite GTA Vice City on Android. These games are all huge in size, however. But we're going to be listing the top 10 lightweight games for Android.
Most of these games should be well under a 50MB in size, but they are still as much fun, if not more, than all those huge games. These games will therefore not hog your smartphone storage, or eat your data each time the developer releases an update.
1. Angry Gran 2
There are a lot of Angry Gran out there on the Google Play Store. The one that we have here puts the angry granny on the streets. In this game, Angry Gran has to bash people in order to collect money and advance to the next levels. Try not to make her hit policemen though.
Also see: 5 Best Android Games Under 20 MB
2. Cut the Rope 2
If you've played Cut the Rope before, you should feel right at home with this second installment. In case you haven't, you can still jump right onto Cut the Rope 2 and have just as much fun feeding candy to the frog by cutting ropes. It's a fun game and we can vouch for that.
3. Ninjump
Ninjump is a fun climbing game where your aim is to climb as high as you can. It's like Temple Run but on walls, while avoiding the evil squirrels, dive-bombing birds, enemy ninjas, throwing stars, exploding bombs & more. Ninjump is one of the more popular casual lightweight time-passers around on the Google Play Store.
4. Dr. Driving
Dr. Driving changes the rules of a racing game. Well, it is not exactly a racing game. Dr. Driving is instead all about safe driving and parking. It is surprisingly more fun than it sounds. Clearing each level rewards you with coins using which you can buy new cars. It's a fun little game for those driving lovers out there who enjoy driving safe in GTA.
Don't miss: 10 Best Android Games Under 25 MB
5. Subway Surfers
Subway Surfers is a popular endless running game much like temple run, except it takes place in cities. The developers keep updating the game based on popular cities in the world so you don't get bored with the aesthetics of the game soon enough.
6. Clash of Clans
Many of you do probably already know about the game, and may already have tried it. Whether you loved it or not, is up to you but what we wanted to prove is that is just how popular this little clan building game is. If you enjoy building games and real-time strategy games, there's a very good chance you will enjoy Clash of Clans. At least for a while.
7. Game Dev Story
Game Dev Story is a simulation game where you play the head of a brand new game company. The game as such does not have a definite goal, but if you're the head of a company, one would assume the goal is to make the company the best at what it does. The artistic style of the game reminds of the Nintendo Gameboy days but don't ditch it just because it looks old. There are a lot of entertaining hours packed in this small game. You only get 2 in-game years in the free version, but you can also buy the full version on the Play Store if you like it enough.
8. Grand Prix Story 2
This is another game from the developer of Game Dev Story, based on old-school graphics. Grand Prix Story 2 lets you manage your own racing team. You'll have to search for sponsors, train drivers, develop new cars and customize them – all in order to win the Grand Prix.
You may also like: 5 Best Android Games Under 5MB
9. Knights of Pen and Paper +1
Knights of Pen and Paper +1 is a turn-based strategy game which includes a long campaign, numerous discover-able dungeons, various knights, mages and monsters and the same pixel art as seen in the above two games.
10. Stack
Stack is one of the simplest, yet one of the more challenging games you will ever play on Android. All you have to do is tap at the precise time so as to set each block on top of another. Test your response times and build a high score to compete with others around the world.
Recommended for you: 10 Best Android Games Under 10 MB