On several devices, Nexus S, Nexus One, Verizon LG G2, Xperia Z, Xperia T, Xperia V, HTC One, Verizon Moto X, Samsung Galaxy S4 and now on the old fashioned yet very powerful and distinguished HTC HD2; the Qualcomm QSD8250 Snapdragon, 1 GHz Scorpion device which was meant to run Windows OS, now holds a high position running almost all the available mobile OS including Ubuntu, Firefox, Android, Meego and a few more. Today, the Android scene on this legendary device takes a new turn when the latest Android version 4.4 KitKat lands on it via SlimKat ROM.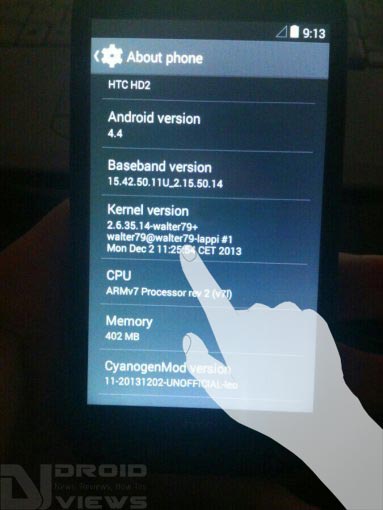 SlimKat, well known as SlimBean during the Jelly Bean era, is now an Android custom ROM based on KitKat 4.4 bought to you by the Slim Team. The SlimKat 4.4 builds for the HTC HD2 are compiled and delivered by chautruongthinh on XDA forums. The first release (Beta 1) was made on 1st December and as reported by the users, the Audio, Touch interface, Bluetooth and other basic functions are working well, except WiFi and SD card, even the Phone App (Have to select network manually to make phone calls work and data doesn't work) and Camera have some glitches. Since its the first build, these were expected but the dev has already claimed and put up his worthy efforts to fix issues ASAP. The dev has already mentioned that NATIVESD & DIRECTSD won't work, as of now. And 4EXT custom recovery is highly recommended for its installation.
If you're patient enough, can tolerate few bugs (for now), know the risk of Installing a Custom ROM and are desperate to put use of the latest Android version on your HD2, you are welcome to join in to  enjoy the chocolaty taste of KitKat.
For features being offered by SlimKat, move ahead to the Slimroms website.