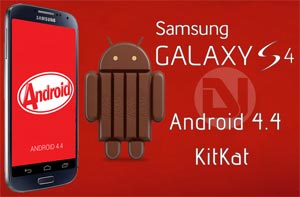 If there is one thing that every Android user wishes to get on his/her smartphone  or tablet, it's surely the Android 4.4 KitKat. Unfortunately, quite a little percent of Android devices (including the Nexus ones and Moto X) have been lucky enough to receive the update. It really feels irritating to see some users enjoying the privilege while you are doomed to wait for months. Again, there are a plethora of older devices that can only dream of the new KitKat update.  Ideally, every OS upgrade should reach all devices that are based on the same platform but in most cases software updates depend on the whim of the OEMS.
Thanks to the hard-working developers of the Android community who try their best to level the unevenness of update distribution among Android devices. Once sold the millions of units of a phone, your manufacturer might forget it after an year or so but if you have root access on your device, there are good chances that you can find custom ROMs based on the latest version of Android for you.
Yesterday. we saw a leaked update schedule for a range of Samsung Galaxy devices. According to this table, the Galaxy S4 and Note 3 will get KitKat sometime in January next year, while device like Galaxy S3, Note 2, Tab 2 and Note 10.1 users can expect the update by April 2014. It means that the users of Samsung Galaxy S4 will still have to wait about 2 months or more before Android 4.4 makes it way to their phone.
Meanwhile, if you have root access and a custom recovery like CWM/TWRP/SafeStrap installed on your Galaxy S4 and you wish to have a KitKat bite on it, there are various AOSP and CyanogenMod based custom ROMs that can make you day today. We have gathered together Android 4.4 KitKat based custom ROMs for the different variants of the Galaxy S4 listed below:
Samsung Galaxy S4 LTE
AT&T Galaxy S4
Canadian Galaxy S4 (Bell, Rogers, Telus, Virgin, etc.)
Sprint Galaxy S4
T-Mobile Galaxy S4
U.S. Cellular Galaxy S4
Verizon Galaxy S4
Warning!
Please note that all KitKat based custom ROMs for the Galaxy S4 are still under development phase and so you should be ready to expect bugs after installing them. We have tested a couple of them on Galaxy S4 GT-I9505 and for us they worked fine except for a few issues like random disconnecting WiFi and FC in camcorder. Such issues, however, are not common to all ROMs. When you download a ROM, make sure to grab the latest version which might come up a fix to such issues.
Moreover, installing a custom ROM might put your device in risk and by proceeding to give them a shot, you agree that you are aware of the consequences that might follow. In case of any mishap, please do not shout on us or hold the respective developer responsible. As for ourselves, we'll alway be on our side to help you with any kind of support we are capable of.
Requirements
Samsung Galaxy S4 with root access
Presence of a custom recovery like ClockworkMod, TWRP or SafeStrap on the phone. To install the KitKat ROM on your device, make sure you have the latest version of the aforementioned recoveries.
If you have not yet rooted your Galaxy S4, we have some easy tutorials for all variants of the device. If you wish to root your phone, head over to our S4 Rooting Guide Section to do it now.
Preview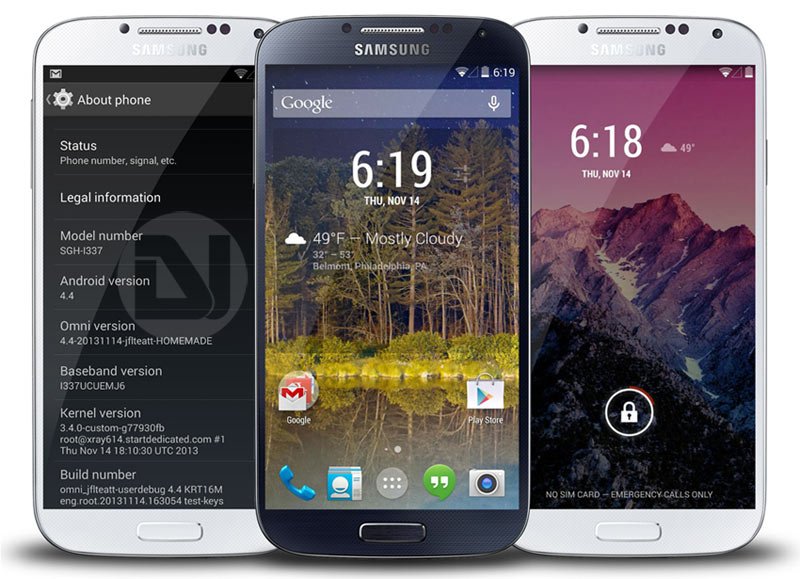 Android 4.4 KitKat ROM on Galaxy S4
You can download the Android 4.4 based KitKat ROM for your device from below. Download the first ROM (in case there are more than one listed for your model) and try others if you notice any serious issue with it. In case you find any problem with the Android keyboard, try a different version of Gapps and wipe dalvik cache after that.
How to Install:
Important: Do not forget to backup your phone's EFS/IMEI before attempting things like installing a custom ROM or downgrading firmware. Read this article for detailed tutorial.
Copy the downloaded Android 4.4 ROM file, Gapps package and SuperSU zip to your phone.
Boot your Galaxy S4  in recovery mode: turn off the phone and then hold the Volume Up + Home + Power buttons together for about 4-6 seconds.  Alternatively,you can also enter recovery mode using these apps.
Important: Having entered the CWM/TWRP recovery, it is very important that you backup your current ROM so that you can restore it later if needed. You can do this using  "backup and restore"option (in CWM) or "Backup" option (in TWRP).

Wipe data / factory reset, then go to mounts and storage and wipe data and system.
Return to the main menu.
Select install zip from sdcard> choose zip from sdcard option and select the ROM file.
Confirm the installation and wait till the installation finishes.
Repeating the Steps 3 & 4, install the Gapps package too.
When it is installed, also install the UPDATE-SuperSU-v1.75.zip the same way.
Finally, select reboot system now option.CWM Users: 

TWRP Users:

Tap on Wipe button and select Data, System and Cache.
Swipe the confirmation slider.
Go back to the main menu.
Now tap on the Install button, locate the ROM file and select it.
Once again swipe the slider button to install the ROM.
Now install the Google apps zip package.
The install the SuperSU zip file too.
Finally, tap on Reboot and then System.
When your phone boots up and you see the welcome screen, do the required setup and you are good to go. Start exploring the new avatar of Android and share with us what you think about it. If you have any problem installing the ROM, and you need support, just drop a comment. Cheers!