I am not sure how many of you visiting this page are familiar with the presence and importance of the EFS thing that we are going to talk about today! Actually, I often hear people requesting to offer a solution of a problem that makes them unable to make a call, send a message, access the internet or any connectivity related thing. Imagine a mobile phone without a network connection at all and you'll then realize how horrible it is!
If EFS is so important a thing, it must be preserved so that you might be able to use all connectivity features of your device. This thing is found in all mobile devices which have an IMEI (International Mobile Equipment Identity) number assigned to it but the location and directory where it is stored might differ. On Samsung Galaxy devices, the IMEI and other connectivity data are stored in this particular folder that I have been mentioned several times so far.
What is EFS?
Having read about the role of EFS on your Samsung Galaxy phone or tablet device, you must be a little more curious to know something more about it. EFS is a system directory that contains device specific essential information such as its IMEI, wireless device MAC address, baseband version, product code, system ID and NV data.
In case the EFS directory is corrupted or lost, your phone or tablet is sure to lose its IMEI number and wireless and network connectivity. You might ask how and why does the EFS data on your device might be lost or get corrupted? The answer is pretty simple and the reason might be a daring activity on your part. Sometimes flashing a custom Kernel (as reported by some users) and in most cases installing a custom ROM is responsible for the EFS data loss.
In this way, the EFS or IMEI loss is deeply related with what you do after rooting your Samsung Galaxy device. Keeping this thing in mind most of our ROM developers insert a script that automatically creates a backup of the EFS data on the external SD Card so that you might restore it back in case of loss or corruption. But it is certainly not wise to rely blindly on the wisdom of others. That is why, whenever we write installation tutorials for custom ROMs for Galaxy device, we warn users to backup EFS before indulging in any custom development activity.
Sadly, most people come to know about the thing called "EFS" only when it is too late. Once lost without being backed up, recovering it becomes very much like a wild goose chase. You might have heard or faced personally the issue when your device shows the inability to mount EFS:
E: failed to mount / efs (invalid argument)
If you get this message on your phone's screen, believe me, you have got into a serious problem. Of course, there are ways to restore EFS data, but they are either not available for all devices online or they do not work at all.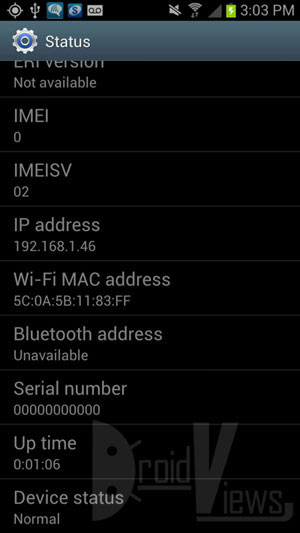 It has been well said that "prevention is better than cure" and this saying holds quite true in this case too. Therefore, the first thing that one must do just after rooting and installing a custom recovery one's device is to back up the EFS and the stock rooted firmware. For more enlightening tips, do not forget to read the following article:
Things to Do Before and After Installing a Custom ROM
Reasons for EFS Data Loss or Corruption:
Manually upgrading and downgrading firmware. Some users reported that they lost their IMEI during official OTA update.
Installing a custom ROM or mod might mishandle system configuration, resulting in corrupt EFS.
Any kind of bad flashing, the clash between new and old kernel systems can also lead to the EFS data corruption and IMEI loss.
Tools and Methods to Backup and Restore EFS
EFS Professional:
As the very title of this article says, we are going to tell about a very easy solution to back up the EFS on your Samsung Galaxy device. It is a simple but wonderful tool developed by XDA member LiquidPerfection that makes this job a plaything that can be done by anybody. The tool is called EFS Professional and it supports most Galaxy range of Android devices from Samsung.
The latest version of the software also supports Samsung Galaxy S4 International (GT-I9500), Galaxy S4 LTE (GT-I9505), AT&T S4 (SGH-I747), Verizon Galaxy S4 (SCH-I545) and others. I have also tested it on Galaxy S3, S2, Note 2 and Note 10.1. Besides, EFS Professional works with other Galaxy phones and tablets too.
Features of  EFS Professional:
Backup and restore partition images to and from in .tar.gz format
Detects backup archives automatically on the device and PC for hassle-free restoring
Device filter support to allow displaying important partitions for various devices
Extract and read device's PIT file to ensure efficient and accurate backup and restore operations
Check MD5 hash to verify the integrity of data written
Format EFS to wipe all data and recreate the partition
Samsung's Qualcomm devices support
Option to display various device, ROM and BusyBox related information at the click of a button
Restore NV data from internal '*.bak' files if they exist to fix corrupt or incorrect IMEI number
Repair NV data file ownership to fix 'Unknown baseband' and 'No signal' issues
NV Backup and NV Restore options for US device variants only
Requirements:
Before you can back up your device's EFS data safely to your device and PC both, here are a few things that must be taken care of:
A Samsung Galaxy Device with root access (custom recovery not needed). If you have not yet rooted your device, you can do it using our easy rooting tutorials.
The EFS Professional tool: EFS_Professional_2.1.8_Release.zip
Microsoft .NET Framework installed on your computer: dotNetFx40_Full_setup.exe
Samsung USB Drivers or Kies installed on your PC: Download
Install BusyBox app stable version 1.20.2 on your phone. Install the app on your phone open it. Tap on "BusyBox" version number and select BusyBox 1.20.2. Finally, then tap on "Install" and install it as "Smart Install".
Charge your device to ensure 60% battery level.
Turn on USB Debugging mode on your phone or tablet from "Developer Options" on your device: Read this Guide
Using EFS Professional to Backup EFS:
So, do you think you are ready for action now? Make sure you have made all preparations detailed above. If yes, let's get started now.
Extract the "EFS_Professional.zip" on your desktop.
Connect your Galaxy device to PC using a USB cable. Make sure USB Debugging is enabled.
Run EFS Professional.exe file as administrator. Doing this will prompt a popup window like shown below:
Click on "EFS Professional".
You will now see a new window. Once the device is detected, the lower part of the window will show the device status and info such as model number, firmware version, root, and BusyBox version, etc.
Click on "Backup" tab and then click on "Device Filter" dropdown and select your phone model. If you do not see it listed, click on "Refresh" button and then select it.
EFS Professional will now show the system partition where the EFS data of your device is located. Check the "Select All" box.
Finally, click on "Backup" and your EFS data will be backed up to your phone and the PC both. The backup on PC can be found in the EFS Professional folder inside "EFSProBackup" and it looks like this: "GT-I9500_2013618_222210.tar.gz"
How to Restore EFS/IMEI:
Having backed up your EFS data, you might take a calm breath and feel a sense of security but it is also important to be familiar with the method how you can restore it back to your Samsung Galaxy device in case you lose it.
Connect your device to PC
Launch EFS Professional and click on "Restore" tab.
Now click on the drop-down menu in "Restore options" part of the window and select the previously backed up file.
You can also format the currently corrupted EFS directly.
Now click on the "Restore" button.
Your Samsung Galaxy device's EFS/IMEI should now be restored back to its original location. Dia *#06# on your phone's keypad to check it it has IMEI number or not.
Some Screenshots for Reference:
Backup EFS Using kTool:
There is  yet another handy utility for backing up the EFS and NV data on your Samsung Galaxy device. It is a free app and called kTool. Since it is a phone-based utility, it is easier to use. It supports almost all Samsung devices except the Qualcomm based LTE devices.
Needless to say that the app demands root access on your phone and besides backing up and restoring the sensitive EFS/IMEI/NV data, it can also perform various other tasks like-
Boot the device into the Download and Recovery mode
Dump and Flash kernel (and recovery) to /sdcard/zImage
Flash recovery from /sdcard/recovery.bin
Note: In case you notice that your phone's lockscreen is not working properly after backing up the EFS, go to Advanced Settings in the kTool menu and enable  "Alternate EFS Dump Method".
EFS Backup/Restore via Aroma Installer:
You might be already familiar with Aroma. It is a custom recovery based installer that can install custom mods, ROMs and scripts. Unlike CWM or TWRP, Aroma Installer allows users choose from various options and provides customized installation. If you have a rooted phone with either of the above-mentioned recoveries installed on it, you can download the Aroma Installer from below and backup your phone's EFS data and, if needed, restore it later.
Downloads:
Download one of the following Aroma installers-
EFS_Professional_2.1.8_Release.zip
How to Use Aroma Installer:
Copy the Aroma installer zip package to your phone.
Turn off your phone and boot it into recovery mode. It can be done by holding down the Volume Up+Home+Power buttons at the same time for about 4-6 seconds.
When you are in CWM or TWRP recovery mode, go to "install zip from sdcard> choose zip from sdcard" and then select the installer zip. TWRP users can simply tap on "Install " button and select the file.
When prompted, confirm the action.
Doing this will take you to Aroma Installer interface. Now all you have to do is to select the desired option and tap the Next button.
Using Terminal Emulator to Backup/Restore EFS:
The users who own a Samsung Galaxy device with root access but no custom recovery can use a free app called Terminal Emulator to backup and restore EFS on their device. Here is how it can be done:
Download and install Terminal Emulator app on your phone: [googleplay url="https://play.google.com/store/apps/details?id=jackpal.androidterm"]
Open the app and grant SuperUser permission when you are prompted to do so.
When you see the Terminal Emulator box, type the following command:

To backup EFS on external SD Card:

dd if=/dev/block/mmcblk0p3 of=/storage/sdcard/efs.img bs=4096

To backup EFS on external SD Card:

dd if=/dev/block/mmcblk0p3 of=/storage/extSdCard/efs.img bs=4096

Please note that all commands are case sensitive and even a minor mistake will hider the successful backup. Type the command line carefully.
If everything goes fine, your EFS data will be backed up to the internal or external storage of your device.
Do not forget to save the backed up data to your computer or cloud storage for safety and future use. You can find this file as "EFS.img" on your device.
Now here is how you can restore the backed up EFS using Terminal Emulator:
Launch the app and type the following command depending on the location of the EFS.img file:
To restore EFS on external SD Card:

dd if=/storage/sdcard/efs.img of=/dev/block/mmcblk0p3 bs=4096

To restore EFS on external SD Card:

dd if=/storage/extSdCard/efs.img of=/dev/block/mmcblk0p3 bs=4096
Note:
In case the terminal Emulator method (using the above commands) does not work for you, it might be due to the location of EFS partition on your phone. To fix that, you can try this:
Install a root file browser app: [googleplay url="https://play.google.com/store/apps/details?id=com.jrummy.root.browserfree"]
Open the app and go to dev/block directory and note down the exact path of EFS data files.
Now edit the file path in the command line accordingly:

dd if=

/dev/block/mmcblk0p3

 of=/storage/sdcard/efs.img bs=4096
Backup/Restore EFS Using CWM/TWRP:
You can also backup EFS using custom recovery tools like TWRP and Philz Recovery. I do not think you need a guide to do that. Here is a screenshot of TWRP from my Galaxy S4. The option is found under Backup head.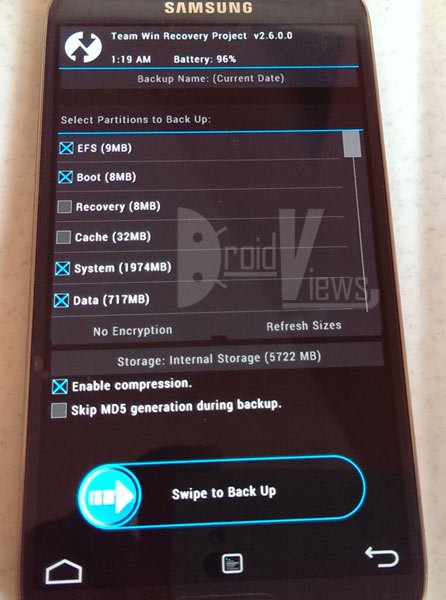 Backup and Restore EFS with Samsung Tool:
Though this post already has several solutions for backing up and restoring EFS/IMEI on Samsung Galaxy devices, we keep looking for even easier methods. The Samsung Tool by ricky310711 from XDA forum is yet another smart tool that lets you backup your phone's EFS in .img format to your phone's internal or external storage. When required, you can restore the EFS using the same tool.
The backed up EFS file is saved to the following location Storage/ extSDCard/ Samsung Tools. We tested the tool on Samsung Galaxy S4 and Note 3 and it worked fine. Besides, Samsung Tool also works as a reboot manager app. It lets you reboot your Samsung device into Download and Recovery modes without pressing the hardware keys.
Download Samsung Tool:
Samsung_Tools_V5.0_Universal.apk  
Apart from the tools discussed in this article, you can find many others that work with specific device models. You can try them too! With a hope that it proves helpful to the community, allow me to wind up here. If you have question or problem related to the topic, feel free to leave a comment below. Cheers!
Other Tips for Samsung Users:
How to Downgrade Firmware on Samsung Galaxy Devices
How to Delete/Merge Duplicate Contacts on Your Phone
How to Enable Your Native Language on Samsung Galaxy Devices