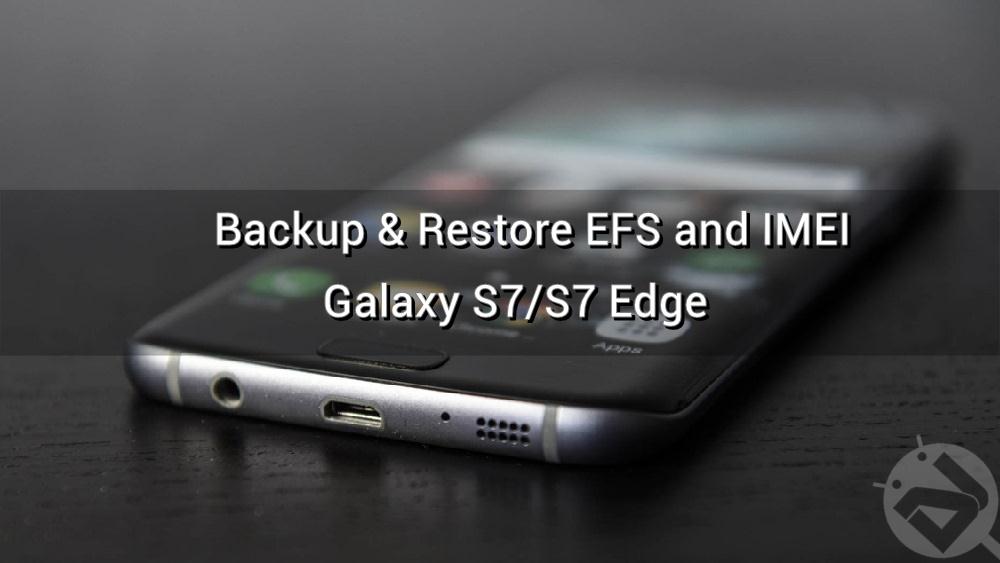 EFS and IMEI partitions are of grave importance to those who want to play hard with their Android device. Especially, when you're rooting your device and flashing various custom images/ROMs. Just imagine that you have flashed some fancy ROM on your device and on the next reboot, you can't make any calls or connect to the Internet. It will be quite frustrating to deal with such issues.
In Samsung devices, EFS partition stores the IMEI, wireless device MAC address, baseband version, product code, system ID and NV data. So, if the EFS partition gets corrupted during the flashing, you will face connectivity issues. Errors such as "Can't connect to network" or "Unable to connect to the internet" were some of them. You can't even get the IMEI number and baseband information in About Phone section of your device. So, it's a better precaution to make a backup of EFS and IMEI partitions.
Today, we will show you how to backup and restore EFS and IMEI partitions on Samsung Galaxy S7 and S7 Edge devices. You can use this tutorial on other Samsung devices like Note 5, S6 & S6 Edge as well. To follow this method, your device must be rooted. If you haven't rooted your Galaxy S7/S7 Edge, you can follow the below tutorial.
Backup and Restore EFS and IMEI on Galaxy S7
Download the Partitions Backup and Restore app from Google Play Store link below.
[googleplay url="https://play.google.com/store/apps/details?id=ma.wanam.partitions"/]
Open the app on your Galaxy S7/S7 Edge smartphone.
From the partitions list, select the EFS and Radio partitions. Click on the download button to backup the EFS partitions on your device. Grant SuperSU permissions if requested.

Now choose the backup location and the backup format for the EFS format.
To restore the EFS partition, just tap on the menu icon (three vertical dots) in the top-right corner and select the Restore a Partition option.
Select the backup you want to restore and wait until the restore is completed.
Reboot the device once restore is completed.
It's advisable to store the backup on external storage for more redundancy. So, isn't it simple to backup and restore EFS partitions in Galaxy S7/S7 Edge?