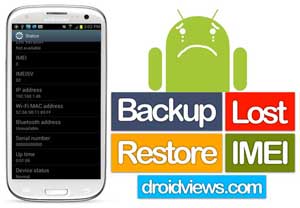 What is a smartphone without network connectivity? A phone without signal bars on the statusbar is reduced to a multimedia gadget capable of playing audio and video files and similar things. Connectivity is the very soul of mobile phones and it is for this purpose that they came into existence. Now, there might be several reasons if you are not able to get your phone registered to a network— it might be a network issue from operator's side, a SIM card related problem, some hardware defect on the device itself, and so on.
However, there is another thing that might make your phone devoid of any kind network or data connectivity. And this is loss of the IMEI (International Mobile Equipment Identity) number. IMEI and network connectivity are interwoven to each other on all smartphones from major OEMs. I have seen some cheap Chinese phones with dual SIM that have no IMEI number at all and yet they somehow connect to a network, but your have a device from a recognized manufacturer, it won't register to a network till it has a valid IMEI.
In short, losing IMEI of a device you own is one of the worst nightmares you can have with your phone. I am saying so because I experienced the horrible truth myself long ago on my very first Android phone, the Galaxy S. I can still recall how it made me shiver to my veins. It's true that all phones have IMEI numbers but if you have an Android device from Samsung, the chances of losing it are far greater than on devices from other manufacturers. Actually, the IMEI data of a Galaxy device is stored on a separate partition called EFS on the root of the flash memory. Sometimes, for various reasons, this partition gets corrupted or wiped. As a result, your phone is left without IMEI and thus it is not registered to a network.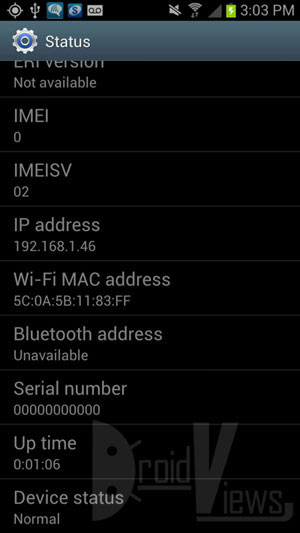 Reasons for IMEI Loss:
As I said above, the EFS/IMEI data is stored on a specific block on the system partition of your device. It is lost when this block is corrupted or wiped. It takes place while-
Updating your phone's firmware
Installing an official or wrong firmware
Installing custom ROMs
The third one is the most notorious reason for the loss of IMEI or EFS data corruption on Samsung Galaxy devices. Many custom ROMs come with scripts that automatically backup phone's EFS  to the external storage of the device while installing the ROM. In case of lost IMEI, you can restore it using some tools. To know more about backing up and restoring IMEI on rooted  Galaxy devices, read the following tutorial:
Backing Up IMEI on Galaxy Devices:
In case you have lost your phone's IMEI during or after performing firmware update or installing a new firmware using Odin, it means your device does not have root access any more. If this is your case, you can still restore your phone's IMEI using the NV Items Reader Writer Tool. It has been tested on an unrooted Galaxy S3 and found working. It can work on other Samsung devices too if you have the code to open the PhoneUtil menu on that device. Try the code given below first and it does not work, find the working code.
Download  NV-Items_Reader_Writer_Tool.zip and extract the zip on your computer.
Make sure you have installed Samsung USB Drivers on your computer.
Enable USB Debugging on your phone.
Dial *#7284# on your phone's dialer.
Select Qualcomm USB Settings and then check RMNET + DM + MODEM and press OK button.
Now connect your phone to computer using USB cable and then launch NV-items_reader_writer.exe as administrator.
Save item 00550 with NV reader/writer. You can write the backup directly back to the phone. This backs up your IMEI only.
If you want to backup complete NV data, read the phone with the default values [Range (Dec): 00000-65535].
Dial *#7284# and select Qualcomm USB Settings then check MTP + ADB.
Watch this demonstration video:
Restoring Lost/Corrupt IMEI:
If you have already lost your phone's IMEI, do this-
Note down your phone's IMEI. You can find it below the phone's battery or on the box that it came in when you bought it.
Create a backup of the corrupt IMEI file and open it with NotePad++ or any other text editor.
Separate your IMEI number into blocks of two digits, leaving the first digit alone. Suppose your phone's IMEI is 35516705558781901, separate it like this: 3  55  16  70  55  58  78  19  01
Now add "A" after the first digit, and reverse the sequence of the two numbers in each block of 2 digits. Add 08 in the beginning of the IMEI. Here is an example: 08  3A  55  61  07  55  85  87  91  10
Having done this, replace the first nine values in the NV block with the converted IMEI.
Click on Write button on the NV-items_reader_writer tool.
When it's done, disconnect device and reboot it.
Your phone's IMEI should be back. Do not forget to share your thoughts via comments and this tutorial via social media buttons. Cheers!
Update:
The trick described above might not work on certain Galaxy phones and newer firmware.