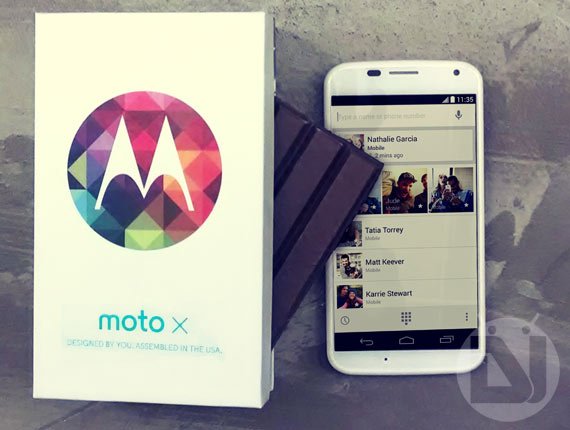 Just after the launch of the Nexus 5 on November 01, Motorola made a press release promising the Moto X users that they will be one of first to get the Android 4.4 KitKat update. To be frank, we did not take that assurance that seriously because we believed that no other device would received KitKat until the older Nexus lineup gets it. To the surprise of the users of the Moto X and to the shock of most Nexus 4, 7 and 10 owners, Motorola kept its promise. I saw some Nexus users whining at Google for not sending the OTA to their device first.
Anyway, the Verizon variant of the device is now receiving the latest version of Android with all its freshness and aroma. The users are getting OTA update notification and many of them have already grabbed it. Below you can see a screenshot showing the new update being downloaded on to Verizon Nexus 4.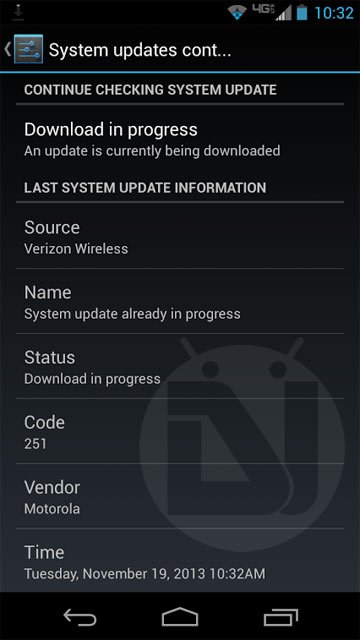 There is no doubt the KitKat upgrade is a tasty treat because it brings a whole bunch of new features and improvements. Having updated your Moto X with Android 4.4 OTA, you will notice the following new features:
New improved phone dialer with contact search feature.
New picture editing tools in the Gallery app.
The all new Hangouts app with SMS integration.
New Google keyboard with colorful emoji feature.
Control focus and exposure in camera app by dragging finger.
Restyled status and navigation bars.
Immersive full-screen mode.
Improved Touchless Control feature.
Many others…
As for pushing the update to the other variants of Moto X, the company says that they are trying hard to roll the updates very soon. You can find more details about the official press release  and further updates at the Official Motorola Blog.