The all-new One UI or Pie update for the Galaxy S8 and S8+ is available now. In this article, we'll not only take a detailed look at the Galaxy S8 & S8 Plus Android Pie update but will also discuss the new features and changes that come with Samsung One UI. Besides, you can also download the Android 9.0 Pie firmware for the Samsung Galaxy S8 (SM-G950F/FD) and the S8 Plus (SM-G955F/FD).
The two-year-old Samsung flagship, Samsung Galaxy S8 is now starting to receive the Android Pie update after almost half a year since Android Pie was released. The wait might be quite worth it for Galaxy S8 users. For the wait, they now not only get all the basic Android Pie sweetness but also all the amazing new features baked into Samsung's One UI. The Galaxy S8 & S8 Plus Android Pie update obviously brings Samsung One UI to the Samsung Galaxy S8 but it has a lot more packed in. Here are all the new features and changes.
Samsung One UI Features and Changes
The new Galaxy S8 & S8 Plus Android Pie update brings the One UI to the device. One UI comes with a completely overhauled interface which is optimized for taller screens. The Galaxy S8 was one of the first devices to feature a tall aspect ratio so it will definitely benefit from One UI's content placement. We have discussed all the goodness the One UI update brings with it when we reviewed the software. You can check it out for more details.
Must Read:  Samsung One UI Beta Detailed Review
Of course, you do get all the Android Pie features such as a new recent apps screen. Samsung has modified it to better suit the One UI design. Although the placement of the search bar at the top is a peculiar decision considering One UI brings more content towards the bottom. There are some new clock styles added to the Always On Display along with other things. Samsung DeX has also been updated so that it can be used using a regular HDMI cable. So users need not spend more cash on a DeX station.
One of the very helpful improvements has been made to the notifications. Users will now be able to view image thumbnails in the message notifications which can save an extra step sometimes. All if not green, however, because a few features have also been removed. Older features that weren't a hit amongst users such as call stickers have been discontinued. On the night side, you now have a night mode, officially, which turns the entire interface dark. Below is a list of all such changes and new features.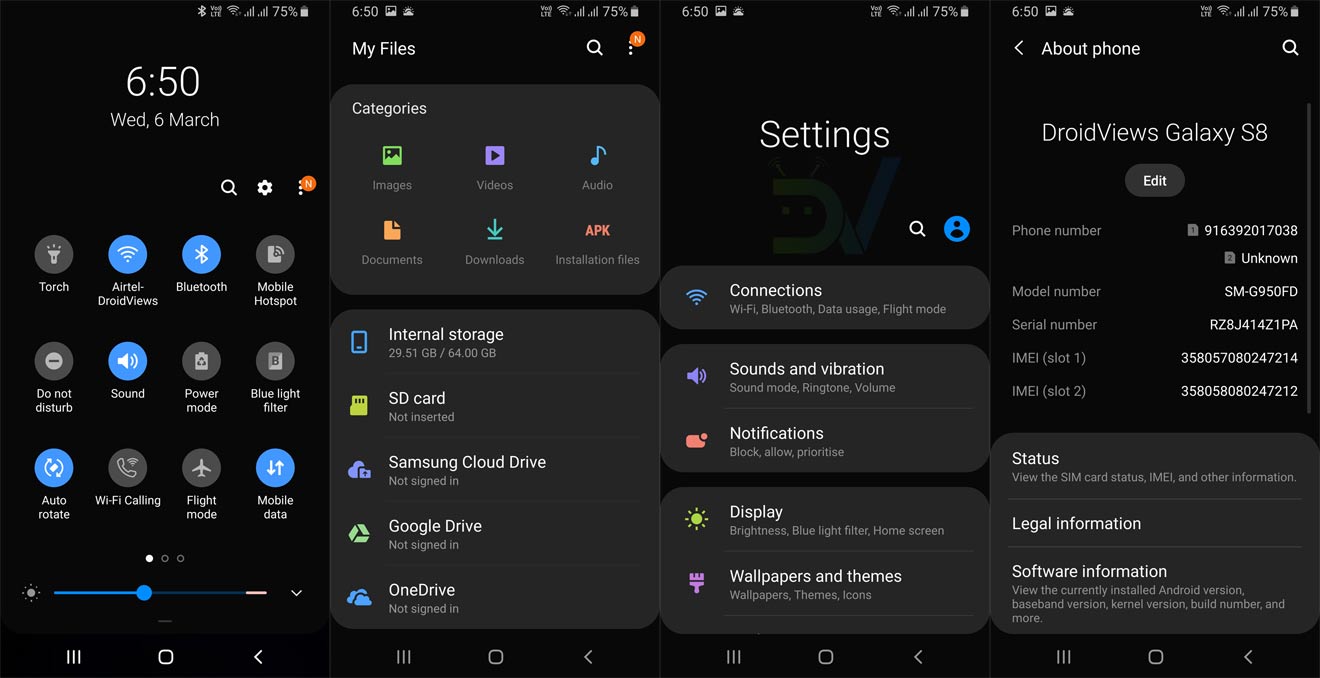 Galaxy S8 & S8 Plus Android Pie Update Features
Official changelog
One UI

Content, settings, and other information have been reorganized to keep you focused on the task at hand.
Interactive elements have been moved to the bottom of the screen so they're always within reach.
New designs and features such as Night mode help keep your eyes comfortable.

Notifications

You can reply to messages directly in the notification panel.
Image thumbnails are included in message notifications.
In an app's notification settings, tap the switch once to turn on or off all the notifications in a category.

Device care (formerly Device maintenance)

Performance modes are streamlined and integrated into power saving modes.
The Edge panel for device maintenance is discontinued.

Always On Display

New clock styles have been added, including the option to show a calendar with your schedule.
Charging information has been added to let you know how much time is remaining until fully charged.
You can show Always On Display whenever the screen is off, or you can set it to show for 30 seconds when you tap the screen.

Samsung DeX

Continue using your phone while DeX is being displayed on a monitor or TV.
Use Samsung DeX with supported HDMI adapters. No need for a DeX Station.

Other improvements and changes

Turn on the screen automatically whenever you pick up your phone using the Lift to wake feature.
Access Kids Home on the quick panel.
Call stickers have been discontinued.
HEIF images are now supported.
Dolby ATMOS/AC4 is supported.
Don't Miss: Best Samsung One UI Features to Check Out
New App features in the One UI
The Android Pie based One UI update for the Samsung Galaxy S8 also brings in several app updates. Not only have the Samsung apps been redesigned in accordance with the One UI guidelines, but they have also gained new features. The Settings menu has been reorganized so it may take some getting used to.
Your favorite (or not so favorite) Bixby has received some much-needed upgrades as well. Most important of these updates is the ability to remap to Bixby key to anything you like, except other assistants. Although, there are workarounds to launch Google assistant with the Bixby key. The Gallery app has also received a major feature in the form of new editing tools. Generally, stock gallery apps have a basic photo editing utility built-in. Samsung has now baked Photo Editor Pro's image editing tools right into the gallery app.
Official changelog
Settings

Menus have been reorganized to make settings easier to find.

Bixby

Bixby is all new, with a range of improvements and new features.
Swipe left from the main Bixby screen to explore the latest features and supported apps.
You can control the Bixby key in settings to decide what happens when you press or double press.

Phone

You can now sort your call history by incoming and outgoing calls.
Your call history can include up to 2000 entries (increased from 500 entries).

Contacts

The new drawer menu makes it easier to manage contacts from various accounts.

Gallery

Photo Editor Pro's editing tools have been added to Gallery, so you can make all your edits and touchups without leaving the app.

My Files

The new storage analysis tool has been added to help you monitor your storage usage and save space.
You can now show or hide items on the My Files Home screen.

Samsung Keyboard

New Unicode 11.0 emojis are available.
New adaptive theme changes your keyboard look based on the colors of the surrounding app.
Floating keyboard is available in all apps and has a new size and transparency settings.
You can set a custom touch and hold delay.

Samsung Health

Your daily step count will be shown in the notification panel. To hide it, press and hold the notification, then turn off Current steps.
Download Samsung Galaxy S8 Android Pie Update Firmware
Users should receive an OTA update soon if they haven't already. In case you don't like to wait, you can download the appropriate official firmware from below and install manually. The packages linked below are full Odin compatible firmware files. You'll need a Windows PC and Odin in order to install the firmware onto your phone.
You can download Galaxy S8 and S8 Plus Android Pie update firmware from below.
Galaxy S8 (G950F/FD – Exynos)
Galaxy S8+ (G955F/FD – Exynos)
To enhance your S8's experience further, don't forget to download the Galaxy S10's stock wallpapers and ringtones too.
Having downloaded the firmware, you'll need to install it on your Samsung Galaxy S8 or S8 Plus using Odin. Head over to the following article to find the latest Odin tool and detailed installation tutorial.