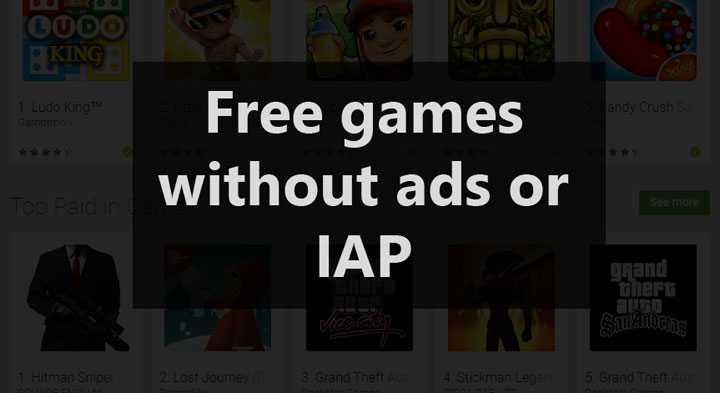 Some of the best Android games are paid ones. It's true that you have to spend some money to get quality products. Here are 5 awesome free Android games without ads or in-app purchase option.
Everybody enjoys playing video games. You don't have to be a hardcore gamer, casual gaming counts too. The Google play store has millions of games. Some of them are free & some of them are paid.
While it's easy to find amazing games which are free to play, they do show ads & are created in a way that you will have to buy some in-game items if you want to proceed to higher levels. A good example is all kind of racing games. Now, it's completely all right to spend a few dollars on the games that will entertain you for months. Plus, the ads & In-App Purchases provide monetary support to the developers. We're not against spending money on quality games. The problem, these days, is that this freemium & pay to win strategy is getting out of hands. That's why I mostly prefer paid games as they don't have any form of ads or In-App Purchases.
Worry not, if you don't want to pay for a mobile game, we got you covered.
5 Free Android Games without Ads
GameStart Pixel Battle
GameStart Pixel Battle is a retro-styled side-scrolling platformer. The graphics & the music give it a late 80s & early 90s video game vibe.
In GameStart Pixel Battle, you take on the role of a GameStart's resident gamer girl, Alyse. Your goal is to help her figure out what's sabotaging the games & making them impossible to play.
Don't miss: Best Battle Royale Games for Android 2018
GameStart Pixel Battle gets difficult as you progress further. There are a few cameos from popular gamers & you can unlock new characters week unique abilities. Overall, it's one of the best retro action game for Android. And, it's completely free.
[googleplay url = "https://play.google.com/store/apps/details?id=com.eliphant.Gamestart"]
Mekorama
You will love Mekorama if you are a fan of puzzle games. Actually, in 2016, we called it the best puzzle game of the year. Yep, it's that good.
The first thing you will notice upon installing Mekorama is that it's very similar to Monument Valley. Once you go past that, you will appreciate the gameplay. The goal of the game is to guide a robot to the exit on a 3d structure. There are a few pieces of the structure that you can move around in order to create a direct path to the exit.
In Mekorama, there is no time limit or a fixed set of lives. You can take as much time as required to clear the level.
Must read: 5 Android Apps You Should Check Out This Week
Mekorama is free to download from the Google play store. It has 50 awesome levels. And, if that's not enough for you, it also has a level editor where you can create your own levels. It doesn't show ads. It does, however, have In-App Purchase. But, that's just for a donation. It's totally optional. Whether you donate some money to the developer or not, it's not going to affect the gameplay in any manner.
Read this: Mekorama full review.
[googleplay url = "https://play.google.com/store/apps/details?id=com.martinmagni.mekorama"]
2048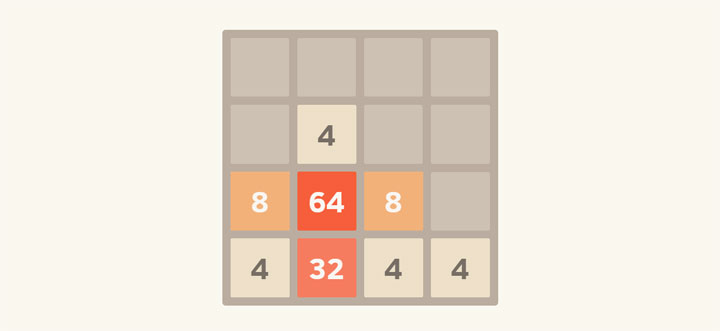 2048 is one of the best puzzle games of all time. This game took the world by storm & all of a sudden everyone was playing it. When I was in the University, almost everyone in my class had it on their smartphones.
The game was so successful that you can find countless copies of it in the Google play store. While the original 2048 has both ads & In-App Purchases, there are a few copies that are 100 percent free. The one I'm talking about comes from the developer Jerry Jiang.
This version of 2048 doesn't have any ads, doesn't ask for any kind of permission, and is open-source i.e. its code is available for you to see on Github.
[googleplay url = "https://play.google.com/store/apps/details?id=com.tpcstld.twozerogame"]
Fast Like A Fox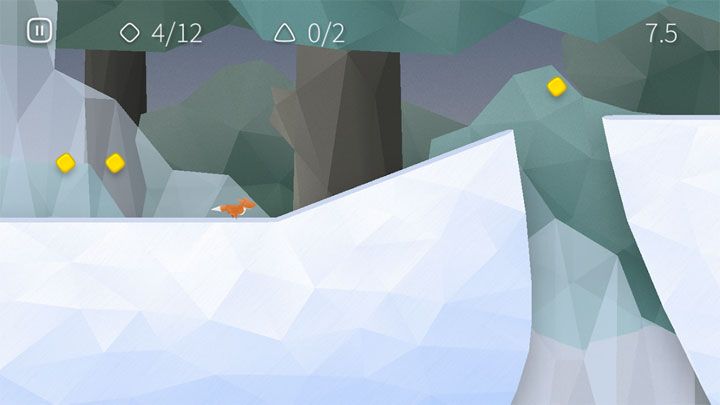 Fast Like A Fox is a fun & fast-paced platformer with simple touch controls. In fact, there are just two controls – tap left to jump & tap right to run.
In Fast Like A Fox, you take on the role of a, well, fox. Your goal is to bring back the treasures of the Golden fox tribe that's been stolen by mysterious minions.
[googleplay url = "https://play.google.com/store/apps/details?id=com.waybefore.fastlikeafox"]
ULTRAFLOW
ULTRAFLOW is a minimal puzzle game without any score or timer. The sole goal of the game is to complete levels & advance further where you get more complex levels to solve.
In ULTRAFLOW, you have to get the numbered ball into the large circle. But, you have limited bounces to do so. Once the ball has bounced for a fixed repetition without reaching the goal, it explodes.
Editor's pick for you: 50 Best Apps for Rooted Android Devices
ULTRAFLOW is completely free & without any ads or In-App Purchase. It has 99 levels. And, if that's not enough for you, there's ULTRAFLOW 2 which follows the same mechanism & has 180 free levels.
Read this: ULTRAFLOW full review.
[googleplay url = "https://play.google.com/store/apps/details?id=com.DSS.ULTRAFLOW"]
What's your favorite smartphone game that's totally free and doesn't have any ads or In-App Purchase?
CRIBBAGE

Cribbage is a two-player card game where players use a standard 52-card deck to score points by creating combinations of cards. Cribbage Online allows players to create an account, join tables with other players from around the world, and play cribbage in real-time. Additionally, three game modes are available (easy, standard, and pro) meaning it's suitable for players of all skill levels. It features a user-friendly interface with customizable themes, sounds, and animations, while also providing helpful resources such as game rules, strategies, and tutorials.
Visit their official website: Cribbage Online