At Droidviews, we always try to give our visitors the best of Android. Just like you hate bloatware on your phone, we keep away from all unimportant stuff here. With this resolution at the back of our mind, we cover only those things that interest the majority of sensible users. And, that why I thought I should compile a list of the best custom ROMs for Samsung Galaxy S2 GT-I9100.
We work hard to make your mobile life a little easier and it if for this that we started a best Custom ROMs series so that we might help you, in some or other way, pick what is best for you. We already published an article (in August 2013) reviewing some of the best performing custom ROMs for the Galaxy S2.
It has been a long time since then and it was getting a little difficult for us to update the older post. and therefore we are here again with another best custom ROMs for Samsung's once best-seller phone the Galaxy S2. The device has recently been updated to Android 4.1.2 Jelly Bean firmware and the new features brought by it has improved the usability of the phone. But, at the same time, the Jelly Bean update has also made the device a little slower.
With a good custom ROM installed on your phone, you can not only speed up your Galaxy S2 but also get a far better battery life than the stock firmware. Moreover, custom ROMs are capable of giving you more variety with themes and mods. Most ROM developers tend to remove the less-or-not-used apps called bloatware from their ROMs. And thus you get more space, more empty RAM and faster and smooth performance.
If you search the web, you can find hundreds of custom ROMs for the Galaxy S2, and this abundance of ROMs is sure to confuse you and make it very difficult to choose one good ROM that suits your taste and requirement. All ROMs listed below have been tested and found better in speedy performance and good battery backup. We tested the most talked about 13 ROMs and picked a bunch of good ones for you.
Root Your Samsung Galaxy S2
Please note that to be able to install a custom ROM on your Samsung Galaxy S2, you must root it first. Moreover, you also need to install a custom recovery like ClockworkMod or TWRP on your device because a custom ROM or mod requires a custom recovery. If you have rooted your Galaxy S2 yet, do it now using our easy rooting tutorials from the following link.
Also Read
Things to Do Before and After Installing a ROM
How to Install Custom ROMs on Galaxy S2 GT-I9100:
Preparations
Download the desired custom ROM  and the Google Apps (if applicable) zip package from below and copy the files to the external SD card storage on your Galaxy S2. Do not extract the zip.
Backup your apps, contacts, messages and all other data stored on the internal storage of your phone. You can backup almost everything using these free backup apps for Android will make backing up very easy.
Charge your phone's battery to at least 60% level.
Turn on USB Debugging on your Galaxy S2 from Settings> Developer Options and check the box.
Installation Steps: Now follow the following steps carefully to install a custom ROM on your phone-
Copy the ROM and GApps file to your phone's external SD.
 Turn off your device and boot it into CWM Recovery mode:  press and hold the Volume Up + Home keys simultaneously and then press the Power button. Keep the three keys pressed till the Start-up screen with "Samsung Galaxy S II" logo blinks for two times followed by a screen like this: 
Use the Volume and Power keys to scroll and select an option/file inside the Recovery mode.
Important: Do not forget to create a backup of your current ROM, so that you might restore it later in case you do not like the new ROM or stuck on some point during the installation procedure.
When the backup is complete, go back to the main menu and scroll down to "wipe data/factory reset" and confirm the choice.
Next, go to "wipe cache partition" and do the wipe.
Now open "advanced" option and "wipe dalvik cache"
Having done the 3 wipes as described above, go back to the main menu in recovery and select  "install zip from sdcard>choose zip from sdcard" option. Navigate to the ROM file and select it.
The ROM will be installed now. Wait till the installation is finished.
If the ROM also requires the Google Apps to be installed, select  "install zip from sdcard>choose zip from sdcard" option again and install the GApps package.
Finally, return back to the main menu and select "reboot system now".
Note: Some custom ROMs are installed through Aroma Installer utility. If this is the case, just follow the onscreen instruction and select preferred options.
The ROM will thus be installed on your phone and when it boots up it will have the newly installed ROM. Just go through the initial Set-Up and you are on the go. The first boot might take up to 5 minutes before the phone boots up, so be patient. In case your phone is stuck on the boot screen for more than 6 minutes, pull out phone's battery and place it back after 1 minute. Boot the device in the recovery mode again and wipe data/factory reset again and then reboot. It should be fixed.
6 Best ROMs for Galaxy S2 GT-I9100
1. ParanoidAndroid 3+ ROM Galaxy S2
Developer: nims11
ROM Review
The ParanoidAndroid 3+ ROM is one of the most popular and beautiful custom ROMs for the Galaxy S2. It is available for a host of Android phones and holds a good place among custom ROMs. Its hybrid look and feel, smooth and fast performance and decent battery backup, all make it lovable. Using the ParanoidAndroid 3 ROM was a whole new experience due to its flexibility, the capability of customization and, most of all, the expanded desktop mode with that beautiful Pie thing (see the screenshot).
I have written a detailed article that reveals all the aspect of this new avatar. Read our ParanoidAndroid ROM review. It is based on AOSP 4.2.1 and also supports themes made for CyanogenMod 10.1. The ROM is almost bugless. If you want to have a fresh new experience with beautiful looks, the PA3 ROM is just for you.
2. NeatROM
Developer: Salesale
ROM Review
NeatROM for  Galaxy S2 GT-I9100 is one of the best choices if you want to use a highly customizable and performing custom ROM. It is based on the latest Android 4.1.2 Jelly Bean firmware for the device from Samsung. As the very name suggests, it is a very neat and tidy package that unleashes the capability of your Galaxy S2 to give you a faster UI experience, more stable performance, and even better battery life. The developer has removed all bloats and thus you get more free RAM too.
There are more than 50 languages packed inside so you do not have to worry about the presence of your native language. NeatROM is a fully deodexed and zipaligned ROM with Busybox pre-installed. The presence of multi-window feature with unlimited app support, ripple, and ink-effect at the lockscreen, and various other features from Galaxy S3 and Note 2 ensure that you make the most out of your smartphone. Give this ROM a try and I believe it won't disappoint you.
3. WanamLite Clean & Fast JB 4.1.2
Developer: Wanam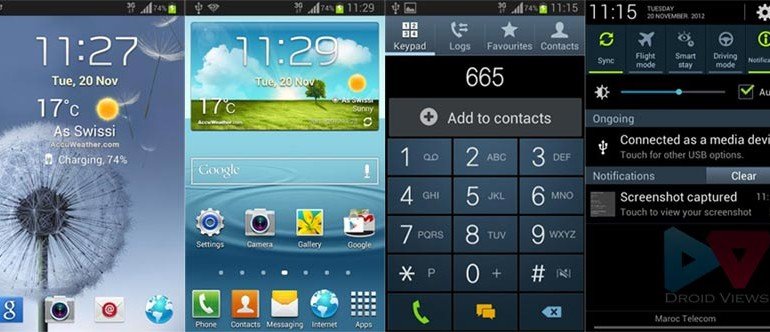 ROM Review
I have been using the Galaxy S2 for more than a year and have felt the same restlessness as you would have to get the official Android 4.1.2 update. And when it came, it brought a whole new army of features but at a great price. I felt a remarkable lagginess and battery drain with the stock JB firmware. I was looking for a ROM that could give me all the features of the official Jelly Bean but not the slow performance and poor battery. It was then that I stumbled upon the WanamLite ROM and having installed it on my Galaxy S2, I just fell in love with it.
Wanam, the developer of the ROM, has removed much bloatware and removed the elements that made it slow. The result is a light ROM that performance faster has many tweaks, and gives a very good battery life.  The ROM is installed via Aroma Installer and it means that you have the control to chose what to install on your phone and what not to. It is a fully Deodexed ROM and therefore you can flash a theme via ClockworkMod recovery too. If you are a lover of nature-themed TouchWiz UX and want to stay with the stock JB features with faster speed and better battery, go with WanamLite!
Here is a preview of the pure Jelly Bean style theme for the WanamLite ROM made by Crusader from XDA. You can download the theme in flashable zip from below.
4. Resurrection Remix JB 4.2
Developer: westcrip
ROM Review
The Resurrection Remix ROM does not need an introduction. It is one of the most popular custom ROMs among Galaxy S2 users. It is based on AOKP and CyanogenMod 10 and lets you enjoy all the good features of Android 4.2 with extra tweaks and bonus features. The ROM is very fast and responsive and if like a clean phone with a perfect holo look and feel, Resurrection Remix is what you need.
The battery life with the Resurrection Remix JB ROM installed on your phone is simply amazing. The ROM is installed through the Aroma installer that comes in action when you select the ROM file in ClockworkMod recovery. You choose the elements and features you would like to have on your Galaxy S2.
5. Biftor ROM
Developer: Biftor
ROM Review
If you love customization and theming on your device, Biftor ROM is just for you. It is full of features and allows you to enjoy various mods for battery, status bar, user interface and other elements of your phone. The ROM is installed via Aroma and so it lets you choose what to install on the device before being installed. It features ink, ripple and light flare effect on lockscreen, HTC Sense style task manager, internet speed tweaks, Quick Settings panel from Galaxy S4, ROM color control, and so on. The ROM gives you good performance and decent battery life.
6. Omega ROM
Developer: Indie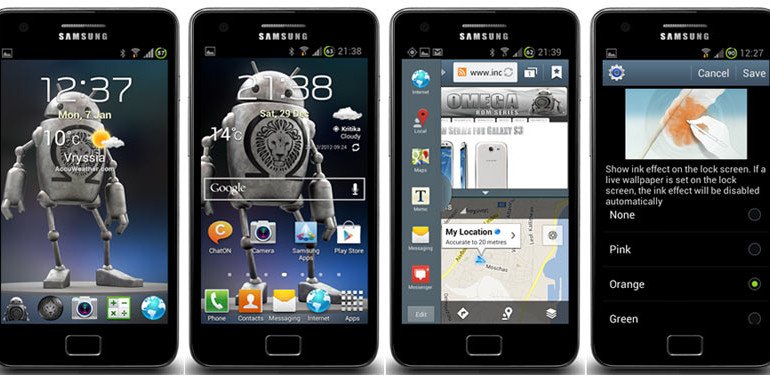 ROM Review
Omega is one of the first custom ROMs made for the Galaxy S2 since its Gingerbread days through Ice Cream Sandwich and now to latest Jelly Bean. Indie, the developer has always been active to give us the best of our S2. It's a purely stock themed ROM with no cosmetics and a little surgery of the non-functioning and sluggish organs of the TouchWiz UX.
Omega is actually the last and 24th letter of the Greek alphabet meaning "great". This ROM stands true to its name. It's my personal favorite and I like it for its stability, fast performance, decent battery, and stock look. Besides, the Omega ROM also comes with transparent AccuWeather widget, multi-window with more apps support, ink-effect at ripple lockscreen and various mods and toggles of system settings. The ROM can be used as a daily driver.
We are still testing some ROMs and the post will be updated soon. Stay tuned! Do you have a really good ROM in mind? Please, share with us!