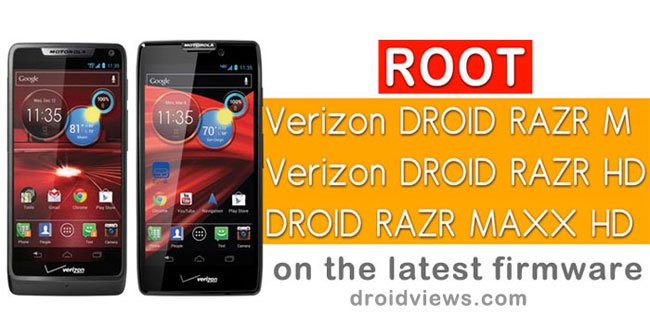 It has been quite a long time since Motorola rolled out the long-awaited Android 4.1.2 Jelly Bean update to a range of smartphones including the Verizon Droid RAZR M, RAZR HD, and RAZR MAXX HD. Firmware updates bring a smile to the faces of the users but they also leave you with an unrooted device. If you have got used to using a rooted phone, there is no way you can feel happy until you regain root access. Let's see how we can root Verizon Droid RAZR M and other phones of the RAZR series.
Sometimes we get a root exploit as soon as an update arrives, but sometimes it takes a long time for a working root method to arrive. In the case of the Motorola smartphones mentioned above, no root method was available for some time. However, the scene has changed now as you can now root Verizon Droid RAZR M, Droid 4, RAZR HD and RAZR MAXX HD easily in a single click.
If you own one of following phones and grabbed the recent firmware update via OTA, you can your device in a matter of moments with k1mu's Saferoot tool.
Verizon Droid RAZR M XT907 [Firmware version: 98.18.94 or 98.30.1]
Verizon Droid RAZR HD XT926 [Firmware version: 9.30.1]
Droid RAZR MAXX HD XT926M  [Firmware version: 9.18.94]
Verizon Droid 4 LTE 4G XT894 [Firmware version: 98.72.18-9 or 98.72.18-8
UPDATE
To root your Verizon Droid RAZR M, Droid 4, RAZR HD & MAXX HD on Android 4.4.2 KitKat, use Geohot's TowelRoot app.
Disclaimer:
The rooting procedure given here has already been tested and found working on the above-mentioned devices, yet we do not hold any responsibility. You are advised to use your own discretion and proceed at your own responsibility.
Getting Prepared:
Before you can actually root your  Verizon Droid RAZR M/ Droid 4/ RAZR HD/ RAZR MAXX HD, here are a few things that you will do:
Download the Saferoot tool: saferoot.zip
Download and install Motorola USB drivers on your computer if you do not have it already.
Go to Settings> Developer options on your phone and enable USB Debugging on it.
Steps for Rooting:
Having made sure that you have fulfilled all the prerequisites listed above, follow the steps given below:
Unzip the Saferoot file and open the extracted folder.
Connect your Verizon Droid phone to your computer.
Doing so will trigger the rooting script and SuperSU will be pushed to your device.
At the completion of the rooting procedure, your phone will reboot automatically.
When your Verizon Droid RAZR M/ RAZR HD/ Droid 4/ RAZR MAXX HD boots up, you will see the SuperSU app in your phone's app drawer. To verify root privileges on your device, install the Root Checker app from the Play Store and run it.
[googleplay url="https://play.google.com/store/apps/details?id=com.joeykrim.rootcheck"]
Also see
Root Verizon DROID RAZR M on KitKat and Install CWM Recovery