Yesterday I wrote a post where I listed some of the best custom ROMs for the HTC One X. Being an open-source OS for mobile devices, Android open for you new vistas when it comes to the customization aspect. No other OS in the world gives you so many choices for custom ROMs on your mobile phone. This is the beauty of beloved Android. At one hand, this variety is a boon, but on the other, it is also puzzling and so many of us get confused when trying to choose a good ROM for our Android phone. Below is a list of the Galaxy S2 custom ROMs.
The Samsung Galaxy S2 is one of the most powerful phones out there. Millions of people own it and this popularity attracts Android developers' and prompts them to develop more ROMs and apps for this giant device. This article aims at saving your precious time and providing a shortlist of some of the best ROMs that can enrich your experience with your Galaxy S II.
One might ask: "Why should I install a custom ROM?" The answer goes like this: Most stock ROMs are made with a view to addressing some ideal features that depend on a balance between battery life and performance. They are also stuffed with so many apps (bloatware) that are mostly of not much use to an average user and make the device slower.
Using the same stock ROM on our device for a longer time, we get bored of it. This is where the search for a good custom ROM begins. Installing a custom ROM might solve this issue very easily. You get a variation, features of an upgraded version of the OS that are not often officially available for the phone, better battery life, smoother UI experience, faster performance, and whatnot.
Do not forget to check out the 2013 edition of our Galaxy S2 best ROMs.
Root your Galaxy S2 First:
If you wish to flash you SGS2 for the first time, let me tell you cannot install any custom ROM on your device unless you root it. By rooting your device, you will get access to the system files and writing/modifying permissions. Moreover, you will also require to install the ClockworkMod Recovery tool. To know how you can Root Samsung Galaxy S2, head over to our easy guides:
 1. X-TremE CM10 Pure ROM SGS2 (Jelly Bean)
Developer: KNTXTremE
X-TremE CM10 Pure ROM aims to give you a pure Jelly Bean experience on your Samsung Galaxy S2. The ROM is very stable, smooth and fast. Moreover, it is also battery-friendly (tested it for two days with satisfactory battery-life). X-TremE CM10 Pure is one of the best Galaxy S2 custom ROMs.
Main Features of the ROM:
Having tested it on my SGS2, I was greatly impressed by this powerful and beautiful ROM. I had switched reluctantly to MIUI ICS ROM to test my new MIUI theme. Here are some of the cool features offered by the X-TremE CM10  Pure ROM:
Based on CM10 Experimental Build 20120812 Android 4.1.1 JRO03L
Aroma Installer 2.00
Navigation Bar
X-Lockscreen
Google Apps include
Semi-Transparent Popup
SuperSU
AOKP Weather Theme in Lockscreen
Toggle Icon Modified
build.prop Tweak
Aroma Features (can be opted-in Aroma Installer):
The following features are a kind of optional in the ROM. You will have to select them while installing this ROM.
Theme: Default – X-TremE
Logo & BG : Default – X-TremE
Nav.Bar : On – Off
Kernels: Default CM – DharamManiar – Dorimanx – Dream – Siyah Kernel
Modems: LPQ – LPR – LPS – LPW – LPX – KI4 Modems
Music: Apollo – DSPManager – Default Music – Google Play Music – Walkman
File Managers: Solid Explorer – OI File Manager
Launchers: Apex – Atom – Nova – Sony Xperia
Browsers : Chrome – Dolphin HD – Firefox Beta – Maxthon – Opera
How to Install X-TremE CM10 Pure ROM:
Here is the step-by-step method to install this ROM on your SGS2. You can use it with all ROMs listed below.
Download and copy the ROM file in zip format to the root directory of the phone's SD Card.
Turn on USB Debugging on your device: Settings> Developer Options>USB Debugging
Turn off the phone.
Boot your device into CWM Recovery Mode. To do this, press and hold Volume UP+Home (center) buttons simultaneously and then press the Power button. Keep these keys pressed till the screen with Samsung logo blinks for two times.
In CWM, do not forget to make a backup of your current ROM.
Then select the following options and confirm: Wipe Data, Wipe Cache Partition,  Advanced> Wipe Dalvik Cache
Select Install zip from SD card. Then browse and select the ROM file you copied in Step 1.
When installation finishes, come back to main menu and reboot device.
2. SuperNexus I9100 (Jelly Bean/AOSP)
Developer: Faryaab
With SuperNexus I9100 (Jelly Bean/AOSP) ROM, you can experience a pure Jelly Bean on you very Samsung Galaxy S2. The ROM features Android Jelly Bean 4.1.1, latest CyanogenMod Kernel, all Jelly Bean features and apps, and many others.
Features of SuperNexus I9100 (Jelly Bean/AOSP) ROM:
Fully Deodexed
Zipaligned APKs
Rooted (Super SU)
BusyBox Installed
No 3rd Party App
ZERO Bloatware
Official Jelly Bean Bootanimation (From Official Nexus S Android 4.1.1 Factory Image)
Init.d Support
Bash & Nano Support
Native SIP/VOIP Support
OpenVPN Support
EXT4 File System Optimizations
Boot Animation Performance Enhancements
Galaxy S II Device Settings as an App
Extended Power Menu (Reboot, Recovery & Download Options)
Power key Camera Shutter (Click Power Button To Capture Image/Video in Camera App)
Device Hardware Information (Settings>About Device>Hardware Information)
T9 Dialer Functionality (Smart Dialer)
Landscape Dialer Support
Increased Tab Limit in Stock Browser From 16 To 64
Huge APN & SPN List
Tweaked Progress Spinners Values (Silky Smooth Loading Spinners)
Allowed Any File-Type To Be Downloaded
Allowed Installation Of Apps From Unknown Sources By Default
Disabled Data Roaming By Default
Improved Scrolling Cache
Reduced Boot-Time
How to Install:
Follow the same steps as described above under "X-TremE CM10 Pure ROM" topic. To flash the GApps, copy the file to SD Card and just repeat the Steps 7-8.
3. MIUI ICS ROM for Samsung Galaxy S2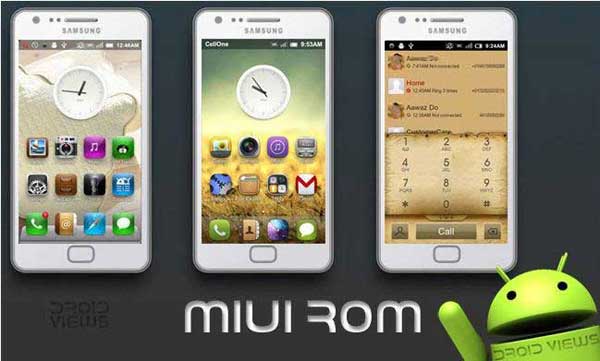 This is one of the best and most popular ROMs for Samsung Galaxy S II. The MIUI ROM gives you the look and feel of the iOS and the functionality of Android OS.
You can get all about MIUI ROM for Galaxy S2 with complete installation guide.
4. SalmanRom V4 SGS3 Themed ROM for SGS2
If you are thinking of buying a Samsung Galaxy S3, just hold a minute and rethink. Here is the SalmanRom V4 (SGS3 Themed ROM) for SGS2 that can give you a pure Galaxy S3 experience on your present device. The ROM is full of features. It is fast and battery-friendly. I have used it for 20 days and still think it is one of the best.
To get the download link, features and installation guide for the SalmanROM V4, read our review article.
5. Resurrection Remix JB ROM GT-I9100
Developer: Westcrip
Resurrection Remix JB ROM GT-I9100 is yet another Jelly Bean ROM for SGS2. It's a feature-packed ROM with great customization options. Resurrection Remix ROM is based on AOKP, CM9/10. As a result, you get an awesome combination of performance, customization, power and the newest features, brought directly to your Device. It is one of best Galaxy S2 custom ROMs.
How to Install the Resurrection Remix JB ROM:
Download and copy the ROM file in zip to your device via USB.
Turn off the device and boot into CWM Recovery.
Backup your current ROM
Wipe data/factory reset (mandatory if you coming from ICS version or another ROM)
Install the Main ROM via "install zip from sdcard" option.
In Aroma installer select "Custom Installation"
Choose from the options you prefer.
When the installation finishes, uncheck the "Reboot Now" option
Go back and open "advanced" option and Wipe Dalvik Cache,  Fix Permissions
Wipe Cache Partition
Finally, reboot device from the main menu.