Having a good phone with awesome specs alone does not make it a smartphone in the true sense of the word. You cannot make the most out of your phone unless you enhance it with some nice third-party apps that let you do things easily, entertain you, improve productivity, skim creativity, keep you updated with the happenings of the world around you and share your feelings with your community. What makes a smartphone a smarter phone is the type of apps it has. It is always better to keep only some well-chosen apps instead of installing a lot of less useful apps, turning your phone into a mere app-box. Try the following 30 must-have free apps on your Android.
The Google Play Store is stuffed with an overwhelming number of apps and if you try to pick some nice apps from the app crowd, you are sure to get confused. If you got a new Android and are looking for a bunch of good apps to start with, do not miss to take a look at our list of some of the best and most useful apps of all time. The apps listed below are free in price but still, they are packed with features that might leave many paid apps in their category far behind.
Don't miss: Some Less Known but Great Apps from Google Play Store
30 Must-have Free Apps for Android
Below are the 39 best and must-have apps for Android that every user should try first.
1. Talon for Twitter
When it comes to having a Twitter client app on your Android phone, we'll strongly recommend the free premium app. Talon for Twitter was originally meant to be a paid app but due to some technical reasons, the developers had to make it available for free. It one of my favorites apps and a must-have if like tweeting. It is a simple, dark, and has a dash of elegance that you would certainly like.
[googleplay url="https://play.google.com/store/apps/details?id=com.klinker.android.twitter_l"]
2. Evernote
Evernote is an easy-to-use, free app that helps you remember everything across all of the devices you use. The app lets you take notes, capture photos, create to-do lists, record voice reminders. It is now compatible with Dropbox and lets you sync all these notes and reminders so that you can access them anytime on your phone or desktop computer.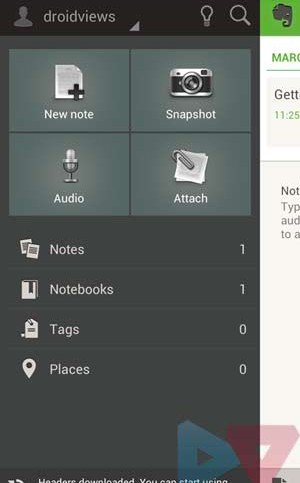 [googleplay url="https://play.google.com/store/apps/details?id=com.evernote"]
3. Flipboard
Flipboard is like a personalized miniature magazine for Internet content that brings together world news and social news in a beautiful magazine designed for your Android phone and tablet. It takes stories from around the Web and re-formats them into little pages of text and images, so you can flip through by swiping up and down. What is more, you can also integrate your Facebook and Twitter timelines with this great app and it will automatically fetch all social updates directly to your phone presented in beautiful flip layout.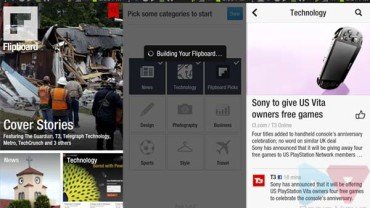 [googleplay url="https://play.google.com/store/apps/details?id=flipboard.app"]
4. Instagram
Instagram is a "perfect social network" app.  None of those silly status updates – just pictures that give you a peek into the lives of those you care about. And of course, you can always check out Facebook, Google+, and Tumblr as well. It's a simple way to make and share gorgeous photos on your Android. Every day you open up Instagram, you'll see new photos from your closest friends and creative people from around the world.
[googleplay url="https://play.google.com/store/apps/details?id=com.instagram.android"]
5. Merriam-Webster Dictionary
One of the world's most respected and trusted dictionaries can now fit into your shirt pocket at no direct cost to your wallet. The Merriam-Webster Dictionary app also has a voice search feature that makes searching for a word very easy. Not only meanings, but the app also includes pronunciation, synonyms, antonyms, example sentences and more. By tapping on the sound icon, you can also hear the correct pronunciation of a word.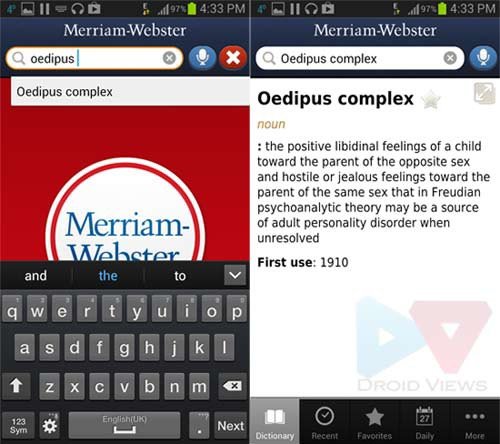 [googleplay url="https://play.google.com/store/apps/details?id=com.merriamwebster"]
6. Pocket Bookmark
A very handy and useful app, Pocket for Android is just what everybody needs to have on the phone. It often happens that while surfing the web we come across a page with some important content, useful article, interesting video or anything that one might be interested in. Suppose you have an important job to do, you get busy and forget about that web page. Now when you are free again, you must be looking for the link but you do not find it. It is here the Pocket app come to your assistance.
When you find something on the web that you want to view later, put it in Pocket. It automatically syncs to your phone, tablet or computer so you can view it any time, even without an internet connection. You can read an article during a flight, see a web page while you wait in line or watch a video while relaxing at home.
You can also download a Chrome or Firefox extension and bookmark a web page for later viewing. Now you can view the saved pages on your desktop, tablet, and phone. Open your android browser, tap on options button, select Share option and "Add to Pocket". It's really one of the best must-have free apps for Android devices.
[googleplay url="https://play.google.com/store/apps/details?id=com.ideashower.readitlater.pro"]
7. Pocket Aptitude
Are you a perfect remembering machine?- think again! All of us have various things to remember, such as bank accounts, emails, credit and debit cards, automobiles insurance policies, passports, medical prescriptions, private notes, web logins, serial numbers, tax information, serial numbers, etc. Pocket for Android lets you keep all your personal and secure data safely and easily. Why do we keep all these burdens to ourselves if our phone can hold them?
The Pocket Aptitude app is very useful for those who are prone to forget things. It allows you to safely store all your sensitive data such as bank account details and passwords on your phone. Pocket Aptitude is also useful for remembering all those bits and pieces of information in one place from frequent flier numbers to contact lens prescriptions.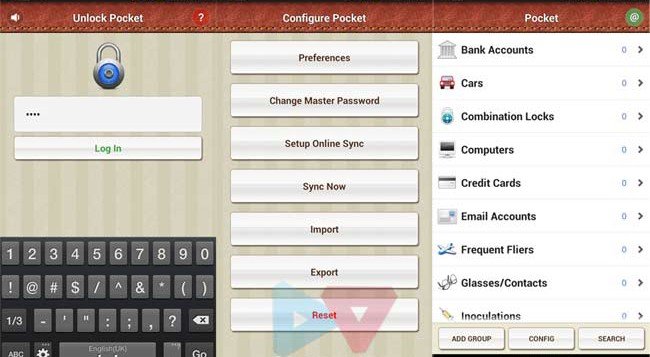 Pocket Aptitude is very easy to use. Just launch the app, open a new account and set login details. Enter your four-digit password and you will be able access all secured data. You can also sync and backup the secured details with your Dropbox or email account.
[googleplay url="https://play.google.com/store/apps/details?id=com.pocket.aptitude"]
8. Barcode Scanner
Another app you must have on your Android phone is the Barcode Scanner, especially if you are shopping maniac. The app uses the camera on your device to read barcodes of all kinds. After scanning barcodes you find on products, for example, you can discover prices and reviews for it. Or, when scanning newer two-dimensional barcodes, like QR Codes, you can access contact information, bookmarks, web site links and more inside.
I am just a fan of this app as it once saved me from paying more than the MRP of a Jeans pant because the dealer had scratched the price. Make sure that the auto-rotation feature is turned on your phone because the apps work nicely in landscape mode.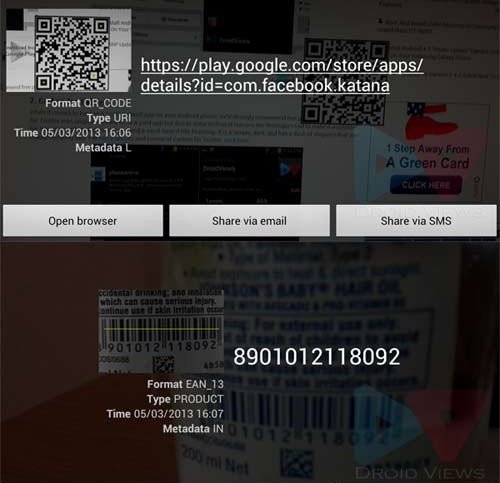 [googleplay url="https://play.google.com/store/apps/details?id=com.google.zxing.client.android"]
9. Swiss Army Knife
Have you seen the little multi-purpose tool the Swiss Army carried? The present app aptly justifies its name in being a hub containing multi-purpose tools for your mobile phone. This app contains a set of tiny tools: a flashlight, a unit converter, a timer, a stopwatch, a compass a bubble level, a calculator, a magnifying glass, a mirror,  and a ruler. All the tools are very useful and help you do many things so easily.
[googleplay url="https://play.google.com/store/apps/details?id=com.digital_and_dreams.android.android_army_knife"]
10. WebMD for Android
WebMD for Android is a must-have medical companion app. Though it is not a replacement for an actual doctor, it is the next best thing to have-  an easy medical reference that we can carry in our pockets. It helps you with your decision-making and health improvement efforts by providing mobile access to mobile-optimized health information and decision-support tools including WebMD's Symptom Checker, Drugs & Treatments, First Aid Information and Local Health Listings. The app also gives you access to first aid information without having to be connected wirelessly – and thus it can be a lifesaver in an emergency.

[googleplay url="https://play.google.com/store/apps/details?id=com.webmd.android"]
11. Hide It Pro
Hide It Pro app for Android is a completely free app that lets you hide pictures, videos, applications, messages, call logs in your phone. It is a complete solution app if you want a file hiding solution for your Android.
Another nice thing about the app is that it disguises itself as an Audio Manager app which can be used to turn the volumes up and down. But when you long press on the Audio Manager logo on the top the actual Hide It Pro app comes to the surface. And then you will be able to manage your secret vault of images, videos, apps, call entries and messages, etc.
12. Avast Mobile Security
The security of your phone internally and against theft and loss is as important as owning the phone itself. That is why no article like this can be considered complete without a nice security app. And when it comes to free apps, Avast Mobile Security is priceless both at the Google Play Store and in utility. Avast is the best anti-theft solution on the market. It is basically anything you would want should your device get lost or stolen.
The app has an integrated anti-virus module that can scan your phone, external SD card, and all installed apps. Avast can do more for you. It scans and displays access rights and intents of installed apps. It measures incoming/outgoing data transfers and scans each URL that loads and warns you if it's malware-infected. It also has a call and SMS filter.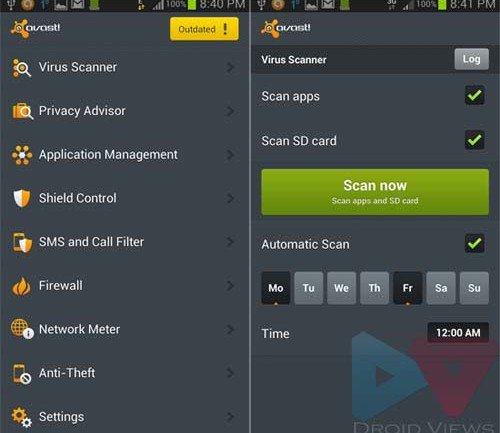 [googleplay url="https://play.google.com/store/apps/details?id=com.avast.android.mobilesecurity"]
13. App Backup & Restore
App Backup & Restore is a very nice app to secure all or selected apps installed on your phone. It often happens that for some reason we have to wipe or format our phone, especially when the phone is stuck on bootloop or after upgrading or downgrading the phone's software. With App Backup & Restore installed on your phone, you will b able to backup your apps and games and restore them anytime later. While most such apps require root access, the best thing about App Backup & Restore is that it can do the job without root.
All you need to do is to install the app and perform a backup. In case you have to wipe or reset your phone, you will have to reinstall the app and then restore the backed up apps. All the backed apps are saved in APK format to the "App_Backup_Restore" folder on your phone's external SD card. Make sure that you have enabled "Unknown Sources" option from phone's Settings> Security before trying to restore apps. This app is actually one of the must-have free apps for Android.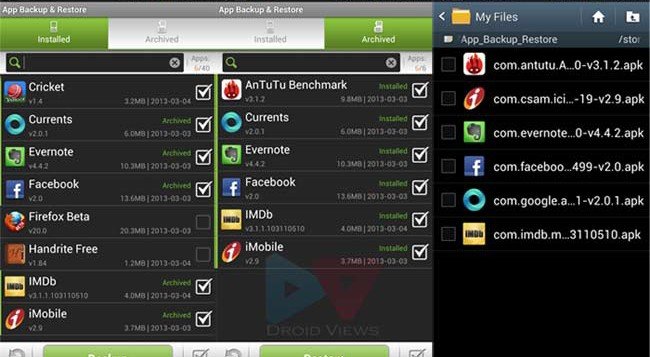 [googleplay url="https://play.google.com/store/apps/details?id=mobi.infolife.appbackup"]
14. Backup Your Mobile
Keeping the backup of your app is a nice idea. Nobody likes to lose all his apps all of a sudden due to some mishap but what about backing up some other data that are no less important than your apps. Yes, I am talking about your contacts, call logs, text messages, bookmarks, system settings, calendar entries, etc. We have a good free app for you that will let you live a free life without having to be worried about the fear of loss of such data.
The Easy Backup app does what its name says and does it quite impressively. All stores all backed up apps to the SD card or in the device memory and also lets you to store data on Google Drive or Dropbox. You can also schedule automatic backups. The application can automatically upload backups to Google Drive, Dropbox.  It is possible to copy data from one device to another by uploading and downloading backups to/from Google Drive, Dropbox, by moving SD card from one device to another or by copying Backups folder between devices.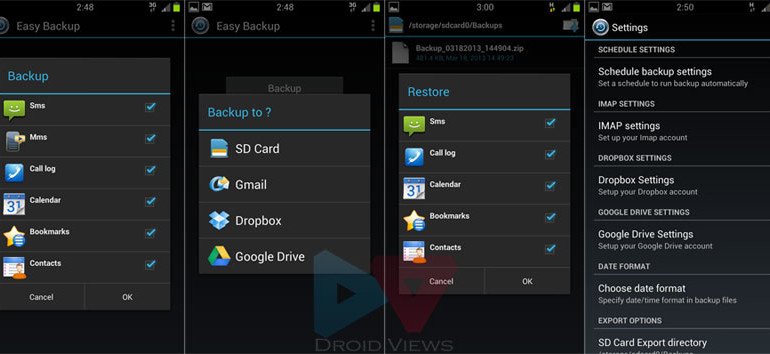 [googleplay url="https://play.google.com/store/apps/details?id=com.simpler.backup"]
15. IMDb Movies & TV
Everybody loves watching movies and TV. If you too are a movie fan, the IMDB app is a great choice. The IMDb website is pretty much an essential tool for movie lovers as it houses a wealth of information on movies. Now the site has been squeezed into an Android app to make browsing through all that information a much more manageable proposition on your smartphone's smaller screen. It has a warm UI, along with some key features really make this app a must-have for movies critics, movie buyers. This movie guru tool is so helpful and simple to use, and yet free!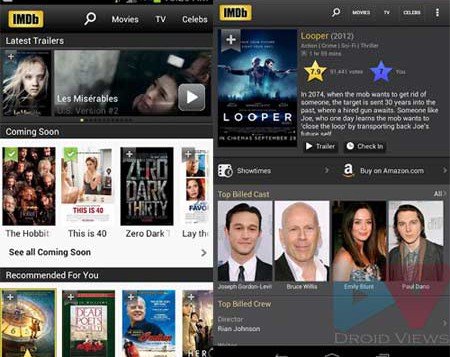 [googleplay url="https://play.google.com/store/apps/details?id=com.imdb.mobile"]
16. TeamViewer for Remote Control
TeamViewer is a very interesting app with which you can remotely control your computer from your Android phone. It requires an internet connection of desktop and handheld devices. Having downloaded the TeamViewer client on your computer and the app on your Android phone, you will be able to see your computer and even remotely operate it. What you do on the computer can be seen on the phone and what you do with the phone affects the computer.  I think this app is a must-have as it can be very useful in certain situations.

[googleplay url="https://play.google.com/store/apps/details?id=com.teamviewer.teamviewer.market.mobile"]
17. ScoreCenter for Android
All of us are interested in all, some, few, or some sports and wherever we are, we always wish to keep updated with the live scores of a match. ESPN ScoreCenter brings you scores, news and standings from sports leagues around the world. The app makes it easier than ever to follow your favorite teams anytime, anywhere. Stay up to date on the latest scores with personalized scoreboards and alerts. Follow the nation's top stories with in-depth coverage and analysis.
[googleplay url="https://play.google.com/store/apps/details?id=com.espn.score_center"] [googleplay url="https://play.google.com/store/apps/details?id=com.wisetoto"]
18. Mighty Text
If you are fond of sending a lot of text messages, the Mighty Text app is just what you need. Most of us shirk from sending text messages because we feel it difficult to type longer texts on our phone's small screen. This little app makes it all very simple. Just install the app, sync it with your computer via your Google account, open a link sent to you by the app and say "voila!". Yes, now you can see a computer version of your phone's messaging app, where you can view your messages, compose new ones with your computer's keyboard, and send them in real-time. Besides a phone to the computer version, the app also has a tablet version.
[googleplay url="https://play.google.com/store/apps/details?id=com.texty.sms"]
19. Amazon Kindle
The world's most favorite ebook reader app is naturally a must-have for all. The Kindle app puts over a million books at your fingertips. It's the app for every reader, whether you're a book reader, magazine reader, or newspaper reader—and you don't need to own a Kindle to use it. Choose from over a million Kindle books from the Kindle Store or enjoy popular magazines like The Economist and Reader's Digest with high-resolution color images. It's a very rich ebook reader with a host of features.
[googleplay url="https://play.google.com/store/apps/details?id=com.amazon.kindle"]
20. Nike+ Running
If you are health conscious, the Nike+ Running app will let you manage your weight and calorie burn in a very interesting and systemic way. With this app, you can map your runs, track your progress and get the motivation you need to reach your goals. No sensor or additional products needed, just grab your phone and go. From the trail to the treadmill, your phone's GPS and accelerometer accurately record your distance, pace, and time. In-run audio feedback lets you know these metrics at every mile, so you can stay focused on your run.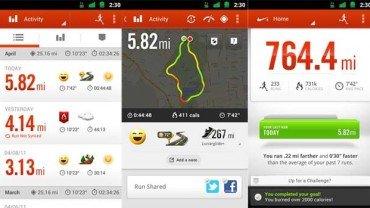 [googleplay url="https://play.google.com/store/apps/details?id=com.nike.plusgps"]
21. Shazam
Ever heard a track and wondered to know about its details? Do not stress your brain and let Shazam do it for you. It's a very nice app that identifies a song playing near you and track it down so that you might preview or buy the track, get streaming lyrics, YouTube videos, celebrity buzz, TV shows and more. Just launch Shazam, tap the icon, let it listen to the song and it will search it online and bring to you. It is very much like Google image or video search.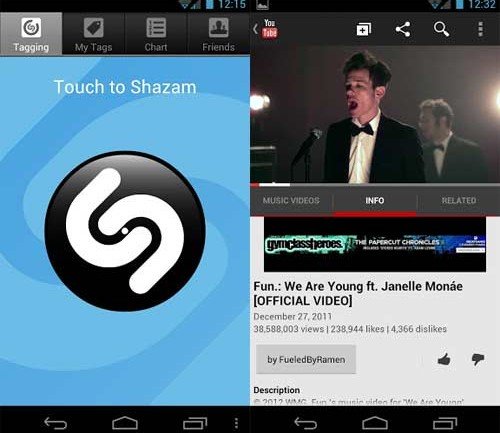 [googleplay url="https://play.google.com/store/apps/details?id=com.shazam.android"]
22. WeatherBug
Nowadays, most Android phones come with a stock weather app or widget pre-installed, but they are not usually that descriptive. The WeatherBug app has now got better with the last update and it really deserves a place in your phone's app drawer. It shows weather highlights in details and with enhanced forecast map. The app also comes with a few homescreen widgets.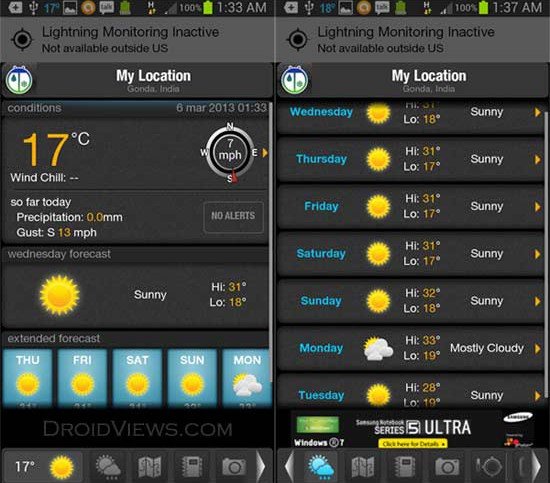 [googleplay url="https://play.google.com/store/apps/details?id=com.aws.android"]
23. Kingsoft Office
The Kingsoft Office app is the only free mobile office with full-features.  It has a very user-friendly and nice interface. The Average Rating of Kingsoft  Whether in a small cell phone screen or on a large screen on the Tablet, Kingsoft Office has a superior performance! With this app installed on your Android phone, you will be able to create, view and edit Word, Excel and PowerPoint files in a nice way.
[googleplay url="https://play.google.com/store/apps/details?id=cn.wps.moffice_eng"]
Other Nice Apps
Here are 5 more apps that you must have on your phone.
[googleplay url="https://play.google.com/store/apps/details?id=com.photofunia.android"] [googleplay url="https://play.google.com/store/apps/details?id=com.dropbox.android"]
Finally, here end our moderate list of some of the most useful free apps that every Android phone users must have. Do you agree with our pick? or think you could suggest an even better app, please drop a comment. We hope this article will help you find some nice apps. Do not forget to share how much you like it. Cheers!
Got Some Nice Apps? Now Have Some Useful Tips & Tricks