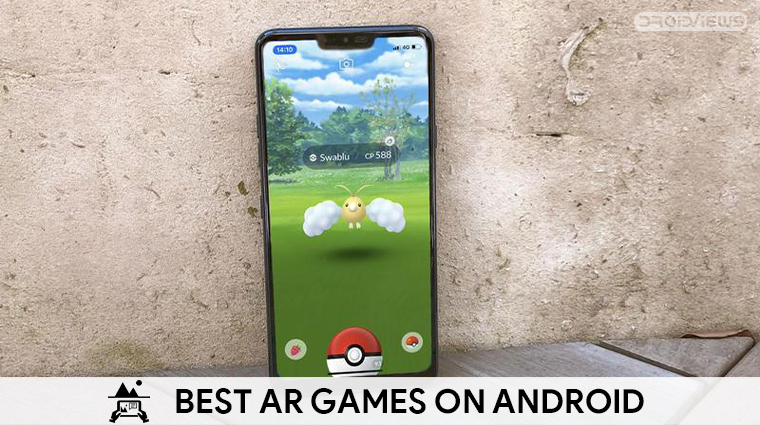 Many tech companies have heavily invested in VR but it's not surprising to see that it is AR that's becoming mainstream, at least right now. Unlike Virtual Reality, Augmented Reality does not require any special hardware. AR works right on your phone and so you can enjoy AR games on it. This has resulted in a lot many Augmented Reality games and many are available on Android. Here are the best AR or augmented reality games for Android.
If you are crazy about games and want to download premium games for Android for free, the Google Play store has a treat for you.
1. Pokemon Go
[googleplay url="https://play.google.com/store/apps/details?id=com.nianticlabs.pokemongo"]
There's a very good chance that you've heard of Pokemon Go. When it was launched the game spread like wildfire across oceans and continents. It was on news networks that have no other job than to talk politics. Obviously, the name had to pop up on a list of augmented reality games. If you ever wanted to be a Pokemon trainer, this games makes you.
Your job as a Pokemon trainer is to travel around the world and catch wild Pokemon. You can train your Pokemon, participate in fights with gym leaders, etc. You have to actually cover ground in real-world to catch Pokemon and participate in gym battles and mega-events. Whenever you stumble upon a Pokemon the game superimposes itself on your screen. You can throw a Pokeball to catch it on the screen. If you love this game, you should also check out these Pokemon Go alternatives.
2. Harry Potter: Wizards Unite
[googleplay url="https://play.google.com/store/apps/details?id=com.nianticlabs.hpwu.prod"]
Pokemon Go is not the only augmented reality game in Niantic's arsenal. If you're more of a Harry Potter fan, the game developer has you covered as well. The basic engine is the same where players are required to move around in the real world.
Unlike Pokemon Go, where it all starts to seem pointless and stupid after a while, to some people (me), Harry Potter Wizards Unite has a narrative. Your goal is to put an end to a calamity and punish those that are responsible. As you walk around, you may encounter your favorite characters from the Harry Potter series.
At certain locations, you can also find portals that let you enter one of the many iconic places from the Harry Potter universe. You also earn rewards that help you level up and make your wand more powerful.
There are some games that you don't even need to download at all. Check out our list of best zero MB games for Android.
3.  Jurassic World Alive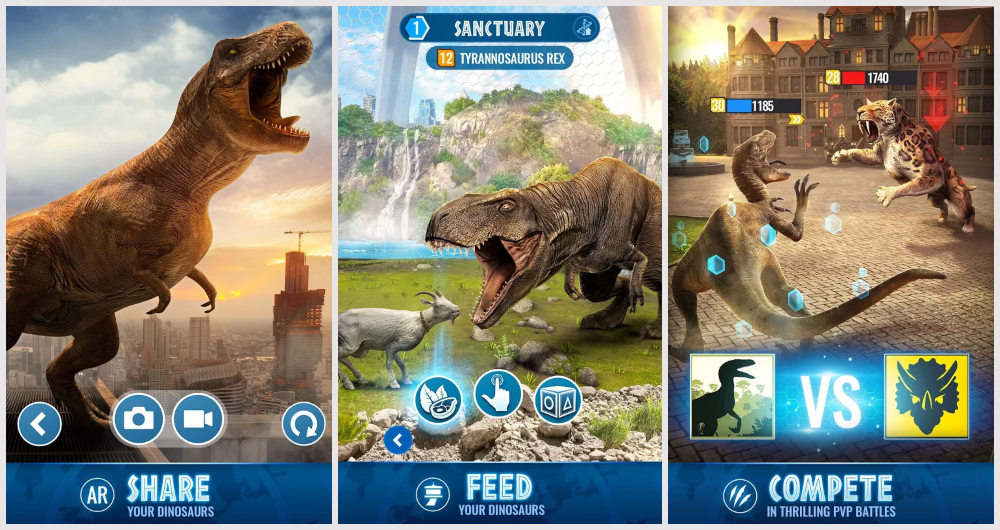 [googleplay url="https://play.google.com/store/apps/details?id=com.ludia.jw2″]
While we're talking about augmented reality games based on popular franchises, here's one for you dinosaur fans. You play as a dinosaur scientist and travel around catching loose monsters… err… dinosaurs. When you have enough dinosaurs you can go to arenas and well, make your dinos fight with another player's. It's quite like Pokemon Go except that you catch dinosaurs instead of Pokemon.
You can upgrade your dinosaurs and create new hybrids in the lab section of the game. The game is free but you can subscribe to get better loot boxes at $9.99 per month.
4. Smash Tanks – Augmented Reality Game
[googleplay url="https://play.google.com/store/apps/details?id=com.dumpling.smashtanks"]
As the name suggests, you'll be engaging in a battle of tanks and your goal is to smash enemy tanks. You do this by dragging the projectile arrow and shooting at your enemy's weakest points. You can play against the computer or against real players in the multiplayer mode. There is a wide variety of weapon selection and you can participate in a weekly mode for rewards. This is one of the best AR games available for Android at the moment.
5. The Walking Dead: Our World
[googleplay url="https://play.google.com/store/apps/details?id=com.nextgames.android.ourworld"]
I don't imagine anyone watching the Walking Dead is thinking, "Oh I wish I lived in a world like that." But if you do, or would rather live in a world where you could shoot zombies without actually dying, you've got The Walking Dead: Our World. Zombies have invaded the world around you but you can only see them through the lens of your smartphone camera.
The augmented reality survival game wants you to step outside to find supplies, discover valuable items and save survivors. Of course, if you do you'll also be exposing yourself to zombies. When you find them, shoot them without mercy. You play your favorite, or some not-so-favorite characters from the TV show and comic book series. As you progress, you can unlock more characters. Each character has different abilities and personalities.
You can team up with friends for a co-op mission and even record your AR adventures to share on social media.