Is it about time? Yes, it is. Hi, guys, we are back with another post of games you might not have tried series. For those who don't know, it a series in which we recommend games. The games recommended here are different and versatile in their own unique nature.
Another purpose of this post is to encourage developers to see games from a different perspective which will enable them to create more novel and enjoyable games in the future. We are sure that this post has some game that you will like. This post also tells us that there is no limit to our imagination. So without any delay let's get started. Here's or list of 10 most Engaging games for Android you probably might not have tried yet.
Also read:
1. TIME LOCKER -Shooter
First on our list is time locker. This game is one of the best examples of one's creativity and imagination. How one can make it come to life with hard work and dedication. The developers have done a great job on this. The core mechanics of this game is time and shooting. The thing is if you stop, the time stops. Sounds weird, isn't it? Actually, it is hard to explain in words. It is something to be cherished. Go and give it a shot, you won't be disappointed.
This arcade game features more than 20 unique characters, 25 or even more types of ammunition, high scores, global as well as local leaderboards, challenging and tough boss fight and a whole new time system.
Must read: 10 Best Android Games Under 15MB
[googleplay url="https://play.google.com/store/apps/details?id=org.gekoi.timelocker"/]
2. Sky Dancer
Sky Dancer is a full 3D endless runner. What makes this game unique is the position of its camera. The camera is positioned to give the most out of the 3D perception. The game features a few environments, snappy touch and swipe controls and more. One can easily keep himself engaged in this adventure game. It also has in-app purchases.
[googleplay url="https://play.google.com/store/apps/details?id=pine.game.skydancer"/]
3. Hellrider 2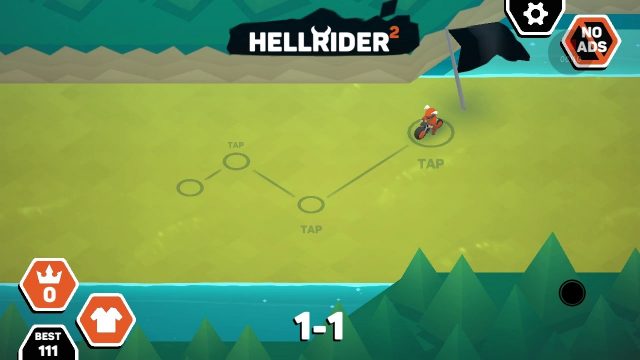 Hellrider 2, an action game is a sequel to the original title Hellrider game. Some may say the original Hellrider was better but it is completely a matter of preference. The whole game can be operated by its core control mechanic that is one touch. A perfect example of one-touch mechanic. The game features various environments such as land, air, and sea along with incredible boss fights. The game also has online multiplayer and leaderboards.
You may also like: 5 Best Android Games Under 10 MB
[googleplay url="https://play.google.com/store/apps/details?id=com.makabaka.hellrider2″/]
4. Hop Swap
Another game by Nitrome developers on our list. Gosh, the studio makes so many good games it is hard not to recommend one. Hop Swap is one of the games with a really different concept and mechanics. It is platform game completely reimagined. The thing is that by swiping down the ground becomes the sky and the sky becomes the ground. Swipe up again and the everything will be back to normal. Sounds really unrealistic, I wonder how they pulled it off.
Nevertheless, if you haven't played this game till now then you have some part of the gaming world left to be discovered. Believe me, it is that great. This action puzzle game features retro graphics, easy swipe-based controls, and loads of fun. This app contains ads and has In-App Purchases.
[googleplay url="https://play.google.com/store/apps/details?id=com.nitrome.hopswap"/]
5. Landing Confirmed
Despite this game has a casual genre the game is actually pretty tough. However, this makes it only more rewarding for the player. The game features simple touch-based controls, is compatible with both phones and tablets and is packed very gracefully in a 2D minimalist design. Although the UI could use some work. The game is a must play for hardcore gamers.
Don't miss: 10 Best Android Games Under 25 MB
[googleplay url="https://play.google.com/store/apps/details?id=com.spokdev.landingconfirmed"/]
6. Race Time
Race Time is a racing game which features one-touch controls, online multiplayer against global and friends and new race tracks and tournaments on daily basis. The game might sound easy but actually, it is tough to master, tougher than some well-known racing games out there. The game also has new cool racers to unlock and collect.
[googleplay url="https://play.google.com/store/apps/details?id=com.peoplefun.racetime"/]
7. Slider
Slider, a perfect example that a game doesn't need good graphics. It is just its mechanics that matters. That being said the game has pretty intuitive UI and gameplay, especially for a game that comes in a size of fewer than 2 MBs. You read it correct no need to look back.
The game features three modes, the default play, timed and infinite mode. The game in total has more than 350 challenging levels to complete. This puzzle game also has an ad-free version which comes for less than 2$. If you don't like ads then you can remove them.
[googleplay url="https://play.google.com/store/apps/details?id=com.alexgwyn.slider"/]
8. Vault!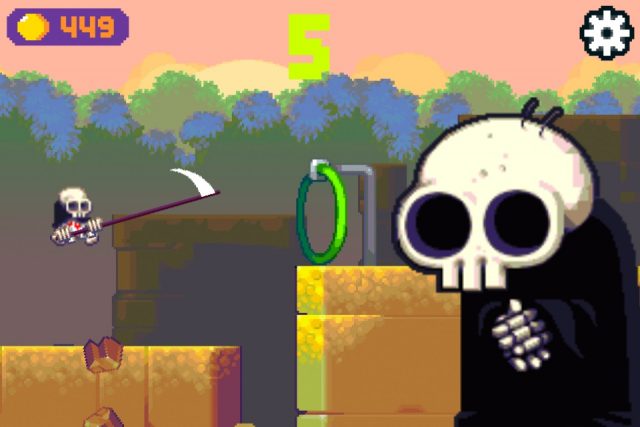 Pole vaulting has never been so much fun before. Nitrome team did a really good job on this. As the name suggests, it is not an app which keeps your files safe instead it is a game about pole vaulting. Like few of the games mentioned above this game also features one-touch controls. The game also has a full-featured game center to compete with friends. The game has a few characters which can be unlocked by collecting coins or buying them from IAP.
[googleplay url="https://play.google.com/store/apps/details?id=com.nitrome.vault"/]
9. 8bit Doves
As the name suggests, 8bit Doves game is a side-scrolling endless flyer. The best part about this is that it is completely 8-bit creation which is hard to see these days. The game features simple two touch-based controls in a somewhat awkward olive color based background. One also has to collect birds while flying across the screen. Why? I don't know but sure it seems fun.
[googleplay url="https://play.google.com/store/apps/details?id=com.nitrome.eightbitdoves"/]
10. Angry Birds: Dice
Although being an Angry Birds game, this game has not received that much attention. Why? I don't know the reason myself. Maybe because it is not developed by Rovio. Nevertheless, it is a dice-based game which features online multiplayer, cool collectible dices, skill cards and unlockable Angry Birds characters, tons of strategies and multilanguage support. If any of that makes sense then make sure that you try it.
Update: The game has been taken down from the Google Play Store.
Phew.. that is it, guys! Hope you liked this months post. Which game did you like the most? Make sure to tell us your favorite games in the comments section below. We might add them in our next one.