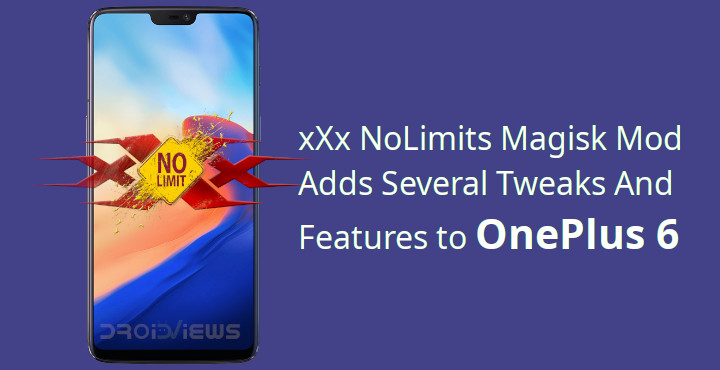 Custom ROMs have always been a huge part of the Android experience, at least for us enthusiasts and modders. At this point, no one can argue that stock Android is far more fluid than most stock ROMs that OEMs ship their devices with. Most will also agree that stock Android is pretty feature-less in comparison. OnePlus, and the company's efforts into its OxygenOS ROM for their devices have long been applauded. OxygenOS keeps as close to stock Android and builds on top of it only where the manufacturer feels there is room for improvement. That is the right approach depending on who you ask but that also leaves a bit to be desired. xXx NoLimits is a Magisk mod that tries to fill in those missing bits for OnePlus 6 running on OxygenOS.
OxygenOS is not enough for everyone
Just to be clear, OxygenOS is quite feature-rich itself and allows modifications to a degree that is more than enough for many. It even adds nifty little features such as the little drop-down menu under the notification shade that lets you select the audio output source when you have headphones or speakers connected. I love that, but OxygenOS still is just not enough for some, and coming from EMUI which was packed with features I'll include myself in the list. Not that I'm complaining, here, I do love the stock-ish feel but I also loved PrivateSpace.
Even the stock OnePlus launcher follows a similar philosophy in that it is pretty much stock but also gives you basic features like icon pack support, icon resizing, grid-size selection, etc. And yet, it is no match for the likes of Nova or Action Launcher, not that it is trying to be. To take another example, OxygenOS has an equalizer. Although, it only works when you have headphones connected via the headphone jack. That's a bit of a bummer, but even if you do connect wired headphones, the equalizer is no Viper4Android. The OnePlus camera is great, but it is no Google Camera. If you're a needy person too you'll appreciate what xXx NoLimits from XDA Senior Member xXx has to offer.
xXx NoLimits Features
Window Animation Scales
Disable Google Play Wakelocks
Modded Apps Detaching from Play Store
ViPER4AndroidFX by Ahrion, Zackptg5, ViPER520, ZhuHang
Extreme Debloating
Individual Debloating
Debloat GApps down to Pico level
Busybox
SDcard Permission fix
Nova Launcher
Action Launcher
Pixel Launcher
Lawnchair Launcher
Android O Emojis
iOS11 Emojis
Emoji One
Samsung Emojis
AdAway
Always On Display
Exchange for Gmail
Different Boot Animations
GCam Google Camera with HDR+ etc.
Google Dialer mod
Call Recording for OOS Dialer
Disable Signature Verification
Substratum Theme Engine
Substratum Theme Modules like Ozone & K-Klock
Vanced – modded YouTube app
Caffeine Tile
Apart from all the additions mentioned above, the mod also contains a multitude of user-selectable tweaks to enhance multitasking, performance, battery optimizations and the sound quality.
Downloads
Don't miss: Enable Always on Display on OnePlus 5/5T and OnePlus 6
Before you install
xXx NoLimits is a Magisk Module but it requires to be flashed only via the TWRP recovery and not via the Magisk Manager app. We already have a guide to help you install TWRP recovery on your OnePlus 6. This is the only TWRP build available for the device right now and unfortunately, it doesn't support AROMA installers yet. xXx NoLimits contains a number of various mods and tweaks and it is very likely that you do not want to install all of them. The developer has found a way to give users that choice, without using an AROMA installer. This is done via the xXx.NoLimits.profile file linked above in the download section.
Edit xXx.NoLimits.profile
Download both the Magisk mod and the profile files. Open the xXx.NoLimits.profile file on your computer using a text editor of your choice. You'll find some instructions at the beginning of the file and it'd help if you read them although we'll be guiding you through the process. Basically, every feature and tweak included in the mod has been assigned a value of either 1 or 0 where 1 means yes and 0 means no. All you have to do is go through each of the features and read the explanations wherever present. Decide which features you want or don't want and assign the appropriate value to them.
For instance, in the screenshot below you can see I have chosen to stay with the standard Android animation speed, by giving it a value of 1. Keep in mind not to play around with any other values unless you know what you're doing. Simply go through this extensive and long list of features and tweaks and give everything you want to say yes to, a value of 1 and whatever you want to say no to a value of 0.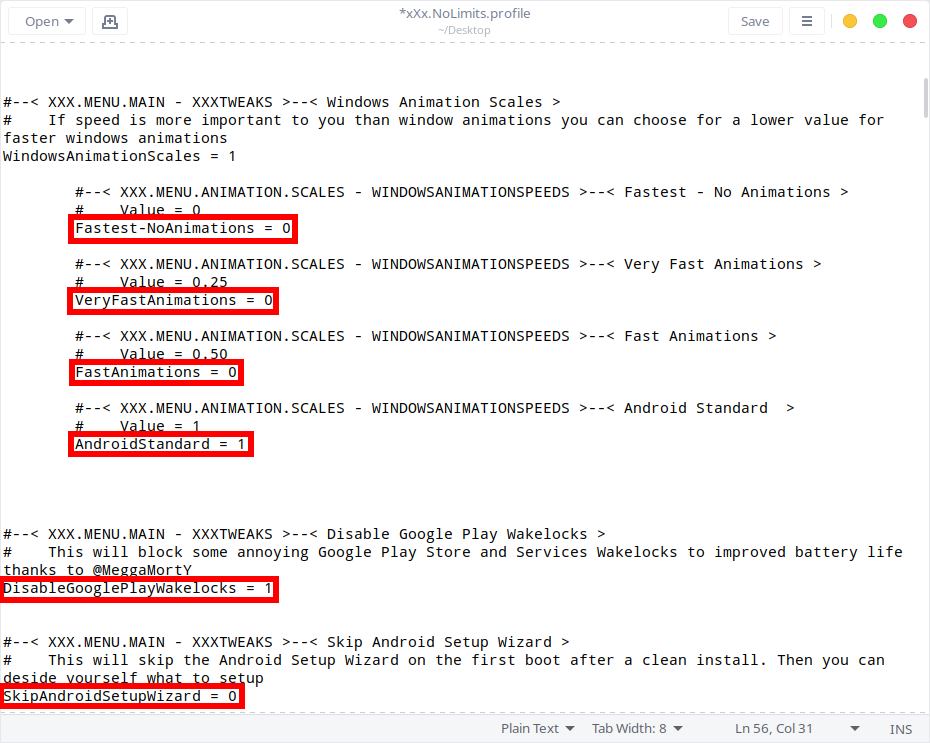 Install xXx NoLimits Magisk mod on OnePlus 6
Transfer the edited xXx profile file into the internal storage of your OnePlus 6. Make sure to not put it inside any folders, it must be placed in the root of your internal storage. Also, transfer the mod zip file to your device, you can place it wherever you prefer.
Now reboot your OnePlus 6 into TWRP recovery. The best way is to enable Advanced Reboot under Developer options. And then when you reboot using the power button, you can select Recovery to boot directly into the currently installed recovery.

Once in the recovery, select Install.

Navigate to the mod zip and select it and then swipe at the bottom to install it. The mods and tweaks you chose in the profile will be installed as long as you placed the file in the correct location. If the installer cannot detect the file in the specified location, a set of pre-selected mods and tweaks will be installed.
source: xda