I take a lot of screenshots every day for work purpose. And, the most annoying part about it is not the sheer quantity of them, but the sound that my phone makes during the process. You may not understand what I am trying to say if you have a phone that runs on a custom skin, as this problem is mostly faced on phones running stock Android such as the Pixel series or the Android One series. Below, we'll describe two ways to turn off screenshot sound on Android.
Now, the custom skins offer a lot of customization and most probably have the option to turn off screenshot sounds in the settings. That's not the case with Stock Android. What's worse is that the sound can't be turned off even by putting the phone on silent or vibration. The point is, stock devices don't provide an option to disable this sound. Thankfully, there are a few workarounds and we will tell you about the two that we think are the best.
Turn Off Screenshot Sound on Android
Here are the ways you can easily turn off the sound that you hear while taking screenshots on Android devices:
1. Using Google Assistant to Take Screenshots
The Google Assistant is the most useful thing you can have on an Android phone in 2018. It has come a long way and has become an important part of Android. While we have shared a lot of tips about Google Assistant over time, there's a lot of new things that we keep learning about it even today.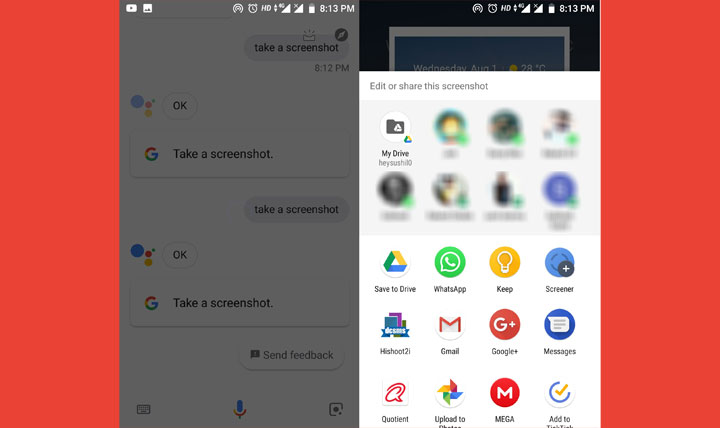 By now, you must know that you can use voice commands and make the assistant take screenshots. But, one thing that you might not have noticed is that when you do use the assistant for screenshot taking purposes, it doesn't make any sound. No matter whether your phone is on silent or ringer, you will not hear the screenshot sound via this method.
Must read: How to Identify Fake Apps on Google Play Store
Although it does sound good, there's a catch. The screenshots taken via the Google Assistant are not saved in the gallery by default. When the screenshot is taken, you will see a sharing menu popup on the screen and you will have to use it save the screenshot on Google photos or Google drive or any other cloud storage option.
2. Using Third-Party Apps
Due to the problem mentioned above, some may not like using the Google assistant for taking screenshots. Well, such people can use third-party apps. And, the one that I am using for the last few months is called Screenshot touch.
It's actually pretty easy to use Screenshot touch. When you install the app and open it for the first time, you will have to allow it access to your phone's storage in order for it to save the screenshots directly to the gallery. Next, tap "Start capture monitoring services" at the top. Now, it will start capturing everything that's on your screen; just like a screen recording app does.
The only difference, however, is that it doesn't record and save all your activities on your phone, rather it gives you complete control over this process. When it's turned on, you will see a floating camera icon on the screen. Whenever you want to take a screenshot, tap it and the app will take the screenshot without making any sound. Once you are done, turn off the screen capturing service of the app.
You may also like: How to Customize Gmail Swipe Gestures on Android
Screenshot touch offers some basic options like changing the save path, changing image format and quality, etc.