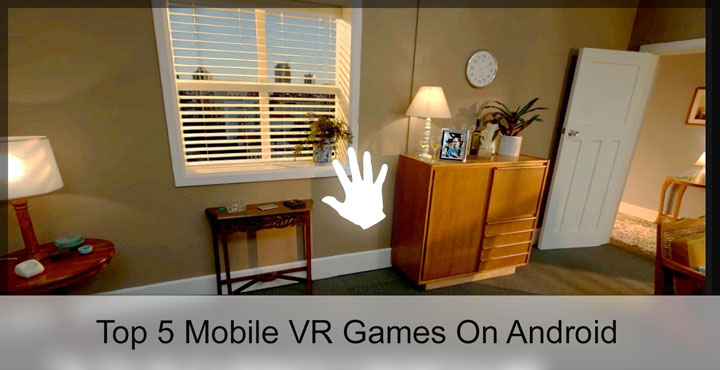 Virtual Reality seems like the next big thing, especially for the entertainment industry. To be even more precise, it is the gaming space that has seen the most popular manifestations of VR content. Oculus Rift, HTC Vive, and Sony's PlayStation VR are some popular headsets built specially for gamers. But that does not mean you can't game on the less expensive alternatives such as Google's Daydream VR or Samsung's Gear VR. In fact, with the expensive, built for gaming headsets, you end up having to buy just as expensive games. If you're on a budget, your best bet would be mobile VR gaming. Here are the top 5 VR Games available on Android right now.
1. Hidden Temple – VR Adventure
Ever wanted to be a treasure hunter in midst of the deepest jungle? Alone, in search of adventure, mystery and riches? Then grab your survival kit and your mosquito spray, because HIDDEN TEMPLE – VR ADVENTURE makes you the center piece of a thrilling virtual reality adventure. Escape from an ancient temple before it becomes your tomb!
The name might remind some of you of Nickelodeon's classic game show Legends of the Hidden Temple. But don't get too excited because this is not a VR version of that. It's still a great VR experience thanks to the immersive gameplay and beautifully-rendered visuals. If you're a fan of Indiana Jones, you may take a liking to the game rather quickly.
2. VR Noir
You play Veronica Coltrane, a private detective forced to take a job for the money. Will you carry out your client's wishes and cross the line?
VR Noir delivers a more story driven VR experience which is a welcome break from the cartoonish arcade like VR games you will mostly find on mobile. It's one of the best VR games for your phone and is as much a cinematic experience as much as it is a game. The voice acting couldn't have been done better and it is engrossing. Most of all, the game is completely free so you don't have anything to lose.
Don't miss: 5 VR Apps for Android to Get You Started
3. VR Galaxy Wars
VR Galaxy Wars is a fast-paced 3rd person rail shooter, designed for Virtual Reality
If you're more into fast-paced shooter games, VR Galaxy Wars would definitely fit your bill. The game is a bit on the shorter side but that's not surprising because a lot of VR mobile games are. It's a rail shooter with a third person perspective. To sum it up in a sentence – excellent visuals and a great audio experience, including both the voice acting and the soundtrack. Do note that the controls can be quite challenging what with all the neck movement.
4. Zombie Shooter VR
Get out from never-ending labyrinths of post-apocalyptic subway, struggle with hordes of blood-thirsty zombies and mutants.
What's a top gaming list without a zombie shooter game included? If you love zombie shooters you should feel right at home with Zombie Shooter VR. It looks and feels like a retro arcade and plays like one as well. There isn't a lot in the game to describe other than a lot of zombies in a subway tunnel for you to shoot and kill. The game operates on a freemium model so there are ads which can break you out of the experience once in a while.
Also read: Best VR Apps for Google Cardboard That Are Worth Getting
5. Chair In A Room
A visit from a business partner and the ghosts of the past, present and future, will leave you to question your conscience and hopefully unlock the "happy" ending.
Update: The game is no more available in the Google Play store.
There are many horror games for the gaming consoles and PC but there are seemingly quite a few on mobile. The reason could be the smaller displays which can't provide as immersive an experience which is a must when it comes to horror games. VR provides a much more immersive experience and it is the best platform perhaps for horror games. A chair in a room features a first-person perspective, dark environments, a flashlight and spooky sounds.  Nothing too out of the ordinary but thanks to VR it does provide plenty of jumps scares.