Web Browsers for Android
Online privacy has become one of the greatest concerns among Internet users. We love to surf the web but hate being tracked or spied.
Minimalism has been slowly taking over the modern UI design from operating systems to applications. It's also necessary in many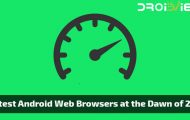 Since Google Chrome COMES pre-installed on all Android devices, it's the most used browser among Android users. Which is the best
For all the smartness on our smartphones, they still can't adjust the brightness lower enough in the dark. If the sensors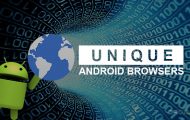 Internet Explorer dominated the desktop browser space for some time being the default browser on the most popular operating system.
Those of you who have lived long enough will remember Mozilla Firefox (actually, it hasn't been that long). Firefox was once the
When it comes to Web browsers, biggest representatives on all computing platforms are Google's Chrome and Mozilla's
As you may be well aware of by now, Google Chrome, for Android, Windows, Linux, or macOS, is based on the open-sourced Chromium
If you are a privacy-concerned user, you should have heard about the Tor browser for Personal Computers. Tor  (The onion router) is a