In-App browsers are a trimmed down version of the regular Android browsers. Many apps incorporate their own browsers into their apps. From the user's perspective, it helps in saving time and effort. This is because you won't have to minimize the current app and then open the link via your favorite Android browsers. From the developers' perspective, it helps in keeping the users engaged in their apps. But this is where its benefits end. Not only is it bereft of some important features that other standalone browsers provide, but privacy and security also take a back seat. So you could definitely consider disabling these in-app browsers. To do so, here are the steps to follow.
Disable In-App Browser in Google Apps
The major objective of these browsers is to let users quickly open the desired links. And it does quite well in that aspect. But the same cannot be said about these browser's security. As a result, it is preferable to use standalone browsers like Chrome and Firefox to open external links. In this guide, we will be listing the steps to disable in-app browsers on Gmail and Google App. Without further ado, let's begin with the instructions.
Steps to Disable In-App Browser in Gmail
Open the Gmail app on your device and tap on the hamburger menu.
Tap on Settings > General Settings.
Under that, scroll to Open web links in Gmail and untick it.
From now on, any link that you open inside Gmail will directly be opened by Chrome (or whatever your default browser is).
Another application that makes use of the in-app browser is the Google App. So let us have a look at the steps to disable the in-app browser in the Google App. Follow along.
Don't Miss: Best Lightweight Android Browsers with Flash Support
In Google App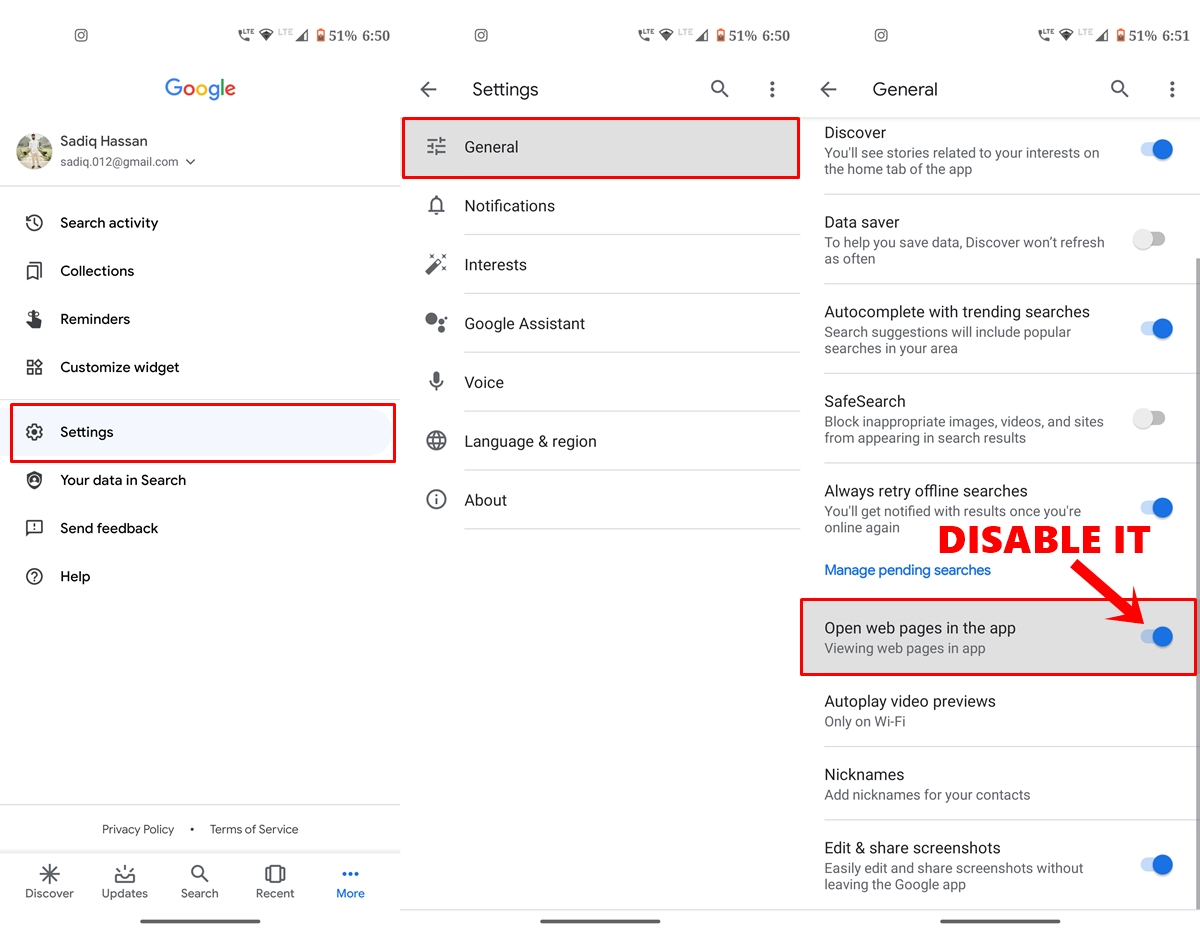 Open the Google App on your Android device.
Tap on More and head over to Settings.
Go to General and head over to the Manage pending search section.
Within that, disable the Open web pages in the app option.
Now any content that you open from the Discover section of Google App will be opened via your standalone browser. So with that, we come to the end of this guide on how to disable in-app browser on various Google apps. Still, having doubts? Drop-in your queries in the comments section below.