There are a handful of good browsers to choose from but the question is which one is the best. Here, I will mention about two such specific browsers which despite being lightweight have some unique features. Below, we'll list the a couple of best lightweight web browsers for Android devices that give you good browsing experience and require comparatively fewer hardware resources.
Google Chrome, Firefox, and Opera are all undoubtedly the greatest and most popular web browsers. The problem is not every device can run it. Most of you will agree that on mid-range or low-range smartphones the browsing experience of these browsers may get laggy or frustrating. So, this is why we decided to write this post. For those who out there with low-ranged smartphones, don't worry we will save you.
Related Article: Download Latest Adobe Flash Player for Android Devices
Dolphin – Best Web Browser
Lightweight specifically means here that the browser experience will be lag free and will include all the features that a high-end browser like Chrome possesses. Such a browser is Dolphin. It has all great features combined into a small package which is light for any device to lift. Going into geekier stuff the browser has Ad Block, Flash Player (games and videos) and cloud sync features.
Cloud Sync Feature
The main reason to select this browser is the cloud sync feature. The cloud sync feature not only allows you to upload your browser data to your cloud storage but also it allows you to sync your browser history and important stuff like credentials with your Chrome browser. This means if you have a PC and you want to open a site that you just opened on your phone then you can do it. Yes, this would require signing in, in both the Android device and PC with the Google Account. How many browsers you remember that provides this feature? Well, I can't remember a single one right now.
Flash Player
Talking about the flash player it is good but could have been better. However, some tweaks are required to enable the flash player in the browser. Don't worry screenshots to enable the feature are provided.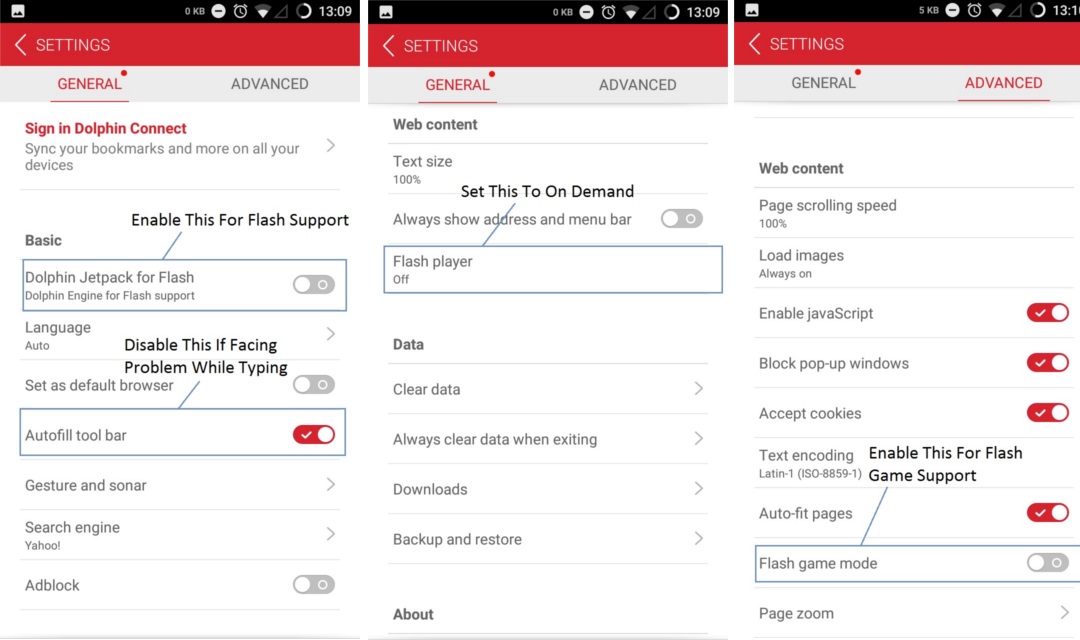 Overall Experience
One thing which I hated about this browser was its typing experience. I dare you to type the site you want to search without making a single mistake. The auto-correct feature is awful. Thankfully, this feature can be turned off in the settings menu. The browsing experience is although great. However, some lag might be noticed when using the flash player. I would recommend to turn it off while not in use.
Also read: 10 Best Android Games Under 15MB
Themes, Ad Block and Data Saving
The browser has something even greater to offer the ability to customize themes. It also has a dedicated Theme Store which has a lot of themes to choose from. The Ad block feature of this browser works as expected. The ability to save data might come in handy for the people who are limited on data. The savings in my normal browsing extended to 67%. But I didn't notice any real difference until I was looking the page very closely.
In short what else you need in a browser. This browser is definitely worth giving a try.
Puffin Web Browser
Looking at the features that the browser offers the popularity is not up to the mark. I think it is because of its weird name. Nevertheless, the browser is great with good features. It offers what you would expect from a normal browser. It has the Ad Block feature, flash player plugin and a few themes to choose from. The browsing experience is lag free. However, the animations are not that good and fluid. Yet, they sure feel wicked fast.
Virtual Trackpad and Overall Experience
An additional unique feature which this browser offers in an ingenious virtual trackpad. Enabling this feature pops up a virtual trackpad. This trackpad works as any normal trackpad present in a laptop. A mouse pointer is popped up which can be controlled using this trackpad. The pointer can be used to navigate through web pages. Personally, I didn't like this idea as the trackpad covers a part of the screen. Devices with smaller screen size will definitely not like it. But it won't be a problem as long as we don't use it. Saving web pages for offline access is also available.
Theater Mode and Cloud Protection
The theater mode allows the user to make games and videos appear in fullscreen. This is very useful if the web page does not offer any fullscreen mode. All the traffic that passes through puffin is encrypted. Browsing using a non-secure public Wi-Fi is safe but the developers of Puffin don't recommend it.
Add-Ons
This is the best feature of the browser. The add-ons provided are useful and the best part is they don't slow down the browsing experience. Theoretically, they do but practically users won't experience it. A name of few useful add-ons is Evernote, Pocket, Translator and much more.
Some Other Honorable Mentions
There were more browsers which we wanted to select. The battle was terrific and the best ones are listed up. But still, if you guys do not like the browsers mentioned above then other browsers such as Photon Browser, xScope Browser, UC Browser and Opera Mini is worth giving a shot. Who knows they might suit you.
That was it, guys! What browser do you guys use? Let us know in the comment section below. Another important thing to mention that these browsers were tried on a low-ranged smartphone (ASUS Zenfone 5). So, the test results mentioned are for low-ranged devices and will work just fine.