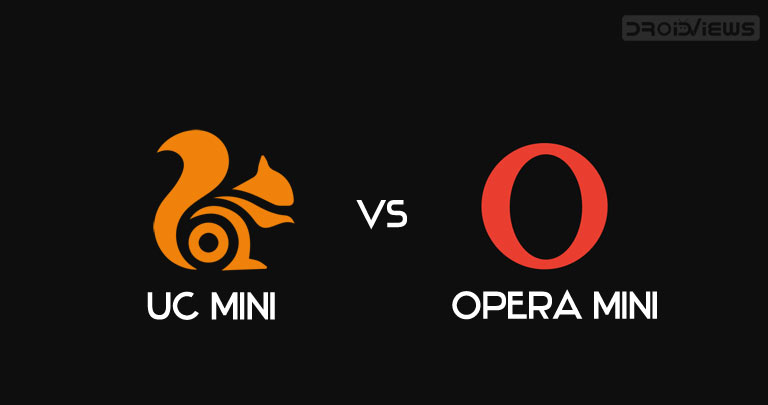 UC Mini and Opera Mini are two of the most popular 'mini' browsers for Android devices. They are the trimmed down versions of their counterparts, ie. UC Web and Opera Browser. Although most devices nowadays come with an enormous amount of storage space, yet there exists a niche segment of users who still owns a device that offers a less than decent storage. For those devices, these mini browsers are definitely a blessing. Our UC Mini vs Opera Mini discussion will try to bring out the difference between the two browsers.
But which among the two should one opt for? Well, in this guide, we will be doing an in-depth analysis of UC Mini and Opera Mini that will help you in deciding which one you should ultimately end up downloading. Without further ado, let's begin. Moreover, don't forget to check out the best lightweight Android browsers with flash support.
UC Mini vs Opera Mini: Permissions and Storage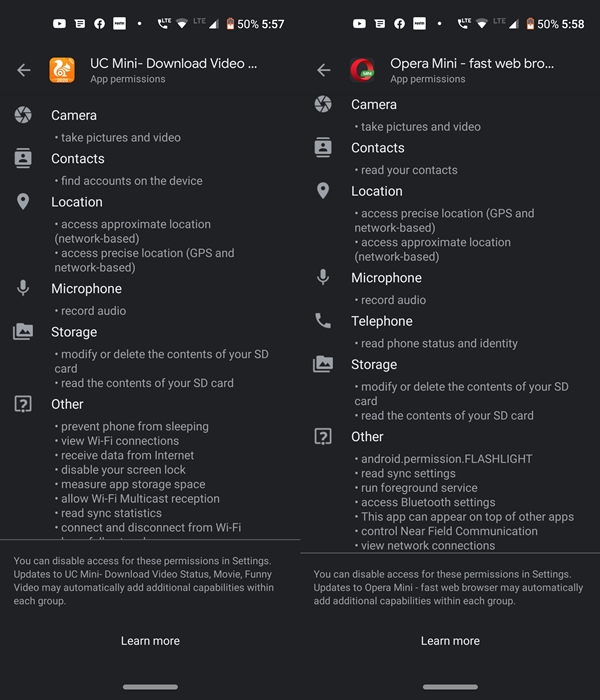 Before jumping right into the features that they provide, let us first address the elephant in the room. As far as the app permissions go, both of them do have a long list of permissions. Fortunately, you can control all these in Settings > Apps & notifications > App Name > Permissions.
Regarding the storage size, on the Play Store listing, Opera Mini is shown having a size of 9.9 MB whereas UC Mini stands at a whopping 44 MB. Not only does it ends up taking 4 times more the space that Opera consumes, but its original version, i.e. UC Web Browser is itself around 49 MB. So the Mini version in UC Mini doesn't really make any sense, at least in this case.
Home Screen
This is where my hate for UC Mini grows fourfold. Your home screen will end up with long-listed of adult contents. This isn't based on any of your searches, but the browser will forcibly feed it to you. Fortunately, you have the option of completely turning it off. To do so, tap on the hamburger menu present at the bottom and tap on Settings.
Go to UC News Settings > UC News Display > Turn it off. Now you will get a fresh cleaner home screen, much better than the default one. You may still get the Most Visited cards. To disable even that, tap on Manage Cards and toggle off the Most Visited switch.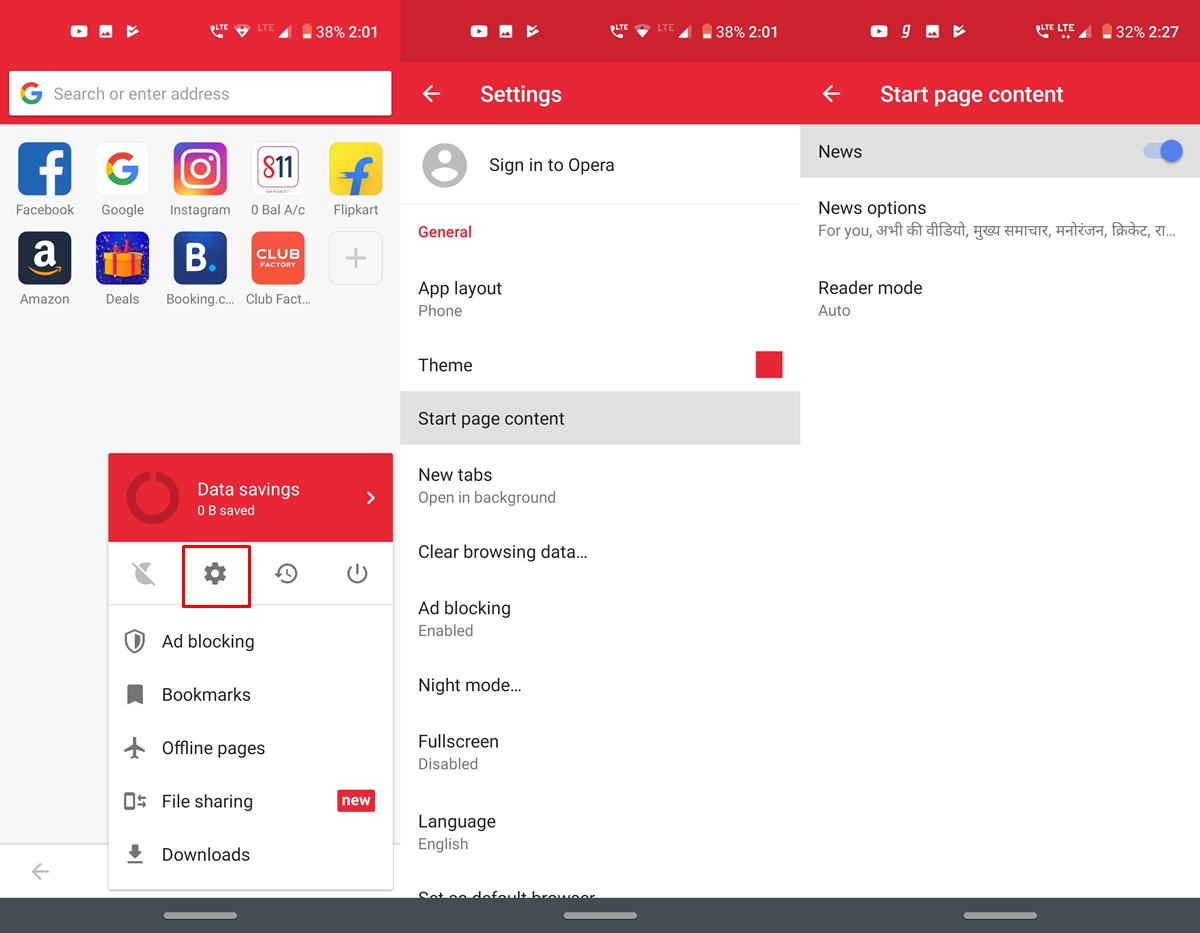 As far as Opera Mini goes, it shows numerous kinds of suggested feeds. However, the amount of adult content is relatively less. Similar to UC Mini, Opera Mini also provides the option of disabling all these suggestions. To do so, tap on the Opera icon > Settings > Start page content > Turn off the News toggle. Rather than completely turning it off, you may even modify these cards based on your interest. The option for the same is present under the News option tab.
Don't Miss: Best and Fastest Android Web Browsers in 2019
UC Mini vs Opera Mini: Data Saver
Both of them claim to have aggressive data saver capabilities. In the case of Opera Mini, you have the option to choose between High, Extreme or Automatic Data Savings settings. However, UC Mini's Data Saver won't work in case of WiFi. Since most of you might be having unlimited WiFi plans and the absence of data saver might not be an issue. But think this way. Since it doesn't support WiFi data saver capabilities, it won't work even in the case of Hotspot. So if you end up borrowing data from your friend, consider using the Opera browser.
Ad Blocker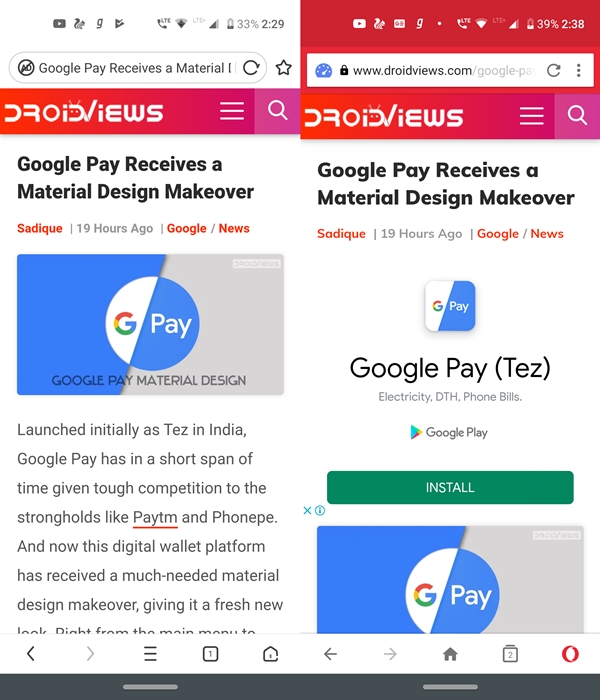 I had quite a strange experience with Opera Mini, to say the least. The browser wasn't even able to block a single ad in my test. Upon further investigating, I found the Acceptable ads to be enabled. Even on turning it off, ads were still present. So no matter what, it wasn't able to block ads in my case. The results shouldn't be generalized as such, and you might get a completely different result. In the case of UC Mini, it did its job pretty well and was able to block all kinds of ads across all web sites (refer to the above image for comparison).
UC Mini vs Opera Mini: Night Mode
Another feature, another strange result from Opera. In the case of Night Mode, the browser simply reduces the brightness and allows you to set up a screen overlay with a warm yellow hue. Although it does pretty well in reducing eye strain, yet is nowhere near the night mode we anticipated. In the case of UC Mini, you get what you asked for. It turns the entire background dark with the text in white.
Other Features
Let us have a look at some of the other useful features that both of these browsers have to offer. Beginning with UC Mini Browser, it consists of a Tools section that comes with the following features to choose from:
Speed Mode: Claims to speed up your browsing experience by showing up the lite and compressed version of webpages.
QR Code: Inbuilt QR Code scanner.
Incognito: Provides the option of browsing in the Incognito Mode. This wouldn't save your browsing history, cookies, and cache.
Save page: Save the currently opened website.
Full Screen: browse websites in fullscreen mode, hiding the top and bottom bars.
On the other hand, these are the features inside the Opera Mini Browser:
File-Sharing: It allows you to send and receive files by scanning the generated QR Code.
App layout: Allows you to switch between Phone and Tab User Interface for efficiently browsing the web.
Theme: Provides the option to theme your browser by letting you choose from a variety of color schemes.
So this was all about the comparison between UC Mini and Opera Mini Browser. Which browser will you ultimately end up choosing? Do let us know in the comments section below.
Read Next: 5 Android Browsers with Dark Mode