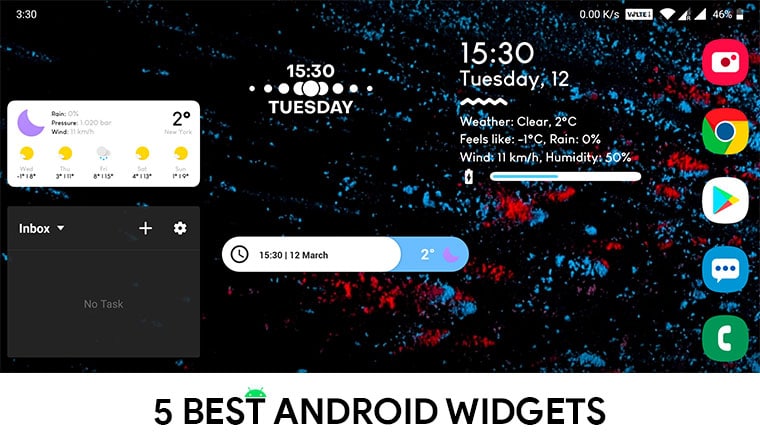 Widgets have been a part of Android since forever, throughout the existence of the platform. From the looks of it, they aren't going anywhere anytime soon either. Many people find them useful and they really are. These tiny applets allow users to quickly glance at information without opening an app. Some even allow you to perform actions like taking notes, controlling music, etc. without even opening the app. Today we take a look at some of the best home screen widgets for your Android device.
5 Best Home Screen Widgets for Android
1. At a Glance
[googleplay url="https://play.google.com/store/apps/details?id=com.google.android.googlequicksearchbox"]
The name might not be as popular but the widget certainly is. Ever since it first appeared on the Pixel Launcher from Google Pixel 2, it has been in demand amongst enthusiasts. It's a small, clean widget that doesn't fill your screen up but still keeps you informed about your day. There was so much demand that Google included it in the Google app that is pre-installed on every phone. So you've had it all along whether you've noticed it or not.
If you need something more customizable, you can also look at Another Widget. It offers the same features, plus more, and it is fully customizable as well. The only reason to make this all about the Google At a glance widget instead of Another Widget is that the former is already installed. Other than that, Another Widget is just way better.
[googleplay url="https://play.google.com/store/apps/details?id=com.tommasoberlose.anotherwidget"]
2. Calendar Widget: Month
[googleplay url="https://play.google.com/store/apps/details?id=com.candl.chronos"]
Calendar Widget: Month is a widget that places your entire month's calendar right on your home screen. If quickly glancing your agenda for the day wasn't enough for you, this definitely should be. It's a huge collection of some really beautiful Android widgets. There are all kinds of designs from translucent/transparent calendars to those based on material design, flat design, or something even more colorful. There are over 80 themes to fit in with whatever kind of wallpaper or theme you're rocking on your home screen.
If you prefer Google calendar for its cross-device syncing, you'll be happy to know Calendar Widget: Month also supports Google Calendar.
3. TickTick
[googleplay url="https://play.google.com/store/apps/details?id=com.ticktick.task"]
If you want to be really productive and make the most out of your busy days, using a task management app is very important. Even better it a widget which can display the information right on your home screen. TickTick is a great task management app which also has about nine widgets to choose from. They range from a comprehensive multi-page to-do list to a three-day agenda view, to a basic checklist. Not all the widgets are free though so if you really want them all, you'll need to pay for the premium.
4. Chronus
[googleplay url="https://play.google.com/store/apps/details?id=com.dvtonder.chronus"]
Chronus is a collection of some really great-looking home screen widgets to display clock and weather info. There are both digital and analog clocks with added agenda view, weather, stocks, or a news feed. All of these widgets are also customizable so you can adjust them to your needs. Chronus is also compatible with Google Fit so it can also be your customizable Google Fit widget. With Chronus, you aren't limited to the built-in functionality either. Some third-party extensions from the Play Store can add even more.
5. Overdrop weather
[googleplay url="https://play.google.com/store/apps/details?id=widget.dd.com.overdrop.free"]
Overdrop is a relatively newer entry in the weather apps market but it is quite an entry. The weather app itself is a minimalist take on a weather app. It supports many themes all centered around the same minimalist idea. The app is beautiful to look at but even more beautiful are the widgets it offers. It started with over 10 beautiful widgets but over the course of time, many more have been added. Each of these widgets is a work of art.
These widgets look like they came from a zooper widget skin made by a brilliant designer. There are so many that you're bound to find many that you like making it hard to choose. There's even the At a Glance widget amongst all the others. We have reviewed the app when it first arrived on to the Play Store, you can check that out from the link below. The app in itself has some of the best home screen widgets for Android. Don't forget to check out our detailed review of Overdrop Weather app.