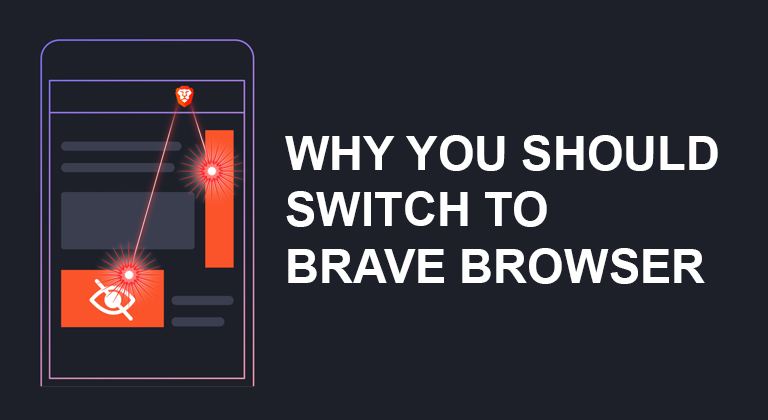 Brave Browser is finally out of beta and the stable version 1.0 of the chromium-based browser is now available for Android, Windows, Mac, and Linux. If you're wondering why you should switch to Brave Browser, then we'd suggest reading along. Brave Browser isn't just another chromium-based app that's trying to be like Google Chrome. In fact, it's the opposite.
The browsers Android app has been available in beta for several months now. However, with the stable release, we can now safely recommend users to give Brave Browser a shot. So without much further ado, here are all the reason why you should consider switching to Brave Browser.
Say goodbye to third-party trackers
One of the main features Brave Browser brings to the table is the ability to block all third-party trackers. This means you can safely browse the web without having to worry about third-party trackers constantly tracking every click you make. To make things a tad easier to understand — you would stop being bombarded with ads about a product or service you might have happened to search about on the internet. Of course, that's not the only positive outcome of blocking third-party trackers.
No more intrusive ads
We definitely welcome ads since ads are one of the primary sources of income for just about every major website. However, there are some websites that have too many intrusive ads that ruin the user experience. Fortunately, with Brave Browser, ads would be a thing of the past. The privacy and security features are enabled by default, therefore, you can begin browsing the web ad-free right from the get-go.
However, you can choose to support certain websites by allowing them to display ads by simply enabling ads on only those websites you wish to see ads on. This can be done by performing the following steps: Load the website you wish to see ads on – Tap on the Brave icon in the address bar – Disable Block Ads & Tracking.
Once you disable the option to block ads and tracking on the website, it would reload and you would now be able to see ads on the site. Keep in mind that this would also enable third-party tracking. Nonetheless, the ability to block ads straight from the browser is a bouns since you do not have to download plugins to do the same.
Saves data and battery
If you switch to Brave Browser, you would cut down your data usage and might even notice lower battery consumption. This is thanks to the blocking of tracking and ads on websites. Without the need to load ads, some of which are often video-based ads, you would save your mobile data. The developers also claim a 2x to 4x speed increase on Android. Hence, it helps save battery by loading websites and content quicker.
Brave Rewards!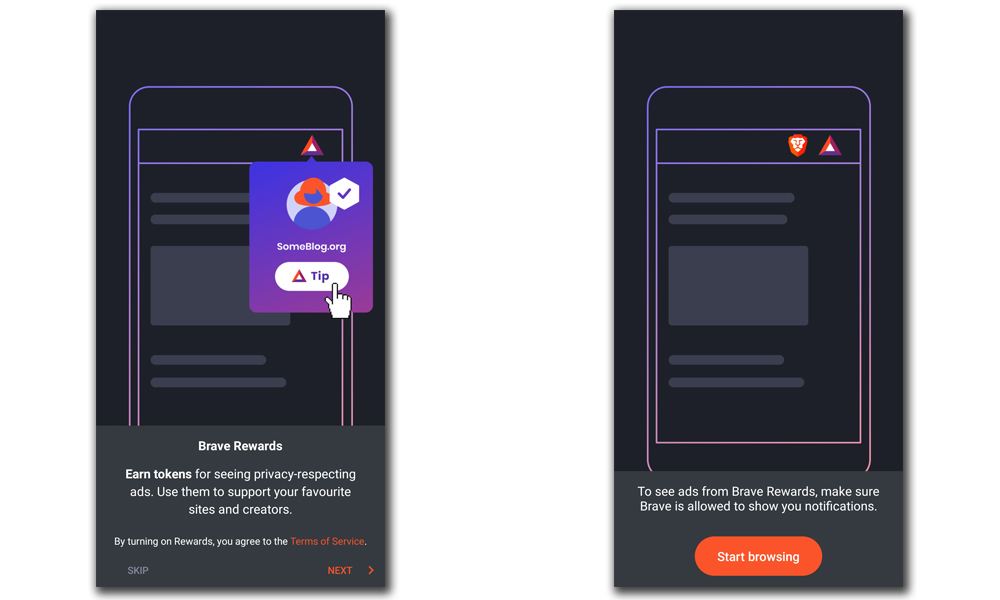 This is a fairly unique feature introduced with the privacy-focused browser. Brave Rewards essentially rewards users with BAT (Basic Attention Tokens) which essentially are blockchain tokens for viewing privacy-respecting ads. You can then give or donate these BAT tokens to your favorite websites/creators to support them. Additionally, you can reward yourself by exchanging the BAT tokens for money in your bank. Else, you could use it to claim gift cards and other deals online. The only caveat here is that there are only a few publishers are on board with this new system.
Fortunately, Brave Rewards isn't something you are forced to jump on board with. You could choose to opt-out from the Brave Rewards option while setting up the app.
Other features
The privacy-focused Brave Browser has a bunch of other features baked in as well. Most notably, the browser lets you access the Tor network without any additional software. Sadly, this feature is not available in the mobile app as of now. There's also an option to enable 'Do Not Track' from the settings. This sends a request to websites asking them not to show any ads based on what you might have searched for. However, this request might be ignored by some websites and you would be tracked nevertheless. The app also lets you enable or disable 'Regional Ads'.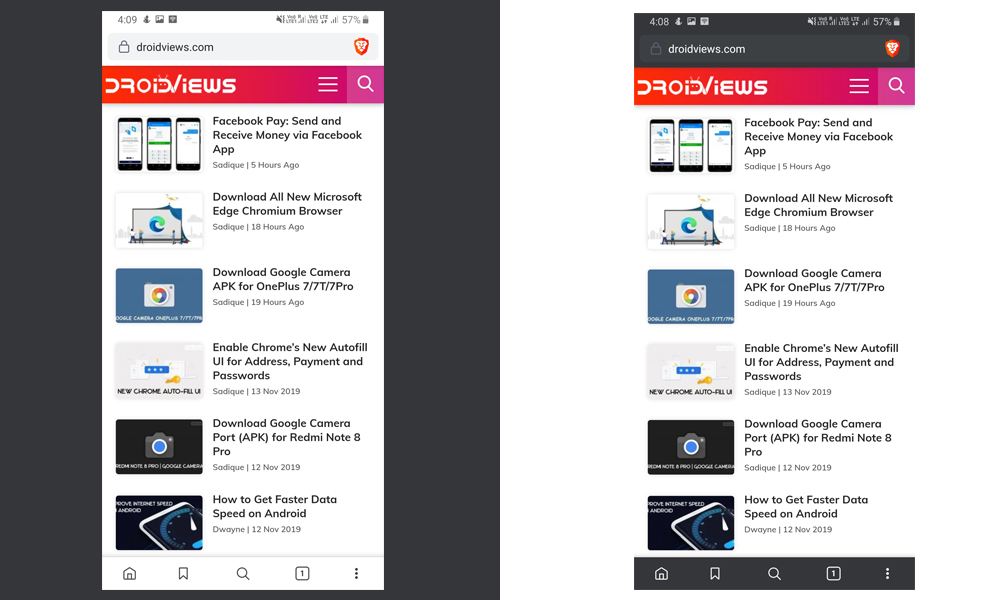 The browser app comes with two theme options as well — Light and Dark. To change the theme tap on the three-dots icon and select Settings. Under the Display category, tap on Appearance – Themes and then select your preferred theme from the options.
There's an option to enable or disable background video playback as well. By default, this feature is toggled off. However, if you often consume media on your browser and want videos to run in the background you can enable it. Go to Settings – Background video playback – Select Background video playback – Toggle on the feature.
You can also change the default search engine for the Standard Tabs as well as the Private Tabs individually. This is a feature some might find extremely useful.
To sum things up, if you've been concerned about your privacy online, which you definitely should be, we recommend the switch to Brave Browser. Moreover, the browser resembles Google Chrome in terms of layout, therefore, you wouldn't have to worry about having to learn the basics once again.
These days its relatively hard to maintain your privacy online. Fortunately, apps such as Brave Browser are here to help you keep your data and privacy safe. Download Brave Browser for Android from below.
[googleplay url="https://play.google.com/store/apps/details?id=com.brave.browser"]
Read next: How to Get Faster Data Speed on Android