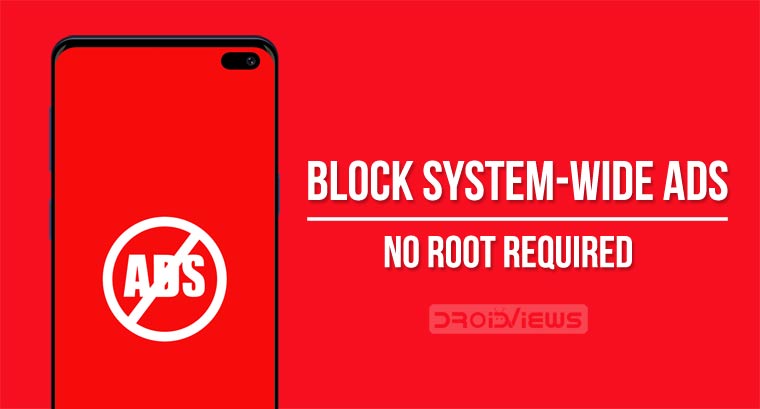 Google provides Android, an OS which has captured more than 86% of the smartphone market, for a mere cost of free. Then there are also a huge number of free apps on the Google Play Store. Have you ever stopped to think why is all of that free? It's because instead of selling you the app, those developers choose to sell you on ads instead. They get paid by the ad providers in return. But sometimes ads can get a bit too intrusive and really hamper an experience that could've been great otherwise. Unfortunately, any effective system-wide adblocking on Android can only be achieved if your device is rooted. Non-root apps claiming to block ads either can't block them or drain a ton of battery. But wait, we have something that can block system-wide ads on Android without root or battery drain!
Well, developer Julian Klode is the one who has something actually. He has an app, that we're going to tell you about. His app is called DNS66 and it uses Android's VPN system to block ads. It's quite similar to the likes of Netguard or the infamous no root ad-blocker, Adguard. Yet, DNS66 is different because unlike those apps, it does not cause a large amount of battery drain. This is because unlike VPN-based ad-blockers, DNS66 blocks ads at the DNS level. That is to say, instead of redirecting all data and filtering for ads, DNS66 directs only DNS traffic through itself to filter for ads.
Ads are still filtered system-wide, but since only a small amount of data is being filtered as opposed to your entire data usage through the day, the impact on battery life is minimal. If that wasn't enough, Julian Klode's app is completely free and open source. The only downside, if you want to call it one, is that the app leaves a persistent notification in your notification tray. If you're not a fan of apps with a persistent notification, you'll just have to deal with it because currently there doesn't seem to be a way to turn it off. Except for blocking notifications from the app altogether. You can tap on this notification to pause ad-blocking anytime, so it is not completely useless.
Also read: 5 Best Battery Saver Apps for Longer Battery Life
Requirements
Android 5.0 Lollipop and above
Unknown sources enabled. To enable Unknown sources, go to Settings>Security and scroll down and check the box next to Unknown sources.
How to Block System-wide Ads on Android without Root
DNS66 is available for free, but for obvious reasons, it can't be downloaded from the Google Play Store. You can still download the apk from the F-Droid open source repository. If you've never heard of the site, don't worry because it is a trusted source for a large number of open source and free Android apps.  – Download DNS66 APK

Once downloaded, tap on the download notification and install the APK. On some devices, you may have to manually browse the downloaded apk using a file explorer to install it.
Launch the app when it is installed.
Before you hit the big Start button though, swipe right to get to the Hosts tab.
Here, you can select the hosts that you'd like ads to be filtered for. Tap on the list entries to  Block ads,  Allow ads or  Ignore the entry. We recommend that you only set Adaway to block ads and ignore the rest.

When you've selected the hosts, tap on the refresh icon at the top to download host files.
You can also exclude ads from being blocked in certain apps in the Apps tab. DNS66 excludes system apps by default. This can also be changed under the apps tab. Simply toggle on the Show system apps option and then toggle the apps off.
When you're ready, go back to the Start tab and hit the big Start button at the bottom.
Must Read: Best Way to Hide Root and Pass SafetyNet Check on Android
From now on, ads will be blocked in all your apps and browser as long as you haven't excluded them. Below are two screenshots of the free ad-supported version of MX Player.
I hope that you were able to block system-wide apps on Android devices without root privilege and draining your phone's battery because most ad-blockers keep running in the background.
Read Next: 15 Best Offline Games for Android