Smartphone Display
Smartphones represent one of the fastest growing industries ever. Current trends are pointing toward sleeker and thinner devices, while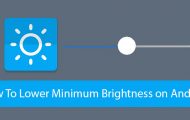 Many people often talk about the maximum brightness of a display not being up to the par in certain situations. But hardly anyone talks
The sides of the display of your phone might not be the most useful parts of it, thus you might not give too much thought about them.
Touchscreens are awesome. They have completely changed the way we interact with our devices. It's safe to say that touchscreens
The Google Pixel and Pixel XL, while not as fancy looking as some other flagships, were perfect in almost every other department.
If you're into gaming, you'll know just how fantastic a big screen can be. Smartphones with large screens, or phablets as they are now
Google recently Introduced the option to change your DPI density right from your settings app by using a simple slider with Large,
I don't know about other devices but if you are a Mate 9 user then you probably must have noticed decreased black levels and