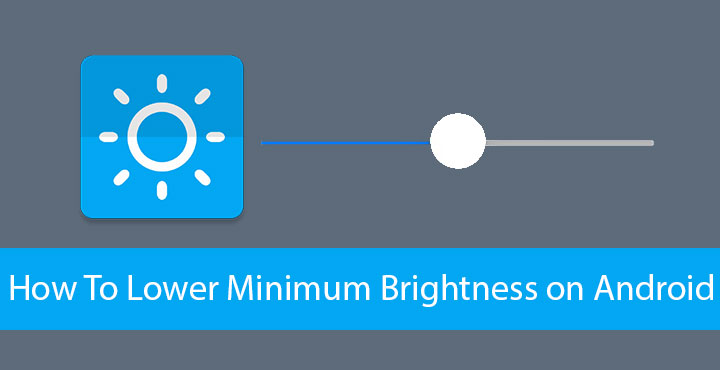 Many people often talk about the maximum brightness of a display not being up to the par in certain situations. But hardly anyone talks about the minimum brightness of a display. Until you are using your phone in the dark, laying back in your bed, you don't realize that the screen is just too bright. Most people will install a screen dimming filter app, but that uses up more battery in the process. This is because, as you probably know, the apps simply cast a transparent black filter over your display rather than actually lowering the brightness.
This means your display is still pumping out light with as much intensity. There isn't a lot you can do about the minimum brightness setting on your Android device though unless it is rooted. If it is, you can install custom ROMs that allow lowering the brightness below the minimum brightness limit set by the OEM. If you prefer to stick with your current ROM, you can make use of this nifty tool created by Arbusk, called Brightness Tweak.
How does it work?
Most Android OEMs place a virtual limit to a display's minimum brightness. Before you form an unfavorable opinion on OEMs, this is common practice across manufacturers of any device with a display. However, this means even at the lowest brightness, your display is emitting a considerable amount of light that it could avoid emitting. For example, if your device's actual minimum brightness limit is 0, or 1, most OEMs will limit set it to 5 or even more.
Arbusk's app, Brightness Tweaks, removes this limit and allows your display to get dimmer for real. This can help save some battery too, especially on AMOLED displays. In most cases, the app should help make your screen considerably dimmer at the minimum brightness. That will depend on your device's hardware.
Requirements
A rooted Android device running Android 5.0 Lollipop and above.
Unknown sources should be enabled. You can do this under Settings > Security. For devices running Android 8.0 Oreo and above, here's how you can do this.
Download and install Brightness Tweak
When you've enabled Unknown sources, download the Brightness Tweak APK from the link provided below. Tap on the download complete notification once the download completes and then tap on INSTALL to install the APK.
Don't miss: How to Get Android P Look and Feel on Any Android
How to lower minimum brightness on Android
Now that you have the app downloaded, launch it from your app drawer. The very first permission you'll have to grant is the superuser permission.
You'll then be greeted by the setup guide. Flip through it and tap OK on the pop-up message that appears on the third page. You'll then be redirected to a Settings page where you can allow the app to modify system settings. Turn on the toggle and press the back button to head back to the app.
Once you make it to the end of the setup guide, you'll land on the app's main and only page. Here, you can drag the slider to change the minimum brightness value. This can be set anywhere from 1 to 5. If you've come this far, it is safe to assume you want it all the way down to 1, so set it there.
In case you still have one of those devices with backlit capacitive touch buttons, you might want to take a look at the next toggle below the slider. Otherwise, you're good to go. Just tap on the floating play button to start the app.

The app will need to run in the background the entire time you want to keep the brightness down. Since you'll most probably be using it over the night, that shouldn't be much of a problem. You will see a persistent notification in your notification tray. The app needs this to make sure Android doesn't kill it in the background.
While this does affect the minimum brightness quite considerably, the results are not as dim as you'd expect. They weren't at least on my OnePlus 6. Just to be clear, the brightness does go down quite a bit. Either that's not enough or I have pretty sensitive eyes.