Oppo
Color OS has a ton of features of which some of them can be safely classified as bloatware. The lockscreen magazine in Color OS is one
Popular smartphone maker Oppo has just unveiled the Oppo F15 mid-range smartphone. The Oppo F15 is powered by a MediaTek chipset.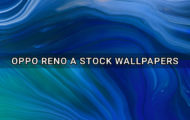 Oppo's Reno series of smartphones has become a massive success since its introduction. Adding to the success, the company
Oppo's ColorOS Hot Apps and Games folders are a place to find new apps. However, by default, it creates folders for hot apps
Oppo's custom skin over Android is packed with features. While Color OS 7 is still on the way, there are several useful features
With smartphone screen sizes becoming bigger than ever, using the split-screen feature makes a lot more sense than it did 2 years ago.
Color OS might not be the best Android skin. However, we can all agree that Oppo has packed in some useful features in Color OS. You
The third iteration of Oppo's Reno series is here with 5G connectivity enabled. The Chinese company has introduced the Oppo Reno