Instagram
In this tutorial, we will be discussing how to remove connected devices from your Instagram account. With an ever-increasing risk of
So you come across one of your Instagram's posts from yesteryears which unfortunately doesn't hold true in today's
You might be following quite a lot of accounts on Instagram. However, you might not be interacting with all of them on a regular basis.
In this guide, we will be discussing the steps to untag yourself from multiple Instagram posts. Instagram, just like other social media
Ads are infamously given the title of being the necessary evil. Necessary for the apps and websites, and evil for the consumers.
All your social media data are stored on the clouds is no hidden secret. But this poses a security risk as well. No matter how well
Social media apps are powerful tools to get information across quickly. However, this also means that there are a ton of posts with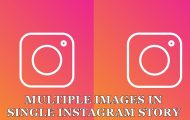 Being an Instagram freak, I regularly use the app's Story section to share my thoughts, feelings or even my everyday articles