Hardcore gamers have more than one reason to rejoice. After the launch of Google Play Pass and Apple's Arcade, came the Google Stadia. While we were still in awe of Google's cloud gaming service, Nvidia recently launched it's own and judging by the looks of it, Stadia has indeed got a tough competition. Known as Nvidia GeForce Now, it was initially launched for PC and Nvidia's Shield TV but now, the cloud gaming service has made its way over to Android as well. Download the Nvidia GeForce Now APK and try now for yourself!
Let us have an in-depth inspection of various features and functionalities of the Nvidia Geforce Now on the Android and Windows platforms. Moreover, you may witness occasional battery drain while playing these games on your device. So, do check out the guide on Android battery calibration tips for longer battery life.
What is GeForce Now?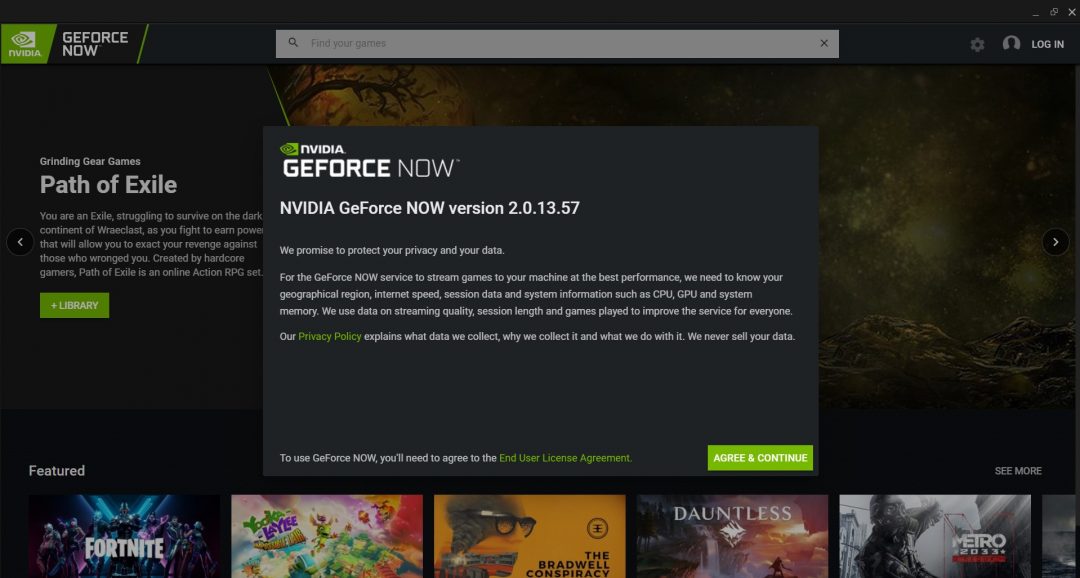 Geforce Now is a cloud gaming service launched by Nvidia for PC, Mac and Shield TV in 2017 and later on in 2019 for Android devices. It allows you to access and play games stored on the Nvidia's servers remotely. Now that the app has made its way to the Android OS, you could stream any game present in your library over to your smartphone as well. You don't need to worry much about your device's specifications. All that is required is a good (or rather excellent) internet connectivity.
Moreover, your game progress will be synced across all the supported devices. You may leave any game in between on your PC and continue the gameplay from the very same spot on your Android device. The only requirement is that all your devices should be logged in with the same Nvidia GeForce Now account.
Nvidia GeForce Now for Android (APK)
The Nvidia GeForce Now for PC and Mac could be downloaded from Nvidia official site, without any country restriction. But sadly, that is not the case with the GeForce Now Android App. The app is currently only available on the Play Store for Korean users. But you may still sideload Nvidia GeForce Now APK from APKMirror onto your device. I tried it on my device and it works pretty well.
Apart from that, you will also need to have a previously activated Nvidia GeForce Now account. If you don't have one, you may do so by creating your account on the GeForce Now website. Scroll down to the bottom and click on Request Free Beta Access. But here's the catch. After signing up, you will be added to a waitlist. It completely depends on Nvidia when your account gets activated. You will get notified once that happens. Also, do note that this Beta Access is currently limited to users living in North America and Europe only.
Until these games are launched in your country, you may try out 15 best offline games for Android.
Game Library
Nvidia has quite an extensive library of games to choose from. These include Assassin's Creed, Bio Shock, Counter-Strike, Hitman, GTA, Need for Speed, Tomb Raider, etc. You could have a look at the complete list over at Nvidia's Games Library. But what impressed me the most is the fact that it allows you to add previously purchased games from Steam, GOG, Origin, Ubisoft's Uplay, etc. So you may no longer need to spend a dime and could directly import games to the Nvidia GeForce Now Library from these online hubs.
Requirements for Nvidia GeForce Now
Different MacBooks have different requirements. You may head over the GeForce Requirements page for further details related to Mac devices. As far as Windows configuration is concerned, here are the requirements for the Nvidia GeForce Now:
64-bit Windows 7 or newer OS
Dual-core X86 CPU with 2.0GHz or faster
4GB of system memory
GPU that at least supports DirectX 11

NVIDIA GeForce 600 series or newer
AMD Radeon HD 3000 series or newer
Intel HD Graphics 2000 series or newer
As far as the Internet Requirements is concerned, regardless of the OS (Macintosh or Windows), your device should meet the following criteria for Nvidia GeForce Now:
At least 15 Mbps for 720p at 60fps and 25 Mbps for 1080p at 60fps.
You'll also need to use a hardwired Ethernet connection or 5GHz wireless router. But if your MacBook doesn't have an ethernet port, you will have to buy an ethernet adapter
Just download the Nvidia Geforce Now APK from above and copy it to your device's storage and install it as you install any APK. With this, we conclude the guide on the Nvidia GeForce Now for Android devices. It's quite disheartening to know that such an amazing gaming service is currently only limited to one or two countries. Nvidia should act pretty fast otherwise it may surely lose its shine to Google Stadia. What are your views on Nvidia's could gaming service being released on Android? Do let us know in the comments below.
Read next: How to Uninstall Multiple Apps in Google Play Store at Once