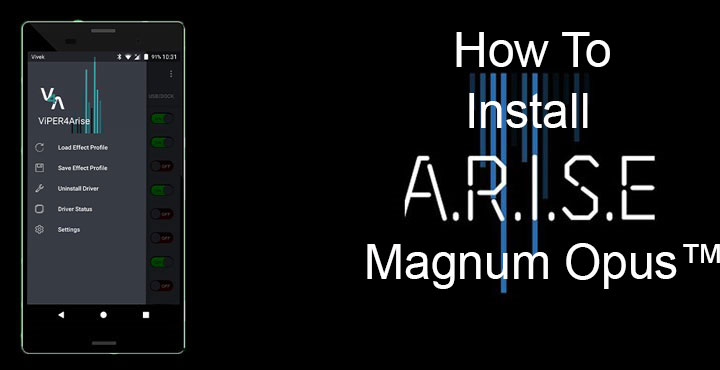 ARISE is probably not the most famous sound mod there is for rooted Android devices. That crown could safely be given to Viper4Android. Although, ARISE is much better than Viper4Android. Yes, the mother of all sound mods now has a grandmother. Well, it has had that for a while now. The ARISE team has been quite active and their latest mod, named ARISE Magnum Opus Sound Mod, is available for download and it works with almost every Android 4.2+ device. They call it "the most advanced and comprehensive sound system ever made available."
Wouldn't you like to put that claim to test? I sure did. I'm not an audiophile, so perhaps some of you can better explain the nitty-gritty of the sound. While I can hardly tell much difference in audio quality between mods I was still impressed. Because Sony Audio Enhancements and Viper4Android are my two favorite audio mods, in that particular order. And ARISE is basically a culmination of all the best sound mods available for rooted Android devices. These are called modules that are all separately installed but can work together if you so choose. It contains everything from ViPER4Arise™ (ARISE™ themed version of ViPER4Android) to Sony's Xperia XZ audio suite.
Don't miss: Increase Audio Quality on Any Rooted Android Device
Here's a list of the modules that are available:
Core System module
ViPER4Arise™ 2.5.0.5 (optional)
ViPER4Arise™ 2.3.4.0 (optional)
ViPER Profiles (optional)
Dolby Digital Plus™ (optional)
Dolby Atmos™ (optional)
AM3D ZIRENE® (optional)
Sony™ Xperia XZ Music Suite (optional)
Arkamys™ Audio (optional)
ICEsound™, presets, and configuration (optional)
Esira™ Media Player (optional)
ViPER4Android XHiFi (optional, not recommended)
AOSP MusicFX (optional)
Dirac™ Power Sound (optional)
deep_buffer removal (optional)
SD Card permissions repair (optional)
Requirements
Rooted Android device running Android Jellybean or above.
A custom recovery such as TWRP must be installed.
Downloads
Must read: Install Multiple Audio Mods with Magisk Audio Modification Library Framework
Preparation
Before we get to installing arise, there's a little something you'll have to do. Installing ARISE is simple but a little more difficult than it should've been. That is to say, there is no AROMA installer to let you choose which modules to install or leave. So you'll have to edit some text which is really simple. Just download the mod from the link given above. Extract the arise_customize.prop file from the zip. It can be found in the folder getting_started/your_system/.
This is the file we have to edit and you can do this on your PC or on your smartphone. So open the file with any text editor you like and you should have some text inside. Find the line install.core= and type in true next to it so that it looks like
install.core=true
This tells the ARISE script to install the core module which is necessary but only for the first time you install the mod. Now scroll down and you will find similar lines with the module names such as install.v4a_2.5.0.5= or install.sony= and so on. Just type in true next to any of the mods you wish to install. If you type anything other than true or leave it blank, the script will treat it as false and not install the module.
When you're done, save the changes and put the file in your device's internal storage. Make sure it is in the root of your storage and not inside any folders.
You may also like: Install Viper4Android on Android Nougat
How to Install ARISE Magnum Opus Sound Mod
Now that you have made changes to and placed the arise_customize.prop file in your SD card, transfer the ARISE mod zip to your phone as well if you haven't already.
Boot your device in recovery mode.
Select Install, navigate to the zip file and select it.
Swipe right to flash it and everything should work out smoothly. Depending on how many and which mods you selected, this can take a little while.
Assuming you have Magisk installed and you would prefer to use ARISE modules as systemless mods instead, you can similarly flash the ARISE Magisk compatibility module after the mod has been installed. This is an optional step and you don't necessarily have to do it if you have Magisk.