Instagram tips and tricks have always been the most interesting piece of article to read about. Instagram keeps adding new features a day in and out. If you're in the beta version you might already have a trick or two exclusively for your account. We have also covered this topic long back on DroidViews. Today we bring you another edition of the top 5 Instagram tips and tricks for your account as of June 2019. The tips also include some Instagram secret features that are less-known.
Instagram recently crossed the 1 Billion monthly active users milestone. With such kind of active users around the world, it is only wise to use it as efficiently as possible. According to a recent study, 83% of the people find a new Product or service on Instagram. You can easily use this platform and leverage it to upsell your product or brand. I'm sure even you are on Instagram, it's about time you start using it right!
We published an article revealing 10 Netflix tips and hidden features recently. if you are a Netflix user, you can use those tips to enrich your experience.
5 Instagram Tips and Secret Features
1. How to get Rainbow text effect on Instagram
Instagram offers a bunch of colors for text to choose from. You can also explore more colors after clicking and holding any particular color for a long time. I'm gonna take this one step ahead and show you how to get the rainbow color effect for the text you write on Instagram stories.
To get the rainbow text effect on your stories, follow the steps given below.
Select the image you want to upload or click a picture and select text
Write the text you want to highlight in rainbow color
Now select the entire text and press and hold the color bar at the bottom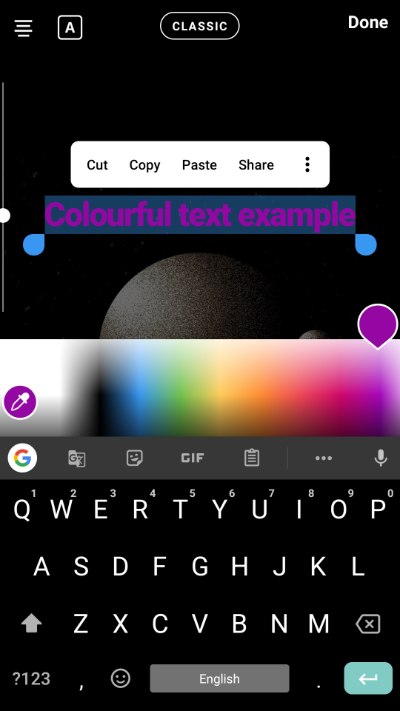 Now move both your hands from right to left and Instagram will start changing the color as you move towards left.
2. How to Upload Multiple Images on Stories
Instagram recently started allowing users to upload pictures they have clicked beyond the last 24 hours. However, they till don't allow users to upload multiple images at once. You can always create a collage from your phone and then upload it but that requires an additional application. I'm gonna show you how you can make a collage directly on your Instagram story. You can do this by copying the image to the clipboard and then pasting it on Instagram.
If your keyboard already does not have the option of copying things to the clipboard, you can use SwiftKey which I'll be using for this tutorial. (Samsung keyboard also has the feature to copy the images to clipboard)
Open the keyboard, press the Pin icon on the top right of the keyboard.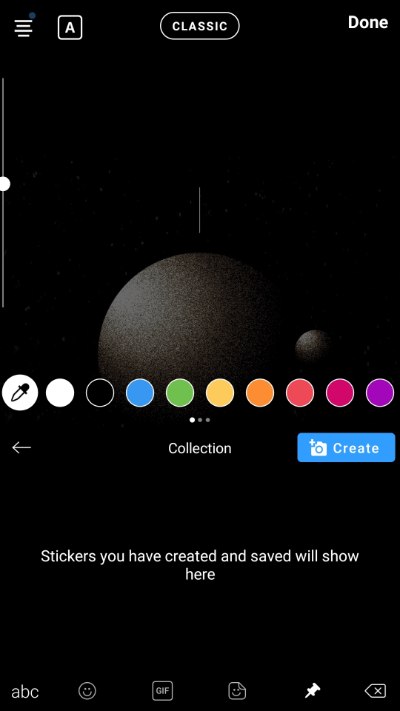 Click on 'create' and select the images you want to post on Instagram.
Go back to Instagram, open stories and upload images using collections of your swift keyboard.
You can create custom polaroids on Instagram stories by downloading the right images and adding them to the video via this trick
3. Use Special Font on Instagram Bio/posts via Mobile
Instagram does not give an option to change fonts on your posts or page. Changing fonts on Instagram really helps you to stand out among the crowd. With this trick, you'll be able to post images in a unique font. You can also change the bio of your profile to some unique font to make it look different from what we usually see.
To add unique fonts to your bio/post, follow the steps given below.
Go to LingoJam.com and type the content you want in a different format.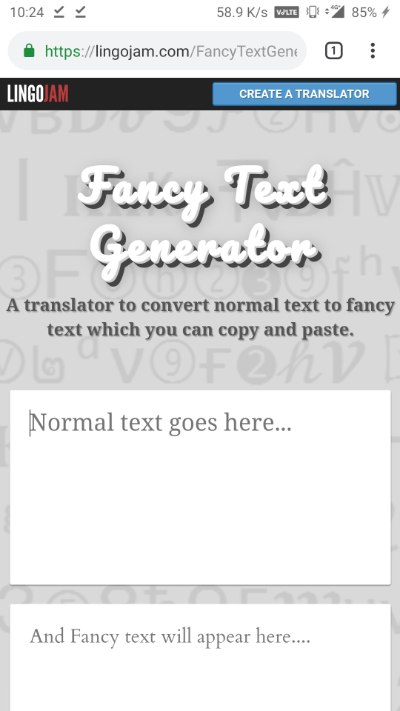 Once you type the font you'll see multiple options in different fonts below your text.
Copy the text of the font you like and open Instagram.
Go to edit profile and paste the text in your bio. This will change the font and make it look different.
Please note that some of the fonts would not be visible on across all devices and they might see a white box instead of that text. I would suggest you go with some unique but simple fonts so that you have a high chance of visibility among all devices. This is one of those less-known Instagram secret features very few people use.
4. How to view your Stories History
Instagram Story is one of the most popular features of Instagram. I'm sure even you must have uploaded some of your important life moments on your stories. Once you upload on stories, all these images get archived on your profile. You can view all your previous uploads by following the steps given below:
Go to your profile home page and click on three dots at top right
Click on the clock icon which says Archive
Instagram Stories are saved here by default and you can re-share it when you want. Instagram also shows memories of what you shared on that day in previous years. It's a really good feature to get back your previously uploaded stories.
5. How to Save & Download Instagram Stories
Instagram stories are a goldmine of content worth watching. If you follow a lot of meme pages on Instagram, I'm sure you would have come across a situation where you found the content really hilarious and want to share it among your friends. It wouldn't be a tough task if the page is public but if it's private, there's really no way to share it with your friends until they follow that page. In situations like these, the trick to download the Instagram stories would come in handy. You cannot download it directly from Instagram but you need a third party app to get this done.
First, download the story saver application of your choice, I would prefer the one mentioned below.
[googleplay url="https://play.google.com/store/apps/details?id=io.yoba.storysaverforinsta"]
Authenticate your account on the application by giving necessary permissions.
Once the authentication is completed, you'll see all the stories on your account
Now click the story you want to download and press download at the bottom of the page.
Please Note: This is not an official Instagram trick. You would be using an external application to download the stories which is not affiliated with Instagram. We recommend you to be cautious as you would have to give your account permission to this application.
Bonus Instagram Tip and Trick
Instagram Music is still not available in all countries. Although, as this platform is popular around the globe, you might be following some people who have this feature and you cannot view their story. We recently covered this situation in our article on getting Instagram music feature in any country. We guide you on how to use the VPN to access this feature whenever you need to and stand out among your friends who do not have this feature.
Instagram has a bunch of other tips and tricks and we could go on and on about them. We also keep sharing Instagram secret features and hacks over our Instagram Stories so make sure you follow us on Instagram @droidviews. Also, feel free to catch us on any social media platform is you are facing any problem with any of the tricks mentioned above. If you haven't read already, I would highly recommend you to check out our previous post on Instagram tricks.
Read Next: 25 WhatsApp Tips and Tricks to Use WhatsApp Like a Pro