Since its launch, Instagram has been the one and the only platform for the Photoholics and the selfie-obsessed out there. Well, just for your information, the now Facebook-owned application was originally developed and created by Kevin Systrom and Mike Krieger. Launched in October 2010 for the iOS operating system, Android's arch-rival and then nearly two years later that is on April 2012 for the Android operating system, this photo-sharing platform's user base has only kept on increasing each and every single day. Here are 5 cool Instagram tips and tricks to help you with making the most of this amazing Social Media app.
Instagram has really revolutionized the way we share our stories. In my opinion, Instagram is a much better platform to share stories than its parent company's own Facebook platform because of its exclusivity of options such as to edit a photo by the use of various filters available, use of hashtags to gain followers, get likes and many others.
Ok, I know you guys are all waiting for me to show some handy Instagram tips and tricks, so let's jump right into it.
5 Instagram Tips and Tricks
1. Save pictures or videos to view them later
No no, don't get excited, my dear friends, Instagram still does not provide us with the feature to download pictures or videos directly to our phone's gallery. Instead, this option allows you to save the pictures or videos within the Instagram app itself so that you can view them later according to your convenience. To save any pictures or videos, just tap the bookmark button located in the bottom right-hand corner of any picture or video.
Must Read: How to Download Instagram Photos and Videos on Android Devices
Now that you have learned how to save pictures or videos, let us see now how to enjoy those pictures or videos that you have just saved to view it later as per your convenience and by the way your convenience is all that matters at the end of the day. To view the saved picture or video, tap the icon at the bottom right-hand corner of your screen as highlighted in the screenshot below to view your Profile, then tap the bookmark icon as highlighted in the second screenshot below.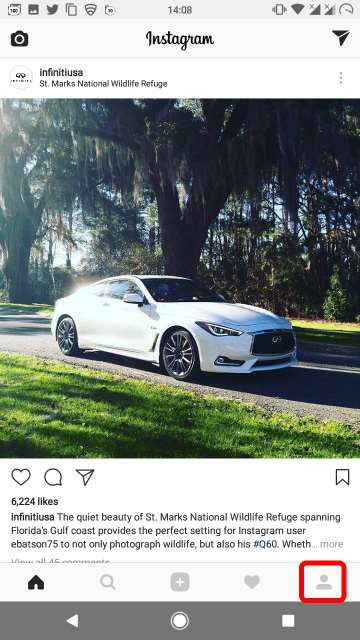 2. Turn Off comments on your posts
Getting comments on anything, in general, provides you with general feedback and helps you to improve and be motivated, whether it be a positive or negative one. In the same way, getting comments on the posts you put on Instagram also lets you know the general feedback to your posts and as a result would help you what people think about your posts, but then there may be certain pictures or videos that you post Instagram you don't want people to comment on. Well, in this case, let's see how to turn off the comments feature on Instagram.
Turning off comments on Instagram is very easy. You just have to go to your Profile first by tapping the Profile button in the bottom right-hand corner of your screen as shown below in the first screenshot below, select any of your posts and then tap the Ellipsis button or commonly called three-dot menu button on the top right-hand side of any of your posts and then tap Turn Off Commenting.
Don't Miss: Enjoy Easier Multitasking When on a Call Using Blimps
3. Filter comments on your posts
Sometimes the comments or let's say the feedback you would get on your posts could be negative or what if the comments would go far beyond negative and as a result may become offensive to you?. In those situations, Instagram provides you with the ability to filter the comments you receive on your posts.
There are two types of filters, the first one of the two is called Automatic Filter. What Automatic Filter does is that it automatically recognizes offensive comments on your posts and hides them, and then the second filter is called Manual Filter. Under this, we have Enable Keyboard Filters that allows you to hide comments which may contain the words or phrases that you specify in the text field. Use Default Keywords hides comments on your posts that contains commonly reported comments considered to be abusive in nature. I highly recommend you to enable this feature if disabled by default. By the way to use these features, go to your Profile, locate and tap the three dot button in the top right-hand corner of your screen to go into Instagram settings, scroll down and tap Comments.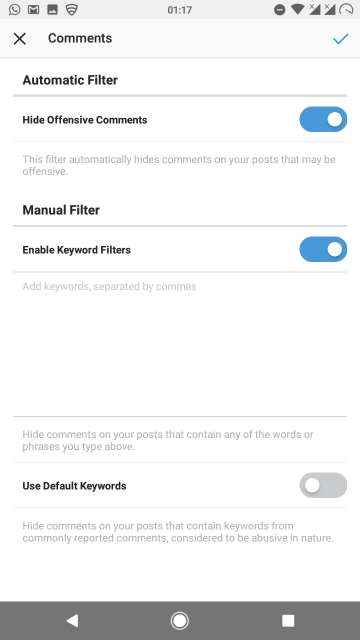 4. Archive your posts to hide it from your profile
Archiving any item comes in quite handy when you want to keep things neat and tidy, in other words, clutter-free or hide any file or photo for privacy reasons from the main view of an app. This feature is also available on Instagram for those who have decided to have privacy by hiding their posts from others. Only you can see your archived posts.
To archive, just view any of your posts from your Profile, tap the three dot button and then tap Archive. To see your archived posts, just go to your profile and then press the archived posts button as shown below. In case you have changed your mind and would like to bring the archived posts back to your profile, just go to archived posts as explained above, view your archived post, tap the three dot button and then tap Show On Profile.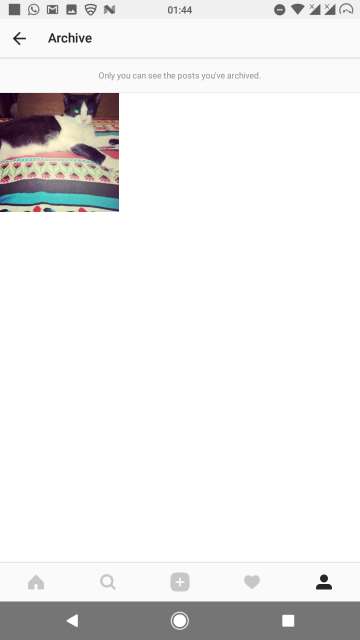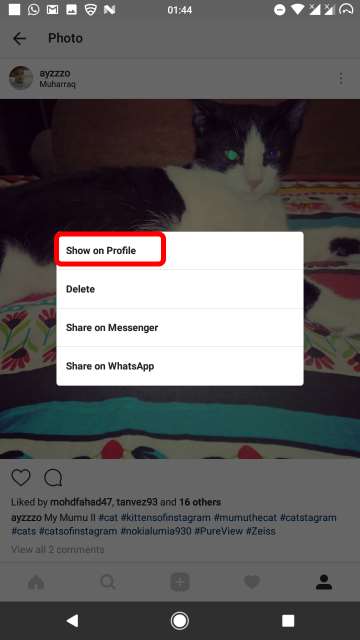 5. Hide your Stories
The feature called Stories launched by Instagram in August 2016 gave its users the ability to take their photos, edit and add effects to their photos and post it to their story. The story would expire twenty-four hours after the user had posted it. However, in the front of the video, Instagram allows the user to shoot or broadcast a live video which would disappear into thin air immediately after the user ends shooting or broadcasting it. Instagram Stories has many more features, but at the moment let me focus on showing you how to hide your Instagram stories from people.
To hide your stories, Just head to your profile, tap the three dot button to jump into settings and then tap Story Settings. Under the HIDE STORY FROM category tap 0 people to select the people from whom you want to hide your stories in the future and hit the Tick button when done. 0 people is displayed when you have not hidden your stories from anyone.
And there you go folks, on my 5 Instagram tips and tricks you guys must make use of. Feel free to chime in the comments below on how these tips and tricks guide has benefitted or helped you all DroidViews readers out there. It would be very rare that anybody would not have Instagram installed on their smartphone. If not then head over to Google Play Store to download the app via the link given below. Adios amigos!
[googleplay url="https://play.google.com/store/apps/details?id=com.instagram.android"/]
Also Read: Find Out 5 More Instagram Tips and Secret Features