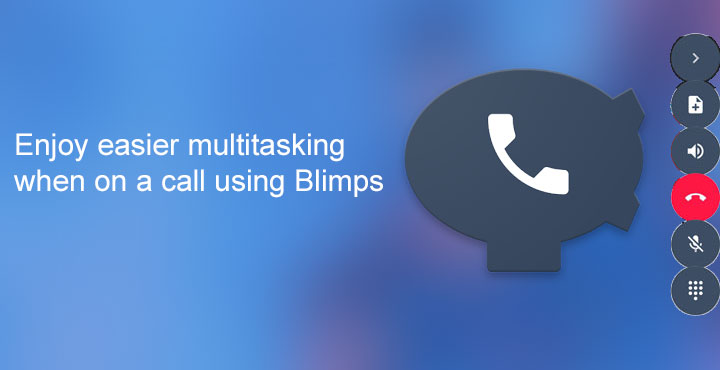 More powerful hardware in smartphones with each passing year definitely brought a boost to Android's multitasking capabilities. We now have split-screen multitasking too which makes doing two things at once so much easier. Sure there's still a lot of room for improvement, and they will soon come as well. To start with, the ability to drag and drop stuff between two open windows would be amazing. But let's talk about something that nobody as Google is probably talking about. Multitasking when on a call is not a very pleasant experience on Android. Thanks to XDA member CurlyY, we have a solution called Blimps.
Yes, yes, we know you can just tap the home button while on a call and start doing whatever you want to while you attend a call. But what do you do when you want to use the dialer again? You will have to pull down the notification shade and tap on the ongoing call notification and then you can access any of the dialer functions. Same goes for switching the speakerphone on or off. It's not a difficult process but it's just not as easy as it could be. Android 6.0.1 wasn't, after all a bad OS but we still got Nougat and soon will be getting Android 8.0. There's always some room for improvement. The same can be said about the multitasking experience on Android when on a call.
Must read: Automatically Clear App Cache When Crosses a Certain Limit
If you're not yet convinced enough, probably letting you know what Blimps can do will have you thinking. Blimps is an app developed by CurlyY and all it does is simply place the on call dialer buttons on your screen as floating buttons. This makes accessing any of the dialer functions a breeze without having to leave what you're doing. The app has recently received a big jump in its version number. A new update brings it to 2.0 along with a new UI and new floating buttons.
Download Blimps
Don't miss: 6 Best Contacts and Dialer Replacement Apps for Android
Enable floating buttons
When Blimp is installed, it is already enabled so you can start using it right away if you want, assuming you get a phone call immediately. But before you do, you might want to enable more floating buttons. By default, only the End call button is active which is not that useful in itself. This is because the ongoing call notification has an End call button too. So if it were only for a floating End call button, Blimps wouldn't be as useful. Fortunately, that is not the case.
When you launch the app, swipe right to the PIMP MY BLIMP tab and enable all the buttons you want. It doesn't hurt enabling just all of them either. Once that is done, you're ready for a phone call. Next time you're on a call you no longer need to pull down your notification panel to perform common functions. Oh and don't worry, Blimps utilizes the proximity sensor to make sure you don't end up touching a button accidentally with your cheek or ear.
Also read: Get Google Assistant on Android 5.0+ with Google Assistant Launcher