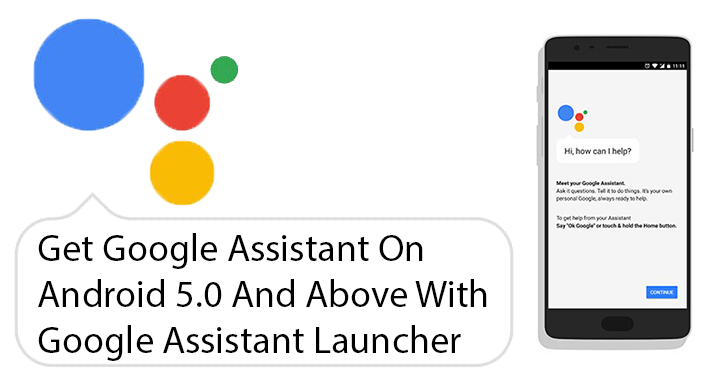 By now, you must be quite familiar with what Google Assistant is even if you don't have it on your phone. Some of you probably hate it because you loved Google Now and some of you might be in love with its witty replies. Regardless of how you feel about it, Google Assistant is one of the better AI assistant services which is only going to get better and more popular in time. It might be a good time to start familiarizing yourself to how it works if you use voice assistants. However, Google Assistant is only available on devices running Android Marshmallow and above. At least officially, that's the case. But XDA senior member Jovic77's new Google Assistant Launcher brings Google Assistant even on Android Lollipop.
The trick used here was first explained by another XDA member Nikhilkumar038, but that required using third-party app launchers such as Nova. And you'd have to tap on the Google Assistant icon on your home screen to launch it instead of just long pressing the home button. Hence, Jovic77's new app which lets you not only launch Google Assistant on any device running Android 5.0+ but do it with your home button like you usually would on an officially supported device. The best part is that you don't need to have a rooted Android device nor do you have to flash anything from a custom recovery.
Download Google Assistant Launcher:
GoogleAssistantLauncher_1.0.4_SDK21+_HyDevs.apk
Using the Assistant on Android 5.0 Lollipop
First and foremost, download the Google Assistant Launcher APK from the link above and Install it like any other APK. Once that is done, you can tap Open to go straight into the app and have a look around. It is mostly cards floating around on the screen detailing the various things you can do but it looks really cool. But launching an app every time from your home screen isn't really how you picture using an AI assistant on your phone. An assistant should be easily accessible from anywhere and within any app.
Don't miss: List of 70 OK Google Commands for Google Assistant and Google Now
So as mentioned, you can launch Google Assistant with a long-press of the home button as well. When you long press the home button, you will first be asked to choose between Google and Google Assistant. Select Google Assistant and tap Always to set it as your default assistant.  In case you don't get an option to choose, you can change your default assistant from the settings as well.
Head over to Settings > Apps and tap on the gear icon on the top. Select Default apps and then tap Assist & voice input. In the pop-up menu, choose Google Assistant Launcher and it should be set as the default app for when you long press the home button.
Don't miss: 12 Cool Google Assistant Tips and Tricks You Must Check Out