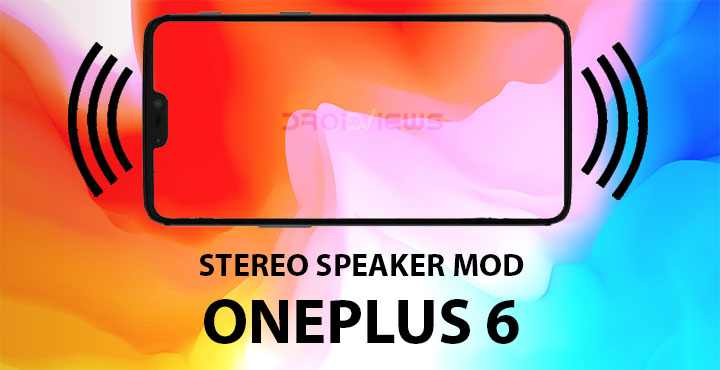 We've reached a point in time where the market is chock full of great smartphones to pick in any price range. None of these great smartphones is perfect though. Not even devices that cost you a thousand or sometimes two thousand dollars can be considered perfect. Similarly, the OnePlus 6 is a great device and an excellent value for money but it isn't perfect. For instance, the built-in speaker set up. It's a single downward facing speaker that's so easy to block which ruins the gaming experience if you don't have headphones plugged in. Downward facing speakers seem to be the trend these days as everyone follows Apple, but even apple now provides stereo speakers on its iPhones.
On the OnePlus 6, you only get one single speaker, like the OnePlus 5T before it, and the OnePlus 5 before it… you see where this is going. Fortunately Android has a vibrant community of third-party developers that have our backs. The pricing of OnePlus devices, as well as the close to stock Android experience, has made OnePlus flagships a favorite. Hence, there was a way to enable stereo speakers on the OnePlus 5T, and there was a way to do so on the OnePlus 5 too. Now there's a way to enable stereo speakers on OnePlus 6 as well.
Stereo Speakers mod for OnePlus 6
This new mod for the OnePlus 6 has been put together by XDA Senior Member acervenky. Unlike the OnePlus 5T mod which was simply a mod of the mod for the OnePlus 5, this one took a bit more work. It does essentially the same thing as any stereo speaker mod does. It turns the earpiece into a secondary speaker which isn't as loud as the original speaker. The earpiece was never designed to be used as a speaker so that's expected.  There are ways to increase the sound output from the earpiece but they can permanently damage the earpiece. For this reason, we will not be discussing those. Instead, we will simply show you how to install acervenky's mod.
This mod is a Magisk module which means your OnePlus 6 must be rooted with Magisk. This mod will only work if your OnePlus 6 is running on the stock Oxygen OS firmware provided by OnePlus. Custom ROMs are not yet supported.
Warning
The default volume levels that this mod sets for the earpiece are safe and should not harm it. Still, neither us nor the developer can guarantee that. This is a risky step and you're the one responsible if you do decide to take it.
Requirements
Rooted OnePlus 6
Oxygen OS
Magisk
Downloads
OP6-Stereo_Magisk_reducedv4.zip
How to Enable Stereo Speakers on OnePlus 6
Open Magisk Manager and head over to the modules section using the side menu drawer.
Here, tap on the floating + button at the bottom.

Navigate to the downloaded zip file and select it to install it.
Reboot the device for the changes to take effect.