Facebook is the social media giant. Over the years it has been the go to choice for anyone who wants to connect to their friends and relatives living far.
With Facebook being a large part of our social lives, we upload a lot of content like status updates, photos, and videos to share our happy moments with our loved ones.
To make the process of connecting simpler we have mobile apps for Facebook. Now, the Facebook app gets updated a lot and changes are made on the fly. It has been auto-playing videos for a while but the recent updates have brought with it the ability to auto-play sound for videos posted on Facebook. That's annoying.
Also read: View Saved Wi-Fi Passwords on Android with WiFi Password Viewer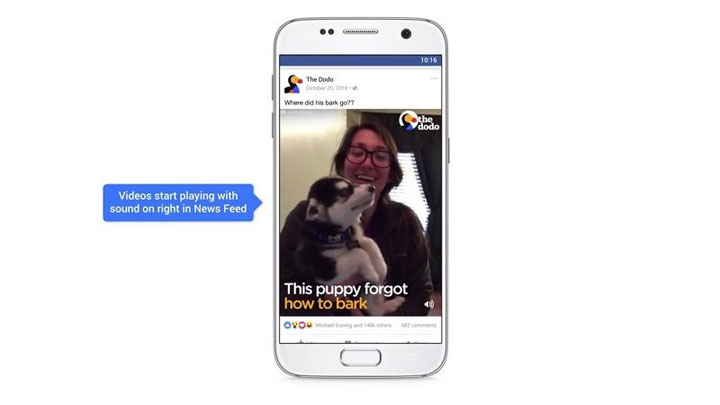 The sound that you can't control is as irritating as it gets. Earlier, the videos on Facebook stayed muted unless you enable its audio manually. Facebook decided to change that recently as the videos now start playing sound automatically as you scroll through your newsfeed. Now, as long as your device isn't on silent mode, the sound will fade in and out as you scroll through the videos.
Disabling auto-playing sounds on videos is a good idea if you are in quiet areas or simply because you don't like videos playing loud sounds while scrolling through the newsfeed. Another reason could be to save mobile data.
Facebook says: After testing sound in News Feed and hearing positive feedback, we're slowly bringing it to more people. With this update, the sound fades in and out as you scroll through videos in News Feed, bringing those videos to life.
You may also like: 4 Awesome Android Apps You Should Check Out
We can't blame Facebook for pushing this update as many users seem to like it. But for the rest of us, it's a new annoyance to deal with. With that said, here's how to disable the auto-playing sound for videos on the Facebook Android app.
Open the Facebook app on your device and tap the hamburger menu icon (the three horizontal bars).
Scroll down the menu and go to Settings> App Settings.
Now tap the toggle switch to turn Videos in News Feed Start With Sound off.
Having done that, look for the Autoplay option and tap it. Select "Never Autoplay Videos".
Done! If you don't see this option, the update hasn't rolled out to you yet. Check back later as it is rolling out to all the devices, so you should see it soon.
Must read: 5 Android Apps worth Rooting For
Have you received this feature yet? What do you think of auto-playing sound on video? Good or bad? Tell us in the comments section below.