If you wish to limit interactions with someone on Facebook, the Restrict Account feature might come in handy. Granted there are other measures as well like unfriending or blocking them. But this will then cut-off all your ties from that user on the social media platform. So a much viable and feasible method will be to make use of the restricted account functionality. In this guide, we will be detailing everything about this feature, right from its definition of how you could add any member to it. So without further ado, let's begin. On that note, also check out the steps to unblock users and gages on Facebook.
What is Facebook's Restrict Account Feature
Suppose your parents have recently joined Facebook and sent you a friend request. But you can't really accept it in the first place considering some private pictures are posted on your timeline. Well, one thing that could be done is to make those photos private. But it might take ages hiding each and every photo individually from the public view. In those cases, Facebook's Restrict Account feature will definitely come in handy.
If you restrict any account, your profile will still be visible to that user, but he will only be able to view images posted before his account was restricted. This is where it differs the most from the Block feature. If you go with the latter option, your profile will no longer be visible to that blocked user by any means whatsoever.
On the other hand, in the case of Restricted Account, all your recent posts, stories on Facebook will be hidden from him or her. But your profile will still be visible to them. This will arouse less suspicious in the minds of users whose account has been restricted, as opposed to being blocked. Similar to Facebook, Instagram also has a Restrict Account feature. Refer to our guide for the required steps.
Will you be able to view the Restricted Account's Profile?
Consider Facebook's restricted account as one-way traffic. That is, you could still view all their posts and stories without any fuss. Well, you could even post in their timeline. It is just that they wouldn't be able to view or act on any of your recent posts. Likewise, even if they have been added to the restrict list, he or she wouldn't be unfriended. This only happens in case you block someone. Here, you could easily restrict or unrestrict any account without worrying about having to re-send a request to that user.
Exceptions to this feature
Yes, there do exists some exceptions to it. For example, if any user's account is restricted but you have made your post public, then that user could easily view your posts. The same rule applies if you tag him in any posts. In both of these scenarios, he or she could easily bypass this restriction. So to make sure it doesn't happen, change the post's privacy settings to Friends.
Moreover, this feature also doesn't work while you're chatting with them. That is, you could easily interact with that user just as you do with any other. he or she would have no clue whatsoever that their Facebook account has been restricted.
Are they notified?
No, the users won't get notified if you restrict their account. The same happens in the case of a block as well. But with block, chances of arousing suspicion is much greater. This is because if that user searches for your profile, he wouldn't be able to do so. He could easily guess two things are going on: either you deleted your Facebook account (which would be a rarity) or have blocked him. Likewise, to unblock any user, you'll have to resend him the friend request. This all but confirms his claim of being blocked.
However, with the restrict account feature of Facebook, you don't have to worry about all this. The only way he could guess so is by checking your account activity using your mutual contact's Facebook profile. To be frank, not many would go such distance just for this sake.
How to Restrict/Unrestrict any account on Facebook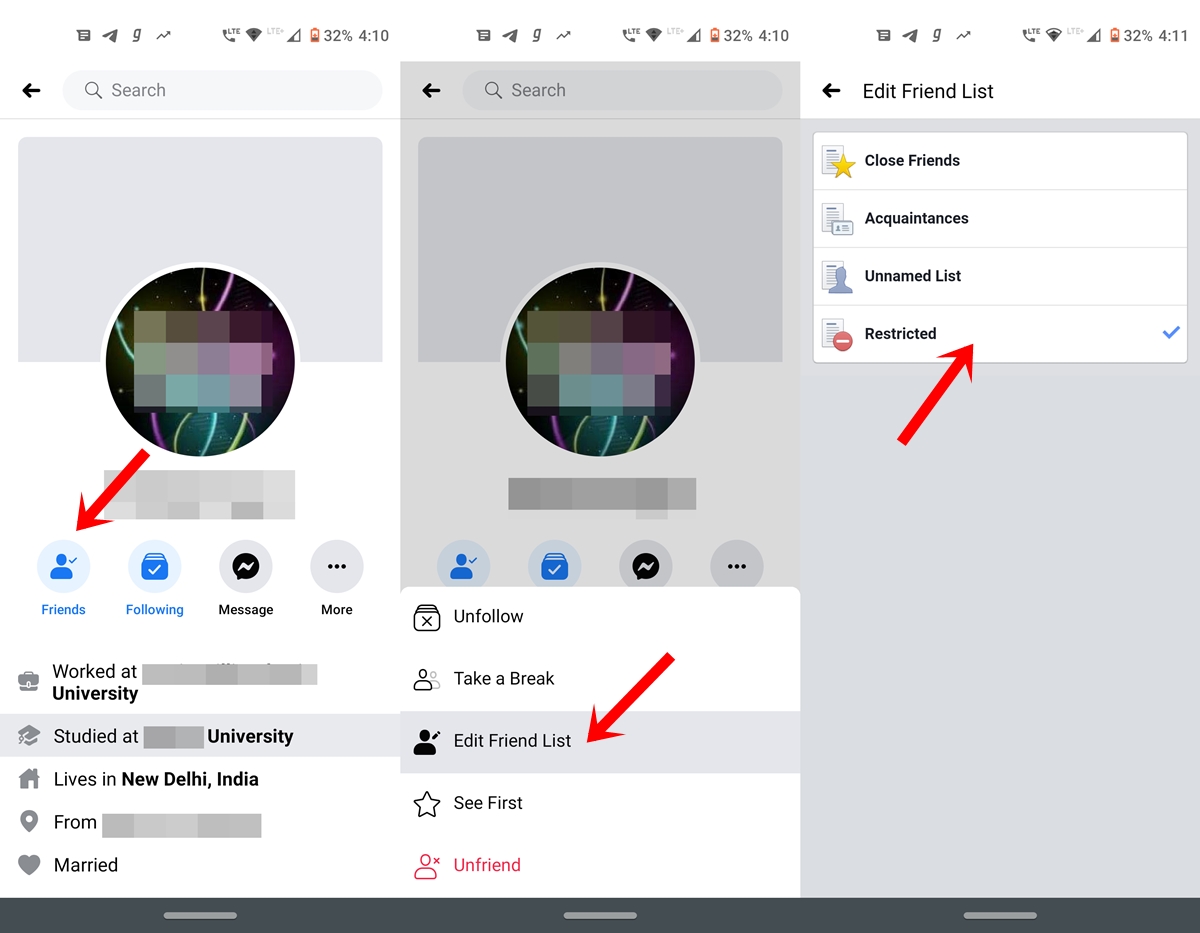 Open the Facebook app and head over to the account which is to be restricted.
Tap on the Friends option. This will bring about a menu.
Select the Edit Friend List option.
Finally, tap on the Restricted option. You'll see a blue tick indicating that the account has been restricted.
To unrestrict that account, again tap on the Restricted keyword. The blue tick will disappear indicating success.
Don't Miss: How to download your entire Facebook data including chats
Rounding Off
So with this, we conclude our guide on the restricted account feature of Facebook. We discussed everything regarding it in-depth, including what it does, it's differences compared with the block feature and how to use it from within the app. Do note that blocking someone is the extreme step. So only go for it if you wish to permanently distance yourself from someone.
Whereas if you only wish to hide your posts from someone, consider restricting their account only. But still, the decision lies in your hands. We would love to hear your views regarding this feature. Do drop in your opinions in the comments section below.