Facebook recently launched its native home launcher app for some high-end Android phones. Despite being one of the most discussed apps, Facebook Home did not receive a nice reception and good review. If you are a FB fan-boy, you might adore that app but for most users, it's an app they don't like to have over the top of everything.
As for Facebook for Android, it is a must-have app that keeps you updated with the views and status of your friends you care about. The app has a contacts sync feature and if you allow it to sync, it fetches all Facebook contacts to your Android device's phonebook. If you have installed even Twitter client for Android, your phone can also import contacts from there.
If you have thousands of friends or followers on Facebook and Twitter and a large circle on Google Plus, you can sync all those contacts with their mail ID and phone numbers to your phone's contacts. The feature is indeed very nice and having more and more people's contact on our handheld device is really great. But this can also be a problem for many users. In most cases, our Facebook/ Twitter/ Google+ friends are those whom we do not know personally, or at least they are such people with whom we share images and opinions but not necessarily our personal things by calling them.
Thousands of names in our phone's address book might prove a nuisance each time you have to select a contact to call. You can use the alphabet indexer to make scrolling a little easier but it can still feel bad. Personally, I prefer my phone to show only the contacts with phone numbers.
Remove Facebook Contacts from Android
If you see your Facebook or Twitter contacts on your phone's address book and want to remove them, you can do this by disabling the sync feature on your Android device. Here is how:
Open your device Settings, scroll down to Facebook and tap on it. On the next screen, you will see the email ID you use to sign in your Facebook account. Tap on it and uncheck "Sync Contacts".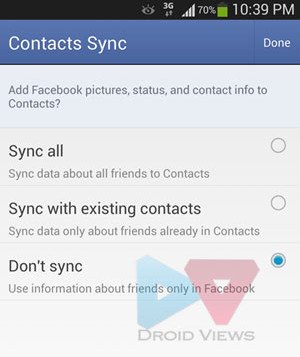 You can also do it from inside the Facebook app on our phone itself. Open the app and launch the Facebook app's options menu. Here you will see Settings, now tap it. Just scroll down and you'll find an option called "Sync Contacts". Tap it, check "Don't sync" option and select "Done".
Next, open the Contacts app on your phone and tap on the menu button. Here you'll see an option called "Contacts to Display". Just unmark the Facebook account and this will remove, not delete, all Facebook contacts from your device.
For more useful tips for your Android device, do not forget to take a tour of our Tips and Tricks section.
Also Read: