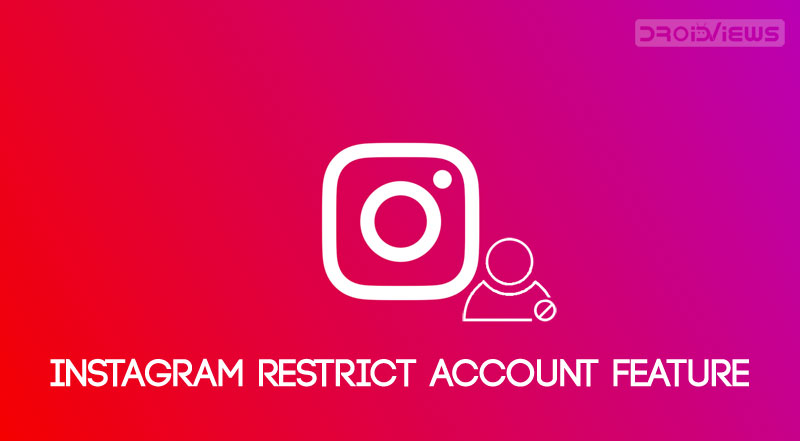 Online bullying has indeed become a major concern these days, especially for young teenagers. To counter these online bullies and let the younger generation have a sense of normalcy, Instagram seems to have tightened the screw on Privacy. And now, they have introduced a new feature to further stronghold their claims. Called the Instagram Restrict Account feature, it will allow users to shadow-ban various abusive comments and accounts.
Shadow-ban is "partially blocking" a user or their content from an online community. This means only the restricted commenter will be able to view his/her messages (and you, with a little tweak), whereas none of the other users would be able to see. This may sound strange to you, but the reason behind this is pretty straightforward. For a safer browsing experience, don't forget to secure online privacy with these web browsers for Android.
Instagram's New Restrict Account Feature
If you are reluctant to report or block a user from your account, then Instagram's Restrict Account feature will definitely come in handy. Once enabled, the restricted user will still be able to comment on any of your posts but only you and the commenter could view them. Initially, it will be hidden from you as well. To view such comments, you will have to tap on See Comments. This would allow you to keep a tab on their activities on your post and types of comments he or she makes. If deemed fit, you may also enable the comments to be visible to the general public, or could altogether delete it.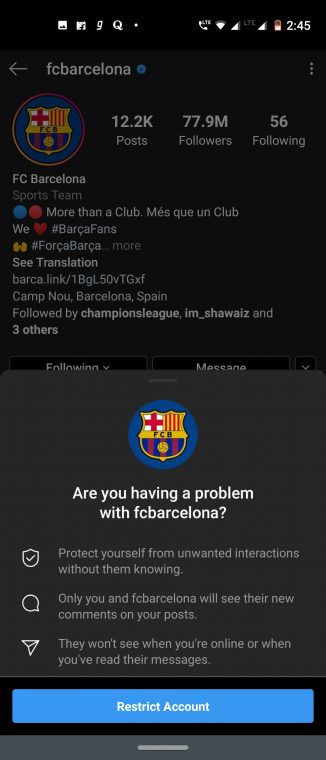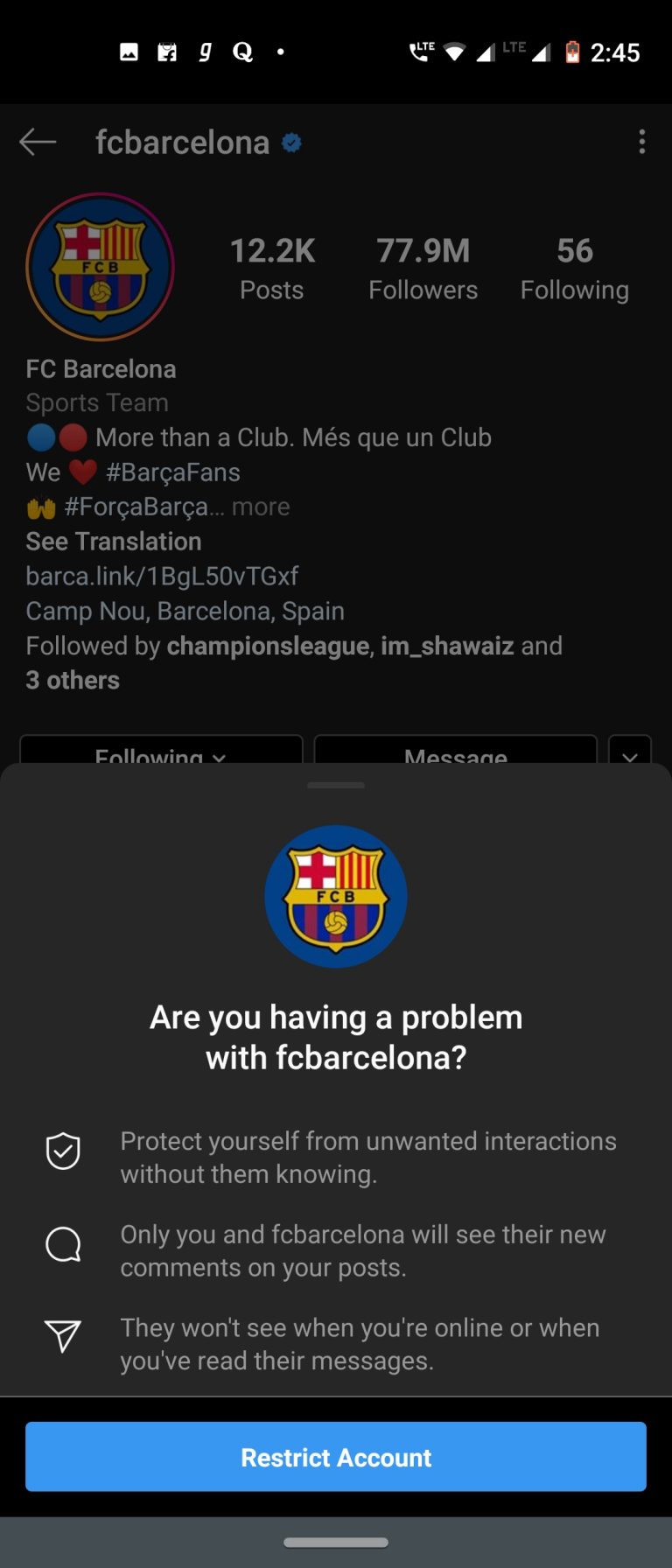 Moreover, if a restricted user sends you a DM (Direct Message), it will automatically be sent over to the Message Request section. You wouldn't be notified if they send you a message. Also, the restricted user will have no clue whatsoever whether/when you have seen their messages or if you are online or not. All such personal settings of yours will be hidden from them.
To secure the data and other content on your device, consider reading our article explaining why you need a password manager on your Android smartphone.
How to Restrict any User
To restrict an Instagram account, there are three different methods. Either left swipe on their comments, from your Privacy Settings or directly by visiting their Accounts. The latter two are explained below.
1. Restricting an Account from Privacy Settings
Open Instagram and tap on your profile section ( the last option of the bottom bar).
Now tap on the menu icon (the three horizontal stacked lines) situated at the top right.

Select the Settings option present at the bottom.
Tap on Privacy and select the Restricted Accounts option Connections.
In the next screen, it will explain a little bit about this feature. Just tap on Continue.

Next, find the account that you wish to restrict using the search bar and tap on Restrict. That's it. you have successfully restricted an Instagram account. There is another way of doing the same. Follow the below instructions.
2. Restrict by Visiting their Accounts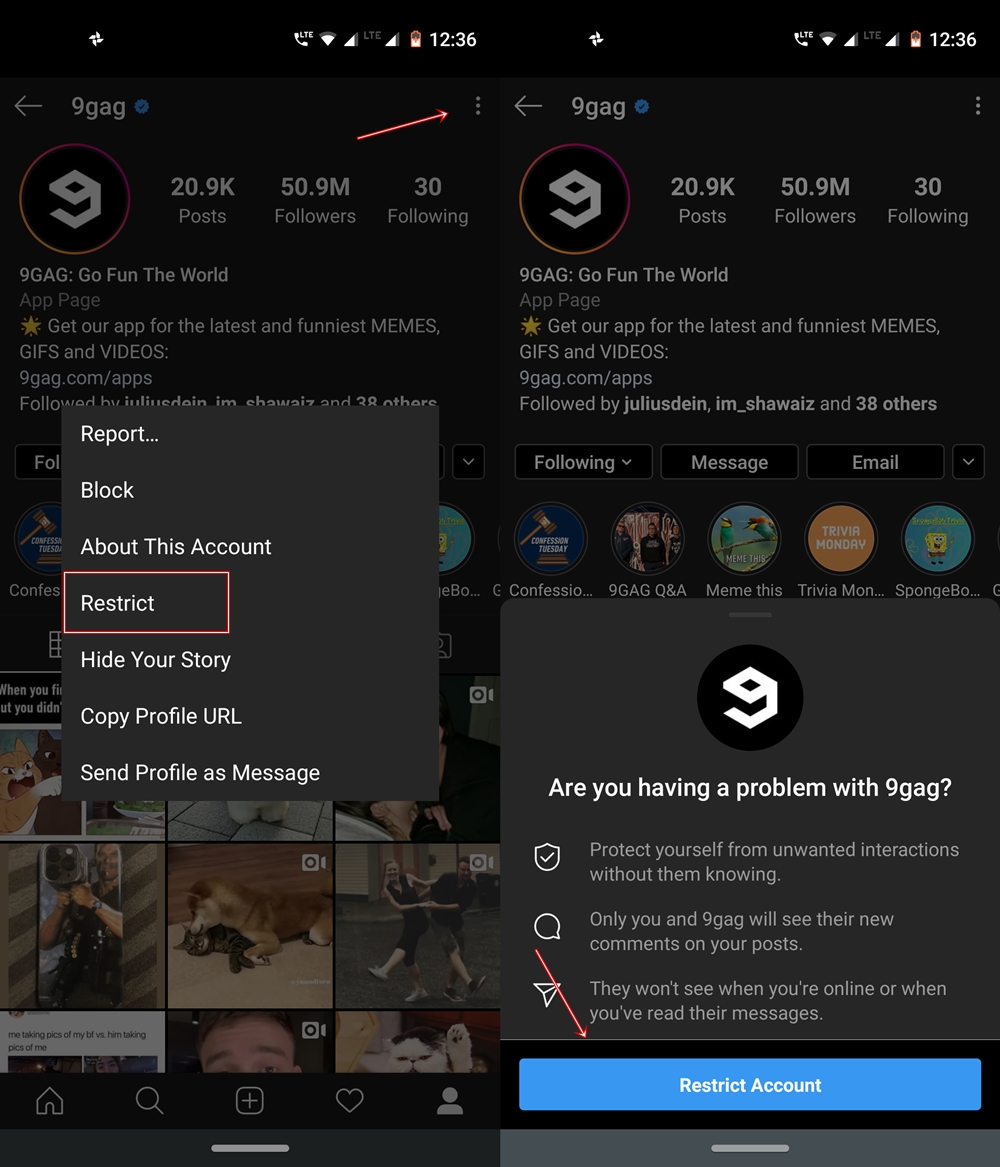 On the Instagram app, search for the user you wish to restrict. You may take the help of the search feature present next to the home button.
Open their account and tap on three vertical dots present at the top right.
Select the Restrict option from the list.
You will now get a confirmation dialog. Tap on Restrict Account to confirm your choice.
So these were the various methods of using Instagram's new Restrict Account feature. However, if you wish to Unrestrict an account, just follow all the steps in the same manner, and at the last step, you will have to select the Unrestrict option, instead of Restrict.
To conclude, we definitely think of this as a welcome move on the part of Instagram. It proves that they really do care about the user's privacy and safety rather than just monetizing their app. What's your say on this? Are you going to use this feature or you would instead prefer to completely block the user and their associated account. Do let us know your views in the comments section below. However, before you leave, I highly recommend reading our tutorial on enabling dark mode on Instagram.
Read Next: 5 New Instagram Tips and Less-known Features