In this tutorial, we will be looking at Off-Facebook Activity, one of its most important features from the security point of view. Well, you might be interacting with Facebook every now and then. These include uploading images and videos, commenting on a post and other related things. These activities are being stored on Facebook, and you might very well know about it. But what about the background data that the social media giant is getting from various third-party websites?
Most of you might not even be aware that it already has tons of your associated data from numerous sites. However, Facebook seems to have made some stringent changes to the data privacy section, especially after the Cambridge Analytica Scandal. As a result, it has taken initiatives in protecting your data and giving you full control over how these data are handled. Off-Facebook Activity is one such step forward in this regard.
What is Off-Facebook Activity
Whenever you sign in to any app or website using Facebook, the website shares all your activity over to Facebook. These sites take the help of Facebook's Business Tools (which includes  Facebook SDK, Facebook Login, Facebook Pixel, and Facebook Account Kit). Have you ever wondered how you are able to see the ad on your feed of the exact same product that you had just now bought or done a search for? Well, it is due to the data shared by those sites and apps about your recent activity on Facebook.
What Does Facebook do with these data?
Facebook says that it uses these data for the following purposes:
To send you just the right kind of personalized and curated ads, matching your needs.
It will suggest groups, marketplace items that you could be interested in.
In helping you discover new businesses and brands.
Helping businesses understand how their websites and ads are performing (on that note, check out how to opt-out of targeted ads on Facebook). More importantly, whether they are reaching the right audiences or not.
Apart from that, these data are also used to identify suspicious activity to help keep Facebook safe.
However, Facebook claims that they don't sell their information with anyone. Furthermore, it has restricted the apps and websites from sharing your personal data with them (i.e Facebook).
How to Manage your Off-Facebook Activity Data
So how could you effectively review and manage all your Off-Facebook Data? Well, the steps are pretty simple and here is what needs to be done. On that note, also check out the steps to download your entire Facebook data.
Open the Facebook App and tap on the hamburger menu.
Next, tap on Settings and Privacy > Privacy Shortcut.
Scroll to Your Facebook Information section.
Tap on View or clear your Off-Facebook activity. Now select the Manage Your Off-Facebook Activity. You'll also have to enter your Facebook password to continue further.
Removing your Facebook account from any app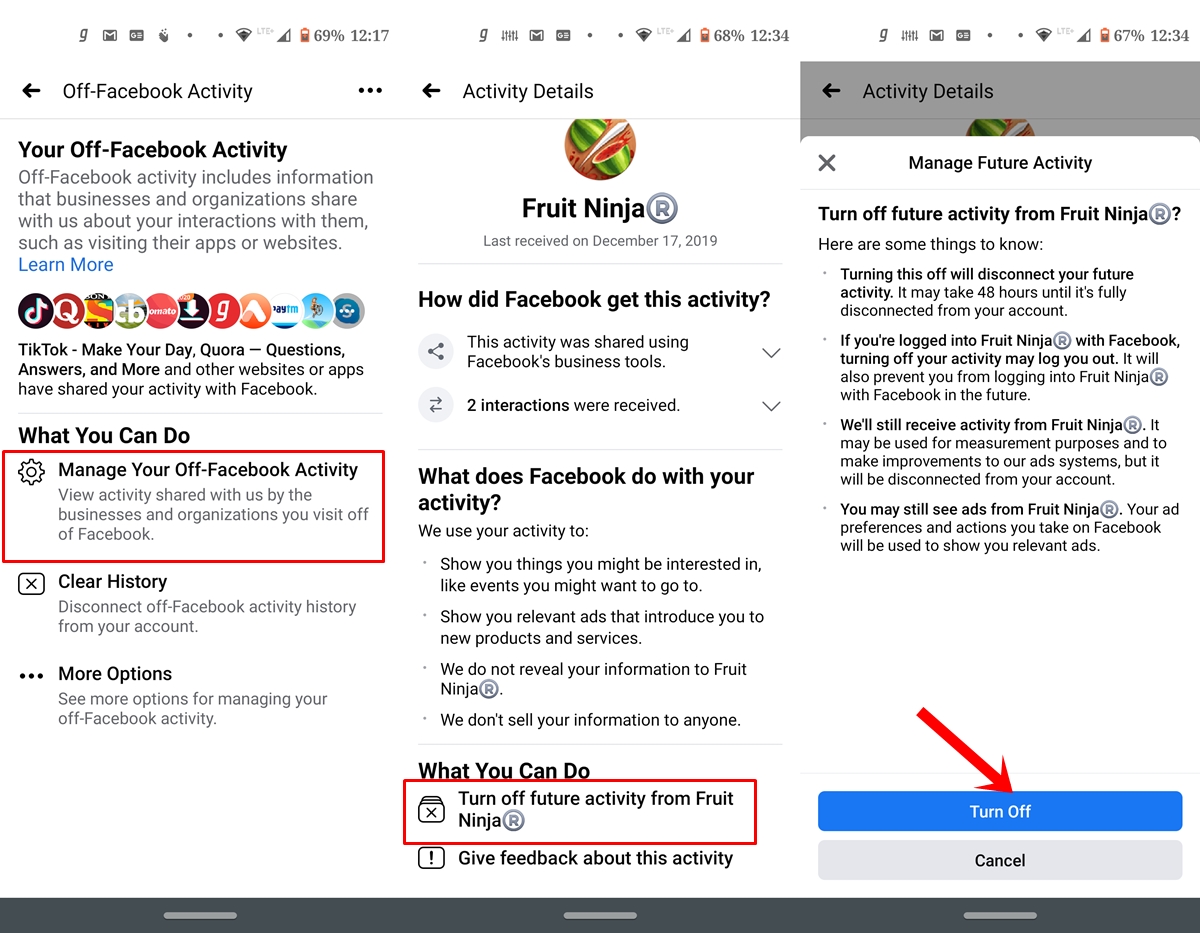 You'll now see all the apps and websites on which you have logged in using your Facebook login credentials. You could now easily remove any future activity from this any of the listed apps quite easily. Just tap on the desired app and select the Turn off Future Activity from <app name>. In the confirmation dialog, tap on Turn Off. That's it. Your Facebook account will no longer be associated with that app.
How Facebook gets your Data from these Apps
As already mentioned, these apps and websites using the Facebook business Tools to share your data from Facebook. Apart from that, Facebook also receives your data from the interactions. Interactions could be launching or logging into an app with Facebook. Viewing content or searching for an item is also counted as an interaction. Apart from that, adding an item to a shopping cart or making a purchase is also part of interactions.
It might also happen that you might not recognize some of your activities being shared with Facebook. This could be the case of your activity being shared by a data service provider or marketing agency. many organizations and businesses take the help of these marketing agencies. These agencies then use various Facebook Business Tools to share your activity to Facebook, on behalf of the businesses and organizations.
Don't Miss: Enable hidden internal settings on Facebook and Messenger apps
So, if you wish to know how Facebook is getting your data from any app, just head over to Manage Your Off-Facebook Activity section. Then tap on the desired app. Have a look at the How did Facebook get this activity option. You'll get complete information about it.
So this was all about Off-Facebook Activity and the steps to effectively manage it. If you still have any doubts related to this, please drop in your queries in the comments section below.