In this tutorial, we will be providing the instructions to help you opt out of targeted or personalized ads on Facebook. Suppose you are searching for a product on your favorite shopping site. The next moment when you open Facebook, you will be surprised to see your feed displaying ads based on that very product. Well, this is what targeting advertisement is. As evident from its name, this type of advertising is targeted and personalized just for you.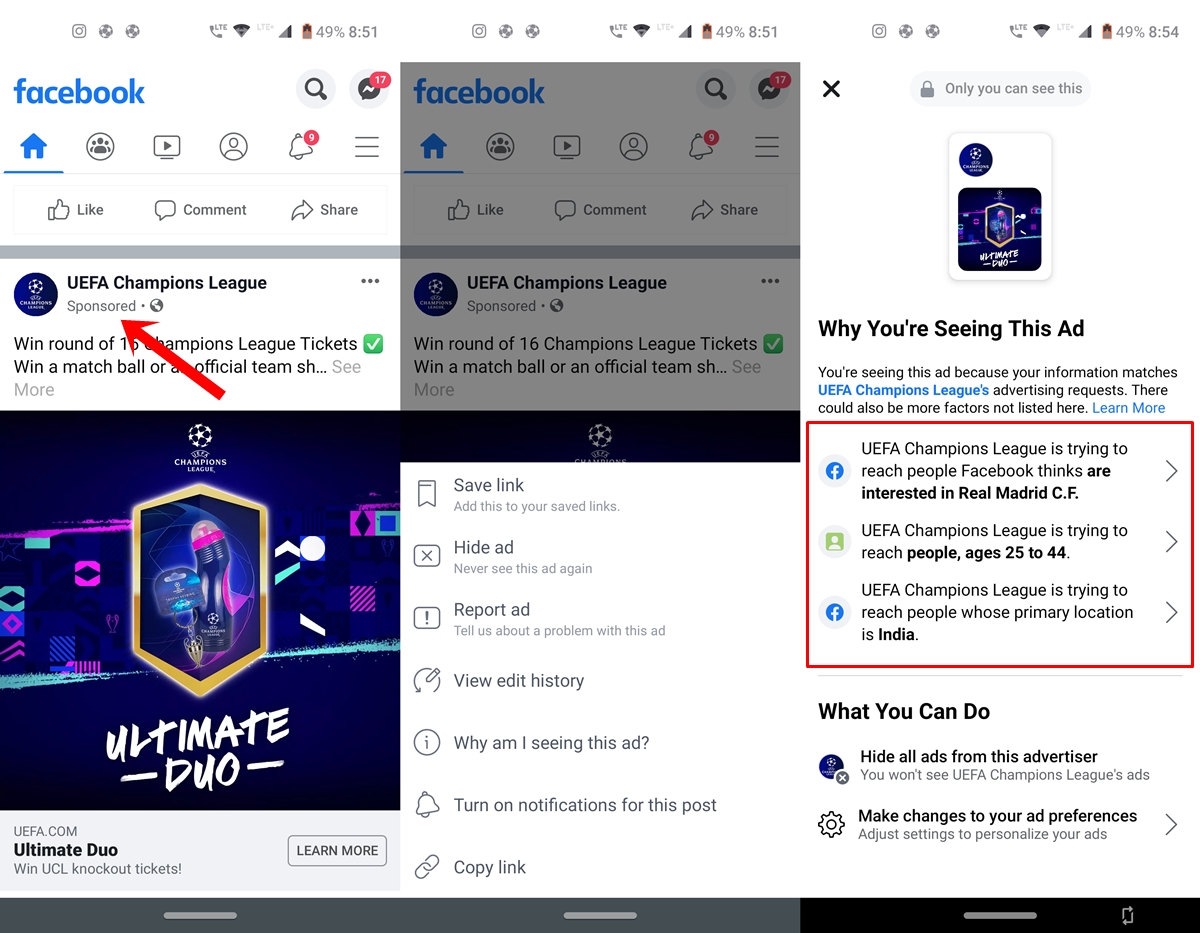 It's mostly based on your recent searches and the idea behind this is plain and simple. There is much more chance of you viewing and clicking on those ads as compared with any other general ads. On Facebook, you might see them labeled as Sponsored. But not everyone is a fan of these sponsored ads. Therefore in this guide, we will be detailing the steps to opt out of targeted ads on Facebook via it's Android app. On that note, also check out the steps to opt out of personalized ads on Android devices.
Opt Out of Targeted Ads on Facebook
Not only your previous searches, but these ads are also based on pages that you liked before, your demographic profile including age and location and other such details. And it is really frightening to know that we really have no idea who and how these data are being handled. More so after the recent Cambridge Analytica scandal, it is hardly a safe practice to let these third-party keep a track of your activities. So here are the steps to opt out of targeted ads on Facebook. Also, check out the steps to protect your personal data and privacy on Facebook.
Steps to Follow
Open the Facebook app on your Android device and tap on the hamburger menu.
Next, tap on Settings and scroll to the Ads section. Tap on Ad preferences within it.
Now, there are two ways of going forward. You could either opt out of targeted ads from any particular domain or a complete blanket ban of all the targeted ads on Facebook.
If you choose the former option, tap on See all your interest. This option will be situated under the Your Interests section.
From there, just tap on the overflow menu next to the section whose ads you no longer wish to see and tap on Remove Interest.

However, for a complete blanket ban (opt out) of targeted ads on Facebook, tap on Ad settings. Talking about blocking ads, refer to our separate guide on the same topic.
Next, select the first option, i.e. Ads based on data from partners.
Tap Continue, disable the Allowed toggle and tap Save.
Next, select the second option that controls Ads based on your activity on Facebook Company Products. This option is situated in the Ads Settings section of Facebook. Then scroll to the bottom and select No.
Don't Miss: 10 Facebook Tips and Tricks on Android
Concluding Remarks
So these were the steps to opt out of targeted ads on Facebook (which also provides the provision to delete its search history). But do keep this in mind. Doing so wouldn't minimize the frequency of these ads. You will still continue to get the same number of ads, but they won't be specifically targeted towards your recent activities. What do you think of these types of ads? Are you willing to opt out of targeted ads on Facebook?
Some users are still favorable to the fact that since they would be getting ads anyways, it's at least better that they should be based on the topic of interests rather than any vague ones. Hence they willingly allow the social media giants to send them personalized ads. It ultimately boils down to how much privacy are you willing to share with others.
Read next: Facebook Messenger 4: Simpler, Modern & Fully functional