Xiaomi smartphones are primarily famous in Asian countries because of their value for money. This is the reason why most people use Xiaomi smartphones. However, these devices come with MIUI skin instead of a stock Android experience. And MIUI is like a supermarket of advertisements. With every Xiaomi smartphone, you will get MIUI. And with MIUI you will get ads, bloatware and un-necessary push notifications. So if you are also annoyed by these bloatware and un-necessary ads, then don't worry. Here is a simple guide to disable Ads, Bloatware and Push notifications in MIUI devices.
Logn ago, MIUI didn't have many ads and bloatware. Everything was down to minimal and stock experience. However, with time, Xiaomi started collecting user data and services advertisements to their users based on the user data. This is just another way of making money, but it gives un-necessary and annoying advertisements and notifications to the user. The great news is you can easily remove Ads, Bloatware, and Push notifications in MIUI 11. And today, we will guide you to do that without rooting your Xiaomi device.
How to Disable Ads, Bloatware, and Push Notifications in MIUI 11
Disabling ads is a complicated process. Since these ads serving apps are essentially system apps so you can't really uninstall them without root privilege. However, there are other ways to make them in-active and thus stopping these un-necessary notifications and advertisements on your device.
Blocking Push Notifications in MIUI 11
Before we start with Disabling ads and bloatware on MIUI 11, lets block MIUI push notification services. Push notifications are these random advertisements that you will see on your lock screen. These notifications appear when you use play store, unlock your device, or use messaging apps. Also, you might see them while browsing the internet.
Whenever you get a push notification, simply tap and hold the notification. It will show a small dialogue box where you can disable the service. Simply disable the service and click Done to block push notifications in MIUI 11 devices. This is one of the fastest and easiest methods to remove the un-necessary push notifications on MIUI 11 smartphones.
If you want to disable other application's notification, then you can repeat the same. Also, you can re-initiate these notification services by navigating to Settings > Notifications and toggle off the apps which you don't want to receive notifications from.
Recommended: Download MIUI 11 Concept Wallpapers
Disable Ads in MIUI 11
MIUI is a great skin for Android devices. However, the un-necessary ads just make it worse. I'm sure you want to get rid of them immediately. So here is a quick guide to removing ads from MIUI 11 forever:
First of all, we need to disable the MSA application. This app is responsible for collecting information and serving ads based on the information. So by disabling this app service, you will get rid of those un-necessary advertisements.
Navigate to Settings > Passwords and Security. Here go to Authorization and Revocation option. Scroll down and find the toggle for MSA app. Make sure it is disabled.
Note: The MSA works on an internet connection. So make sure to connect with the internet before disabling the app. Disable the toggle for 4-5 times, and it will toggle off successfully.
Disable System Ads in MIUI 11
Now MSA is disabled. So you won't get system ads. However, there are still apps like the default browser, music app, local app store, etc. These apps will still show advertisements. So we need to disable them one by one.
Navigate to App options > Privacy & Security. Here you will find an option "Personalized services", Simply disable that.
You need to disable such Personalised service in the Mi Video app. To do this, navigate to Mi Video Settings. Here you will find "Online Recommendations" & "Push notifications" options. Simply disable them. You need to do the same for all MIUI apps like file manager, Music app, Mi weather app, etc.
Disable Lockscreen Ads in MIUI 11
Now we need to disable Lockscreen ads. These are the ads that you frequently see on lock screen hile locking or unlocking your device. To do this, Open Settings > Lockscreen > Wallpaper Carousel. Here disable the toggle for "Turn on Wallpaper Carousel", and you're done with MIUI lock screen ads.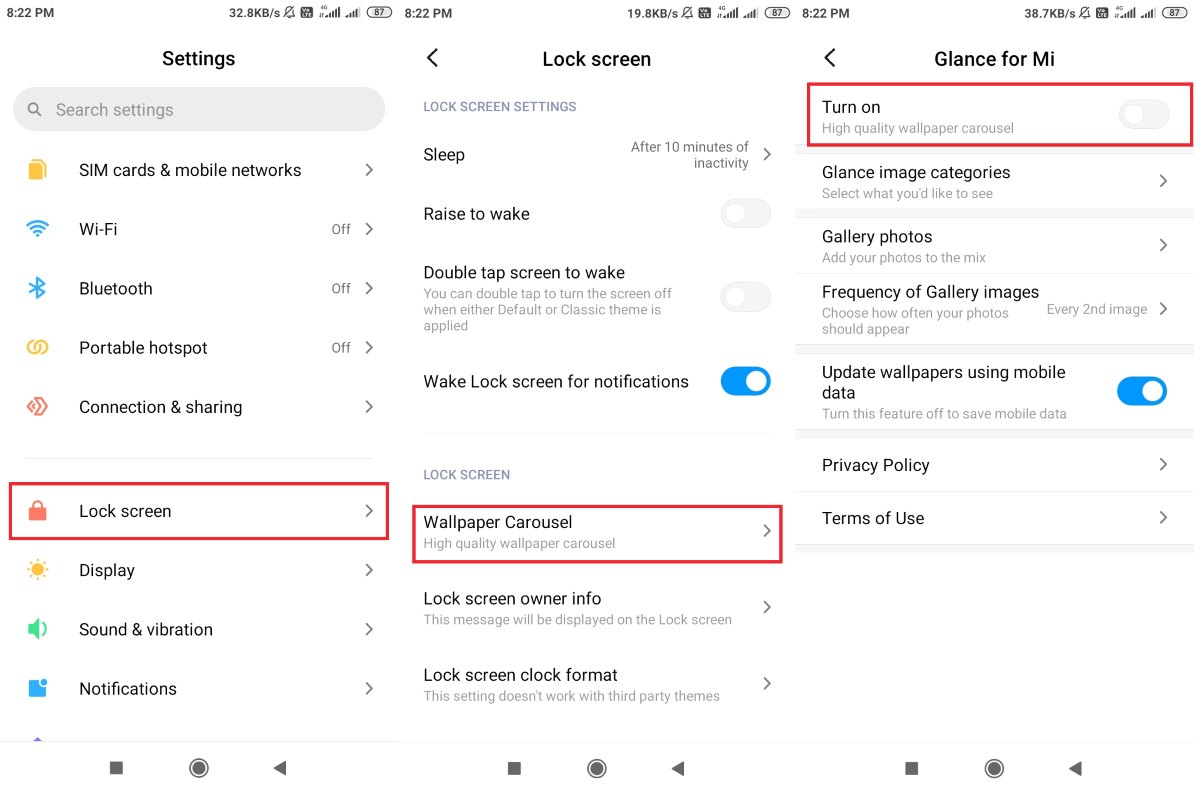 But wait, there's more! You also need to disable the personalized ad recommendations. This option tracks user behavior and pushes notifications or advertisements according to that. We are sure you don't want ads, so go to Settings > Password & Security > Privacy.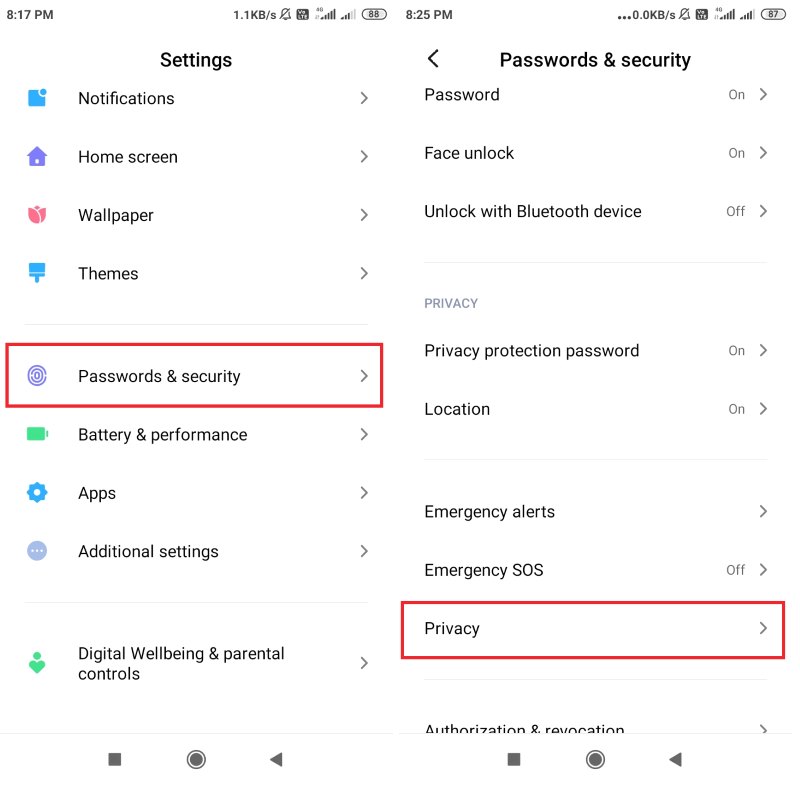 Here scroll down and search for "Ad Services" option. Simply disable the toggle, and it will stop all the annoying ads on MIUI 11 Android skin.
Uninstall Bloatware from MIUI 11
Bloatware is another problem in Xiaomi devices. Xiaomi devices come with un-necessary apps like Mi TV, M Remote, Mi weather, Mi Browser, Mi Videos, etc. These apps also show un-necessary ads and notification, which frequently annoys users. These bloatware apps are the primary source of income for Xiaomi. So if you want to uninstall system apps on MIUI 11 devices, then you need to use the ADB bridge to do so.
Also read: Get Complete MIUI Experience on Any Android Device
Warming: The next guide is meant for Android enthusiasts. Droidviews will not take any responsibility against any damage done to your device. If you don't know about rooting, debugging and ADB bridge,  then we recommend you not to proceed with this guide. Only proceed if you know what you're dealing with.
First of all, we need to setup ADB on your PC and smartphone. The process is quite simple and easy. After executing a few commands, you can completely uninstall bloatware apps on your Xiaomi smartphone.
After setting up ADB, download Xiaomi Debloater from here. It is a special tool to uninstall bloatware apps from Xiaomi devices.
Note: Do not un-install Security app from Xiaomi. It is a crucial app and deleting it will boot loop your device.
Now connect your Xiaomi smartphone with your PC and load Xiaomi Debloater software. It will automatically detect your device and will show you a list of apps that can be deleted easily.
Pro tip: Take a full backup of your smartphone before proceeding with the above steps. Also, make sure to charge your device's battery to at least 70%.
Wrapping Up
This is how you can remove and Disable Ads, Bloatware, and Push Notifications in MIUI 11. These ad serving and bloatware apps on Xiaomi devices are significant privacy concerns. So we recommend you to remove them for a safer and friendly mobile experience. That's all from us. If you have any queries, comment down below. We will be happy to assist you.
Read next: How to Disable Chrome Browser Notifications on Android.