Download Wallpapers - Android & iOS | FHD, QHD and 4K
Download 18:9 and 19:9 stock wallpapers for Android and iOS devices in HD, Full HD, QHD, and 4K resolutions. You can get new and latest wallpapers in JPG or PNG individually and live wallpapers too.
Pick a smartphone brand from below or type the device name in the search box to find on DroidViews!
A few days ago Huawei unveiled their revamped Nova lineup which includes Nova 6, Nova 6 5G and Nova SE. The Nova 6 5G and Nova 6 are
Vivo has been making some of the most better-designed smartphones these past few years ever since the iPhone had a notched display.
Smartphone maker Vivo is on a roll these days when it comes to bezel-free devices. The Chinese manufacturer is only one in the industry
LG refreshed its G8 smartphone with slightly different specs and a new hardware accessory. Dubbed G8X, the new device from LG takes
Life's all good and great that popular brand LG launched the G7 Fit in August 2018. Later in January of 2019, the company
There are still a couple of months left for the launch of the Samsung Galaxy S11 series in 2020 which would be one of the first
Both the Oppo and Realme devices are known for providing feature-rich devices at an affordable price. These devices run on the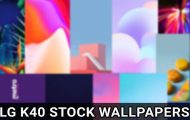 Renowned electronics maker LG debuted the budget K40 smartphone back in February of this year. The LG K40 is an entry-level device from