OnePlus Stock Wallpapers
Fnatic Mode is one of the noteworthy features introduced with the OnePlus 7 Pro. It's an enhancement for the older Gaming mode on
OnePlus knows how to build hype and they've done so again for the OnePlus 7 and OnePlus 7 Pro. The two devices, mainly the Pro,
Download OnePlus 6T McLaren Edition wallpapers (plain and 'Never Settle' versions). The aspect ratio of the wallpapers is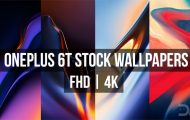 We leaked one of the stock wallpapers from the OnePlus 6T a few days ago exclusively. Today, we're going to share the full set of
Today, we're going to share the official OnePlus 6T stock wallpapers that will be coming with the yet to be announced and the
It's not June yet, but OnePlus has announced there new 2018 flagship, the OnePlus 6. The latest flagship from the Chinese
OnePlus launched the latest flagship device from the company in an event organized by the company in Brooklyn, New York on November 16.
Personally, I am an ardent Samsung fan who has never missed a single Samsung flagship released in the Galaxy S and Note series so far.