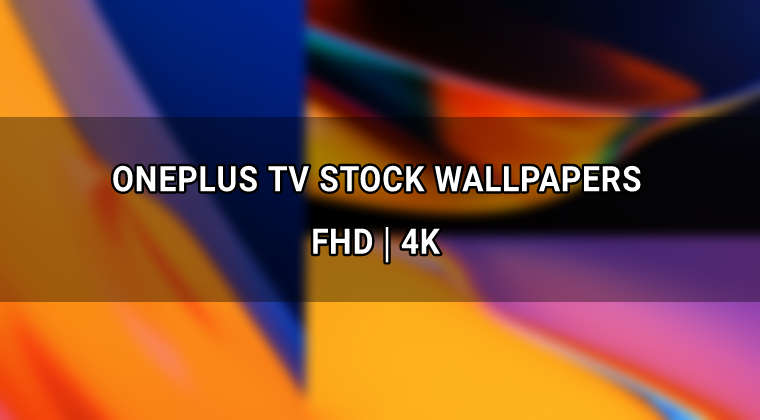 At present, if there's a champ in the Android world, it is without a doubt OnePlus. The company began with its ever so popular OnePlus One proving that flagship needn't be too expensive. However, with that said, we now have 6 OnePlus TV stock wallpapers in FHD and 4K resolutions.
The just debuted flagship 55″ QLED OnePlus TVs (as OnePlus likes to call it) namely the Q1 and Q1 Pro are something new for OnePlus. In a sea full of veterans such as Sony, Samsung, and LG to name a few, we have to just wait and see how the company performs in a segment that's very very competitive today. The TV is obviously a smart TV powered by Android with OnePlus customizations and more. However, there's one thing that makes the OnePlus TV feel endangered on launch. What's that? more on that later in the specifics!
Alright, first and foremost, let's take a look and download the OnePlus TV stock wallpapers. Let's begin. Hang on! before we begin, feel free to download the recently added OnePlus 7T stock wallpapers.
OnePlus TV wallpapers
Yes, we know at first glance you may have thought the OnePlus TV stock wallpapers to be that of the OnePlus 7T. We also thought of it the same way. However, though they are similar, their actual design work is quite different. Anyways, they look and feel premium and perfect to show off the large screen of the OnePlus TV. Indeed, OnePlus does make some great stock wallpapers, though basically inspired by some fruit company!
There are a total of 6 OnePlus TV wallpapers. Out of all, 3 of them are in FHD+ (1080 x 2342 pixels) resolution and the remaining 3 are of the UHD+ or 4K (1770 x 3840 pixels) variety. You can download all OnePlus TV stock wallpapers via the Google Drive links below. Also, you may check out our gallery (click to enlarge a wallpaper and then save it to your phone or PC).
Feel free to download stock wallpapers from other smartphone brands.
Download OnePlus TV FHD Wallpapers
OnePlus-TV-Stock-Wallpapers-FHD.zip
Download OnePlus TV 4K Wallpapers
OnePlus-TV-Stock-Wallpapers-4K.zip
All OnePlus Stock Wallpapers
Download Each and every OnePlus stock wallpaper
OnePlus TV: Good QLED, bad pricing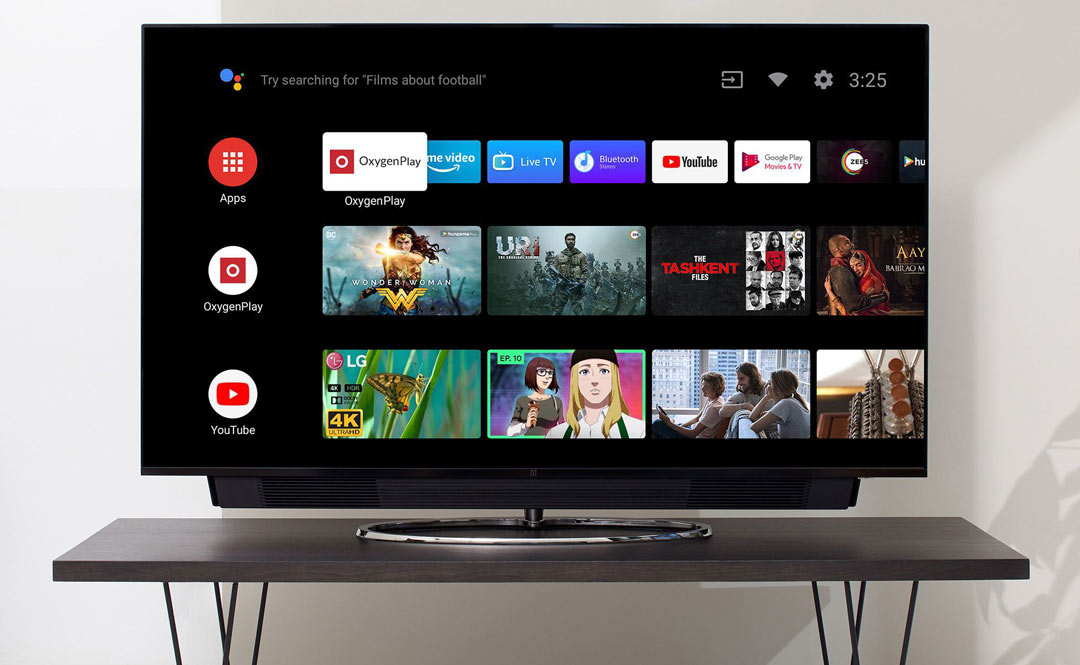 4K QLED, movable speaker, smart Android…
The OnePlus TV lineup from the popular Chinese smartphone maker consists of two 55″ Android Pie powered smart 4K QLED TVs. As mentioned earlier, we have the Q1 and Q1 Pro. Both models feature exactly the same technical specifications. However, it is the Q1 Pro that is equipped with something unique. As in, it features a motorized soundbar that equips an eight-speaker system. The eight-speaker setup includes two full-range speakers, two subwoofers and two tweeters. The result of this speaker setup is a sound output of 50W. The regular OnePlus Q1 gets a traditional four TV speaker setup (50W). Interestingly, the remote of the OnePlus TV features a volume rocker for controlling the volume à la smartphones.
Chipset, RAM and storage
The two OnePlus TVs are powered by a MediaTek MT5670 SoC coupled with a Mali G51 GPU. As for the RAM and storage, the TVs employ 2.5GB and 16GB respectively.
Connectivity and I/O
As far as connectivity is concerned, the OnePlus TVs come with Dual-band Wi-Fi a/b/g/n/ac, Bluetooth 5.0 LE. As for I/O, one USB-C, a USB 2.0 and a USB 3.0 port and 3.5mm AV jack is here. Also, we do have four HDMI ports along with an Ethernet port and an Optical Audio input.
Android and UI, pricing and availability
The OnePlus TV runs on Android 9 Pie-based Android TV. Along with that, there's OxygenPlay which is a one-stop destination for entertainment content. Now you would want to know what makes the OnePlus TV endangered at launch? It is the price of the OnePlus TV Q1 Pro. The Q1 Pro model will retail for an unbelievable INR 99,900.
The OnePlus TV Q1 at INR 69,900 is spot on for a QLED TV. However, the asking price for the OnePlus TV Q1 Pro is not justifiable in any way when OnePlus TV is a new entrant in the segment. The added INR 30,000 over the regular Q1 just for that motorized soundbar speaker system is ridiculous. Opinions are subjective, so your opinions may differ in this regard.
The OnePlus TV duo will be available in India via Amazon starting 28th September. That's just on the very day the Great Indian Festival Sale on Amazon kicks off (28th for Prime and 29th for regular customers).