Full HD Wallpapers
After merging the Galaxy C and J series of devices into the A-series, Samsung outed the Galaxy M series. Since then, it has been a
A couple of years ago popular smartphone maker Xiaomi proved to the world that a flagship need not be expensive at all. Yes, we are
Smartphone maker Samsung introduced a rugged smartphone a few weeks ago. Welcome the new, rugged and durable Samsung Galaxy XCover Pro.
The LG Q7 was unveiled back in August of 2019. The LG Q7 is a mid-range device from the popular Korean electronics company. That said,
Popular smartphone maker Oppo has just unveiled the Oppo F15 mid-range smartphone. The Oppo F15 is powered by a MediaTek chipset.
Korean electronics company LG outed the Stylo 5 smartphone back in June of 2019. The Stylo 5 as the name suggests comes bundled with a
The Huawei P30 Lite was released back in April of 2019 as a watered-down variant of the P30. Having said that, today, we 3 Huawei P30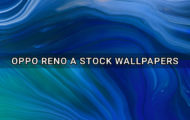 Oppo's Reno series of smartphones has become a massive success since its introduction. Adding to the success, the company