LG refreshed its G8 smartphone with slightly different specs and a new hardware accessory. Dubbed G8X, the new device from LG takes dual-screen to another level. More on that later. First things first, we have 10 LG G8X stock wallpapers today in HD+, FHD+, and QHD+ resolutions. The aspect ratio of the stock wallpapers is 19.5:9. Out of 10 LG G8X stock wallpapers, 2 wallpapers in 720 x 1560 and 720 x 1440 pixels resolution respectively, 2 in 1080 x 2160 and 6 in 1440 x 3120 pixels resolution. Also, please check out the LG G8 ThinQ stock wallpapers.
The LG G8X  is equipped with Corning Gorilla Glass 6 upfront and back for improved impact resistance. Having said that, we also do have MIL-STD 810G military-grade certification for superior protection against drops and accidents. Now, before we go further into the specs, let's get to the LG G8X stock wallpapers first and foremost.
LG G8X stock wallpapers
Right off the bat, the wallpapers of the new LG G8X look and feel lively, fresh, aquatic, energizing and beautiful. LG designers have done a good job with regard to attention to detail. This for sure will look great on Apple LCDs (you know, Apple makes the best quality mobile LCD in the market provided resolution is not taken into account) and all AMOLED displays. Again, the stock wallpapers are in  HD+ (2),  FHD+ (2) and QHD+ (6) resolution.
The G Drive link for the LG G8X stock wallpapers is given below. Alternatively, please check the wallpaper gallery below. Also, do not miss out to download stock wallpapers from all brands via our stock wallpapers section.
Download LG G8X stock wallpapers
LG G8X specifications
Dual Fold-able!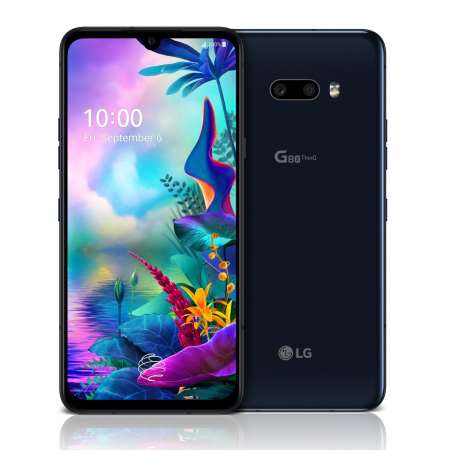 LG has taken the Sony route when it comes to releasing a model upgrade. As in, the LG G8 was announced in April and today we have the G8X that was announced in September. The LG G8X features a new 6.4″ OLED display touting a resolution of 1080 x 2340 pixels, The aspect ratio is 19.5:9.
The SoC used here is the Qualcomm Snapdragon 855 that is coupled to the Adreno 640 GPU. As for the RAM, you just have an option of 6GB worth of multi-tasking power. Also equally, you only have the choice of 128GB of internal memory. A MicroSD card slot is present. Also, a 3.5mm audio jack is equipped in the LG G8X.
Biometric authentication is here in the form of your fingerprint. The fingerprint sensor is located underneath the OLED panel.
The LG G8X debuts with a new accessory called DualScreen that helps it have a second screen (and also a third one) and at the same time act like a foldable device, which is cool. This is a flip case that houses a 6.4″ OLED display, along with a monochrome 2.1″ OLED screen on the other side.
Dual camera
The LG G8X is fitted with a two-camera system. A primary 12MP (OIS, PDAF) unit is here along with a 13MP ultra-wide-angle cam. Videos are shot at a resolution of up to 4K @ 60fps. Upfront, there is a 32MP camera that is able to record videos at 4K @ only 30fps.
Battery, Android and colors
A rather disappointing 4000mAh battery sits inside the LG G8X. Seriously, LG, is a 4k mAh power pack enough for the G8X's hardware configuration? However, Qualcomm's QC 4.0 is here to make up for this at the very least. Android 9.0 Pie-based LG UX 9.0 runs the LG G8X. As for the colors, you only have one color called New Aurora Black.
Related downloads: