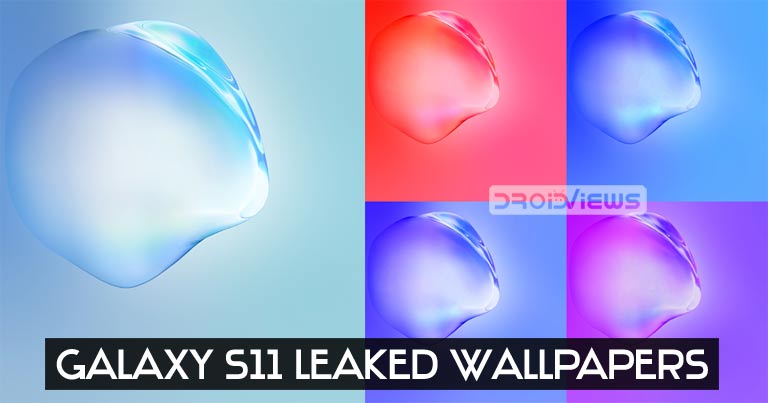 There are still a couple of months left for the launch of the Samsung Galaxy S11 series in 2020 which would be one of the first flagship smartphones from any OEM to be launched next year. Well, the leaks and rumors have already kicked off surrounding the S11 series and we've managed to get the Galaxy S11 leaked wallpaper renders. Of course, the Samsung Galaxy S11 series would be the phones to beat in 2020, therefore, we're excited to see what Samsung brings to the table this time around.
Samsung Galaxy S11 Wallpapers
We have 5 wallpapers in this Samsung Galaxy S11 leaked wallpapers pack. All the Samsung Galaxy S11 leaked wallpapers in this pack come with the same resolution 3040 x 3040. Therefore, you could use the wallpapers on any smartphone or even a PC without compromising on the image quality. Moreover, each wallpaper follows the same design with altered colors.
We've added the screenshots of these wallpapers below for you to check them out before downloading them.
These are the 5 leaked wallpaper renders for Samsung's upcoming flagship smartphone. If you see what you like and want to download and use these wallpapers on your own Android phone, simply download them from the link below.
Samsung Galaxy S11 Leaked Wallpapers.zip
Samsung Galaxy S11 Alleged Specifications
Of course, the Galaxy S11 series would have some of the best and latest specifications in 2020. We're still a few months away from the official launch of the S11 series. But the leaks and rumors are pointing towards the following specs.
6.7-inch, 120Hz AMOLED display.
108 MP primary camera + 5x Optical zoom lens + Ultra-wide.
Qualcomm Snapdragon 865 SoC or Exynos 990.
8GB RAM to 12GB RAM.
Well, these are the few specifications we can expect to see on the Samsung Galaxy S11. The Samsung Galaxy S11 would also ship with One UI 2.0 upon Android 10. Moreover, we now also have an idea as to what the Galaxy S11 would look like thanks to high-quality renders of the device from OnLeaks, with 91Mobiles.
As you can see from the Samsun Galaxy S11 render above, the device has a rectangular camera bump towards the left side of the device. Most enthusiasts are in splits between the design choice. However, it seems we might just have to get used to it. Till then, you would have to make do with these cool Galaxy S11 leaked wallpapers.
More Stock Samsung Stock Wallpapers
If you aren't satisfied with these 5 Samsung Galaxy S11 leaked wallpapers, then you can take a look at stock wallpapers from other Samsung devices.
Of course, there are a lot more stock wallpapers for just about every Android smartphone on our site. Simply browse around and pick the best wallpapers from your favorites Android phones.
Read Next: Samsung Galaxy Android 10 Update Tracker